This Italian calendar, which is often called "The Cal", is an idea behind the affiliated marketing of the brand, which was established in England. It has a limited amount of copies of each edition: just few thousand copies. It is not sold, but only offered as a corporate gift to important customers of Pirelli companies or different celebrities. The world saw the first Pirelli calendar in 1964.
The calendar comes out in limited edition. The cast usually consists of the most famous photo shooters, models, actors and actresses, and so on. The first calendar that was ever released belonged to the first shooter, who was Robert Freeman, the official The Beatles photographer.
The first edition was a huge success, it became a sensation in the 60s and began to be published annually. In the period from 1975 to 1983, this calendar though was not published, and the reason was the oil crisis. A simple giveaway object this calendar, the Pirelli one, has become an object cultivated all over the world without a doubt. It is now the most prestigious calendar in the world, which is confirmed by many fashion photographers.
Annie Leibovitz states that work for the Pirelli Calendar is like entering a very exclusive club where there are only people, who have much influence on the planet.
If you ask yourself, why they chose a calendar, the answer is simple. It is an innovative marketing tool, because it looks advantageous in comparison with the background of various booklets and leaflets. If the calendar is convenient to use and is beautifully designed, it will be used during the whole year. Why people prefer producing calendars with the help of the digital printing those days? Digital printing has many advantages.
First and foremost, of course, it is its speed and flexibility. The speed is achieved due to the fact that digital printing is managed and controlled by the computer. In addition, this method of printing provides images of impeccable quality, the ability to create professional photographs. This is why people need photo editing service : it allows making any image overwhelming and pleasant to an eye. The Internet is full with different ideas for your calendars.
Who can become a Pirelli photographer and what is a Pirelli calendar photoshoot?

Pirelli models photo used to be erotic and to tease its audience. To be honest, this is a method that was used during centuries to make men buy different products and to show that it is good. People liked women's bodies and so before feminism started to work fully as these days, bodies were sexualized. They are now too, but people are taught that this is not actually right and that instincts should not affect our everyday life so much. Of course there are millions of different calendars in the world wide web. There are instructions, how to make one yourself or how to make a to do list and many of them are pretty interesting, like this one .
If your attention is good, you might have noticed, that many people have wall calendars in their kitchens. This is why it would be logic to use food pictures, if you are one of those persons. So go along and read our article called how to edit food photos in Photoshop – all secrets revealed with food so that you had great appetite each time as you enter your kitchen.

Best Pirelli calendar photos can be discussed, worshiped, or criticized. Either way, they inspire many creative minds up to those days when new ideas are hard to find in this information loophole. It seems like everything already exists, but Pirelli calendar best photos do not stop to intrigue and to excite people all over the world. Before the 2017 their concept was to make photos of the naked or half naked people, women mostly, who do sport and whose bodies look good.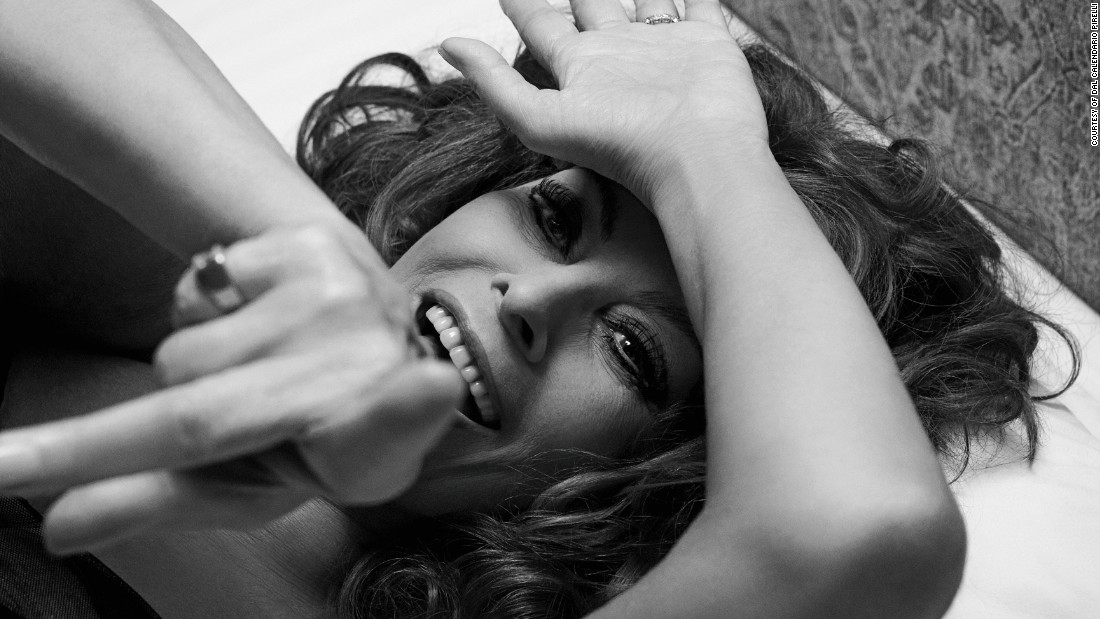 Some may call it sexist and in some way it really was, but not anymore. Like after the feminism issue burst out, they also started to show women as living human beings, and not like simple sex objects. The evolution took some time, but it eventually happened, as it did in the famous book and TV series Game of Thrones. Many people made their calendars with Khaleesi and other characters, so perhaps we can interest you with our article with the Game of Thrones Phoroshop tutorial for true fans.

Changes in the Pirelli models photo
From the past couple of years, the company changed its course and instead of girls' nudes with perfect shapes and skin they started to ask bright personalities to be shot and to be printed with their company's name. It did not matter in which sphere they were known to the public, only the fact that they somehow differed from the others, they had some ideas to show. To participate in the project, they invited models and showbiz stars.
Over the years, the calendar format finally began to change. The first photographer, who changed the rules of the game is Annie Leibovitz, and it happened in 2016. Instead of showing the curves of the model's body, she invited women of different professions, nationalities and age. In 2017 Peter Lindberg followed her steps and took star actresses without makeup. And that year Pirelli was dedicated to the movie theater. The heroines became stars, who were already known and therefore loved, which makes it kind of sexist because there are actually few actresses in imperfect shapes. So their names were Julianne Moore, Kate Winslet and many other Hollywood stars you would definitely expect from a calendar with such a reputation.

A 2017-year photo Pirelli photographer was Lindbergh, who described their project short and concisely: that calendar was going to become an ode to the individuality of everyone and to the feminine courage. They decided that live emotions mattered much more than ideal bodies and they had this aim to demonstrate to the world the inner sides of their heroines as the most important part of them. The shootings took place in five different cities, including Berlin, New York, and even a small French town Le Touquet. They have lasted for two months, May and June, and after the work was done, the calendar held forty best Pirelli calendar photos and they were both shot in and outdoors.

New ideas for the upcoming year
We all know, that there are a lot of classic stories and books, that once were put into legends, myths, stories, finally, books and TV serials we all adore. Internet gives us access to the whole world's heritage, but can we use it properly? Some histories were remade and redefined, they were interpreted in various ways so many times it seemed impossible to create something new from something old. But they managed to succeed. Pirelli decided to do something really unexpected!
This time the calendar is inspired by the bestseller known to the young and to the elderly people: Alice in Wonderland. Lewis Carroll can be called genius or a junky, it does not change that he influenced thousands and millions of children's' and people's minds. It is one of the books you must reread when you grow up, because you really start to see everything there under a different light.
The shooter name is Tim Walker and the models were chosen from the world of fashion as well. Walker is a well-known photo shooter, who for many years cooperated with Vogue magazine. He makes pictures in a unique style and goes beyond fashion photography that we are used to.
In his work Walker creates fabulous images and uses fantastic objects: huge chairs, long trains, fake figures and different toys. At different times Tim Walker shot Scarlett Johansson, Vivienne Westwood, Alexander McQueen, Tilda Swinton and many others who are famous everywhere. If the information is correct, seventeen persons will present the idea of the next year. It can remember you of Tim Burton a little because it is going to be strange. You will definitely recognize Naomi Campbell and others from the shooting, but here comes the surprise.
You are going to see Pirelli calendar best photos of both men and women when it was mostly women all those years. Another bizarre element is that all models have black skin. They had such models once before in 1987, but this is going to be overwhelming, because few people can associate little Alice with African American people easily. Just imagine all the heroes from the book like people of colour! It is not bad, but it is so queer, people are gonna have to overthink it. We know that the last heroes were bizarre in a good way.
Red hearts, cards, specific clothes – they will try to recreate the atmosphere and with time we will find out if they succeeded, because we now have only some backstage shots they let us have.

The Pirelli's aims and plans
They say on their calendar's website that they are driven by something big: the desire to change the photography experience that has existed up till now and they are constantly challenging the boundaries of photos everyone is used to. Trendsetting can be powerful and they have the will to hold this power over people, over photographers, they want to challenge the world of things we've already seen and enter the new area that is yet new to examine. Their style may be called pioneering as they are persistent with their new technologies and communications with people from every country and every continent.

They like to hear that the company name is strongly associated with the quality, reliability, they are used to the tons of strong emotions their fans are expressing each time they show their work to the world. Innovations rule and affect their long-term partnerships with the suppliers and influential persons, who have power as well. While media is a great source of politician influence, Pirelli likes to make their products rethink and redefine things that already exist in a totally new way.
This is true that they like being recognized as a company or enterprise, which inspires respect and of course trust both for themselves and their partners all over the world. They say that this fulfillment with the importance of their work is taken strictly by everyone in the team. A competitive edge is always hard to be conformed and corresponded to, but this is not a reason to give up. They take into account that they are responsible for the themes and sources of inspiration of many people, so they provide a totally clear statements about their politics, values, principles, and, of course, requirements. They believe that by promoting this really deep orientation that is turned to the high end level of the photography they change essential basics of environmental and ethical standards for the best.


This is why you should turn to us, to the We Edit Photos. Our team is sure, we trust them, because we tested them multiple times, they can create new things you could have never imagined. We offer everything you want: restoration of old pictures, drawing in digital graphics, making your selfies look like it was done by a fashion shooter. Just name it and pay us the price. By the way, check it out, because our photo editing prices are made that way so that many people could use it, you have to know what you're dealing with. We like dealing with real estate and clothes, backpacks and accessories, we can make a great business partner. Try us and then see how it goes. Your income is our income as well so we have no reason to treat your images badly. In case you still worry, go ahead and check our works, magazines we published, read our articles, and talk to us online to let us understand each other more. Collaboration is what made Pirelli world famous and it will make you rich if you do business, beautiful, if you do modeling, and gorgeous if you look for some skillful retouchers.