A bright photo shoot in the style of superheroes is a great chance to turn bold dreams into reality and to become a superman for one night. Have you ever dream of becoming a Batman, or Spider-Man in your childhood? Do you love movies about the Iron Man, Daredevil and other fantastic characters? Then cheer yourself up of inspiration from these superhero photography ideas.
As a subject of rejoicing will be suited – birthday, corporate party, bachelor party and just a meeting of friends. It does not matter what is motive to gather, it's important – a good mood and a willingness to fool around a little to capture these emotions.
Before we outline our ideas for a fantastic superhero themed photoshoot, we should consider the question of costumes.


Dresses and attributes you can order in a specialized agency for rent or make yourself. As for masks, they are not necessary to wear at all. Seek help from a good face painter, and he will easily turn you into a real superhero. Well, if the issue of makeup is essential, the costume will perfectly tell who you are.
By the way, girls who do not want to be super heroines can quite seamlessly fit into the trend of the photo session, simply creating in their image a detail that certainly will dot the i's and cross the t's.

What are the costumes of superheroes?
The first thing that comes to mind is Superman, Batman, Catwoman and Spiderman. But there are a lot of options and it is not necessary to grasp the first Hollywood heroes who came across. Although they also had hero-assistants who had not once saved their lives. In general, here is a short list…
Heroes-men:
Batman; Robin (Batman's partner); Spiderman; Superman; Zorro; Mask; Wolverine; Iron Man; Hulk; Captain America; Daredevil; Thor; Green Lantern; Hercules (Hercules).
Super-women:
Catwoman; Wonder Woman; Xena – the Queen of Warriors; Black Widow; Electra; Lara Croft; Trinity; Barbarella; Natasha Romanova from the Avengers.
As you can see, the list is quite impressive. There are plenty to choose from, especially for women. So do not get lost and go at it boldly to the selection of costumes.
Today there are a lot of good enough firms that for a very affordable amount will give you a suit for almost any character. Believe us, when you wear these costumes, you really feel like a superhero! The quality of performance of this clothing gives every reason to believe that it was created for super people. Along with the costumes, an excellent catch will be the use of accessories of superheroes, otherwise the image will not be complete. And, of course, if the photos will not complete you can take an advantage of photo editing service, you can read more about it in our article Photoshop manipulation ideas.
Therefore, take your friends, make yourself a themed party and super-pictures you are guaranteed.
Types of superhero themed photoshoot for everyone
With each passing day, the thematic photo sessions are becoming increasingly popular – the photos are grouped according to the chosen theme and the desired history.


Ideas for future photo sessions can be inspired by fairy tales, movies, or become the embodiment of your dreams. The zest of such photo sessions is in creating an original image by means of hair, make-up, clothes, and decorations.
On a photoshoot, you can feel like a model from a fashion magazine or a star on an individual photoshoot. You cannot calm down your raging fantasy! The photographer will happily capture you in bright and stylish photos.
Thematic photo sessions are convenient for carrying out both on the street and in the studio frames. When choosing a studio shot, you have the opportunity to correct make-up, take advantage of interesting scenery, and change several outfits. Weather conditions will always be comfortable, professional lighting; the shooting can be arranged under musical accompaniment.
Thematic photo sessions in nature are more dynamic, they are characterized by unpredictability of weather conditions. The scenery for such filming is provided by nature itself, therefore it has the right to its whims.
Often, some events in our lives are celebrated in a stylized way, they have a certain theme. Accordingly, a photo session of such events also has its own unique style.
But if you find it difficult to choose something specific and want something interesting, then we will help you in this. We selected the most attractive superhero photography ideas from around the world. Take a look at them:
Photoshoots for girls
The most popular photoshoots were and still are women, and this is not surprising, because every woman wants to capture her personality at any age.


The style and theme of these photoshoots depends only on the wishes of cute models. The shooting can be both studio and outdoor, take place at any time of the year and weather conditions. The background can be the walls of urban buildings of industrial type, the site of shopping complexes, the evening subway. Despite the small number of female superheroes, girls can play with male images, only by adjusting them to themselves with the help of accessories and other attributes.
A girl can try on a tempting Catwoman, a vampire queen, or the provocative image of Harley Quinn, who is looking for her beloved Joker, or to embody the image of the Black Widow.
The photographer will put into action any of your scenic fantasies in the pictures, the main thing is the comfort and relaxedness of the model, then the success of the whole event is guaranteed.
Men's photo shoots
Every man dreams of being a superhero, being armed with super abilities and a hefty physical strength and having the most beautiful girl next to him. All boys in the childhood loved to read comics and watch films about strong and charismatic people who save the world from villains. And today, guys can embody all their fantasies in the form of a photo session and for a moment become the lords of this world.
Fortunately, there are a myriad of superheroes: from the most popular are Superman, Hulk, Spider-Man, etc, and to such as Iron Man, Thor, Avenger and Doctor Strange. Two options to hold such a photo session: use your opportunities, find paraphernalia, costumes and think over your image or find a themed photo studio that will provide you with the necessary costumes and accessories.

Children's photo shoots
If your child just dreams of cartoons about superheroes, fights "with villains" and hastens to help others – arrange for him a children's superhero themed photoshoot. Imagine how much joy the child will have, who have got the chance to become his idol!


Superheroes are different, but the basic idea of a photoshoot does not change. To do this, you need an appropriate suit, accessories and the right location for the photo session. Any costume can be purchased or rented at a specialized store. You can also resort to a photographer – he can advise the right people. And some photo studios already have ready-made costumes for photo sessions. Additional details depend on your chosen superhero. The photoshoot better to conduct on the street because most of the superheroes live in a big city and save the city residents from various woes.


Superman, Batman and Spider-Man are the most popular heroes, but there are a lot of other less known ones. And if your child wants to be like someone else – look at the series or a section of the cartoon, choose a suit and a place where it is better to hold a photo session. And, believe us, your child is so keen on his role that the photos of the children's themed photo shoot "Superheroes" will be realistic and exciting.

The craziest marvel wedding ideas: make your Super marriage ceremony
Modern wedding has long ceased to be a set of generally accepted ceremonies and traditions. Therefore, many newlyweds go away from classical techniques and act on the principle: bright, colorful, unusual, and sometimes shocking. Perhaps, to this type of celebration can be attributed, having a certain popularity in America, a wedding in the style of superheroes.
Most often, such unusual wedding themes are preferred by young grooms and brides, wishing to surprise guests and leave an indelible impression of their holiday, as well as people who are liberated and eccentric.
But this does not mean that this topic is worthy of attention only a narrow circle of persons. Probably, many people sometimes want to feel themselves in the role of the hero of the rescuer, if not the whole world, then, at least, his beloved. And in any wedding theme, you can find something interesting and unusual to turn to advantage at your celebration, the more so cheerful and bright.


One of the most popular options for using images of superheroes at a wedding is a photo session. At the same time, it does not tie your holiday to a certain topic, but only gives you the opportunity to get a few bright and cheerful memories. The very same wedding can take place in almost any style, including classics, and then such a photo session can become an element of the show and dilute the atmosphere of officiality. The most simple and inexpensive way to carry it out is the masks and t-shirts of superheroes.


If you decide not to be limited to just one photo session, you can go deeper into using themed details, both in costumes and in the overall design of the wedding.
And, of course, you can stay on a completely themed celebration, which is more like a costume show. Perhaps, such a wedding will always remain in memory, both her guests and newlyweds. But who actually said that the wedding should be standard?
Weddings in the style of comics are very popular among honeymooners. They have quite a few varieties, which is understandable given the number of popular comics. The advantage of such a wedding will be a clear understanding of the basic colors and the script derived from the content of the comics.
And if you are a fan of Marvel comics, then you definitely will like these marvel wedding ideas for photo sessions or whole themed celebrations.


Iron Man, Hulk, Captain America, Thor, Black Widow, Hawkeye, Spider-Man – these names are being a household names now. Also do not stop being popular Superman, Batman, Catwoman, Green Lantern and other heroes of DC Comics. Everyone, from small to large, is not averse to be in the boots of a superhero for at least a day. You can live out this dream if you arrange your wedding in the style of superheroes! This article will help you prepare for the wedding and take into account all the nuances in the organization of the holiday. Below we gave several marvel wedding ideas on how to organize a wedding in the style of comics.
For those who cannot decide which character is the most favorite, a mixed wedding style in the style of various superheroes will suit. To organize such a wedding, you can use these ideas.
• The wedding cake can be decorated in the style of various super heroes, so that each pie shell reflects the style of a certain character.


• It will be interesting to look at the wedding table and sweet cheerful cupcakes, although for a large number of guests, ordering them will be quite difficult from a financial point of view.

• Special attention will be attracted to the guests by the superhero Candy Bar, which will become a wonderful decorative element in the wedding banquet hall.
• In order not to suffer from the choice of design of wedding invitations, you can simply order in the general style of comics, which will use interesting stylized inscriptions and drawings.
• Seating cards for guests can be decorated with the logos of each individual superhero so that guests can sit at the table of their favorite comics character.
• By the way, the figures of superheroes can be used as a boutonniere for guests from the groom and the bride's side.


And the main thing, but not the last, it is necessary to think out in advance original ideas for a cheerful wedding photo session.
Among weddings in the style of superheroes, there is also the rather popular style of the anti-hero Joker and his girlfriends Harley Quinn. The wedding in this style is very bright and quite unusual, the main decorative elements in it will be cards, black and red colors and of course images of anti-heroes.
Here are some ideas on how to organize a wedding in the style of the Joker and Harley Quinn:


• Of course, a brave bride and groom can dress up in the costumes of these anti-heroes, but those who do not want to shock the guests too much can do with different wedding accessories.


• So, for example, the groom can wear a wedding costume such unusual cufflinks depicting the Joker and Harley Quinn.
• A bride in her image Harley Quinn can wear bright and colorful shoes to a wedding white dress.


• Standard glasses for the newlyweds can be replaced with painted glasses featuring antiheroes.
• The decoration of the festive table will be an unusual wedding cake, custom-made on the characters of the Joker and Harley Quinn; although such a designer cake should be ordered in advance and well thought out its form. Those lovers who want to save on the wedding cake can order an ordinary traditional wedding cake, and simply decorate it with wedding figures with antiheroes.


One of the favorite superheroes in the US is Captain America, which is why weddings in the style of this comic book character are so popular in the country. The decoration of this wedding ceremony uses the colors of Captain America, as well as various decorative elements and accessories with this character.
Here are some of the most successful ideas of how you can organize a wedding celebration in the style of Captain America:
• A special decor in the wedding of this style can be a sweet treat for guests which not only diversify the wedding menu, but also help in decorating the wedding banquet hall. So, you can order lovely wedding cupcakes in the style of the superhero Captain America;


• As a gift for guests, you can prepare sweet wedding souvenirs in the colors of a superhero and with his logo;


• But the main decoration of the wedding table will be, of course, a wedding cake, which can be ordered in the style of Captain America;
• By the way, to find wedding figures for such a cake will not be difficult. There are quite a few varieties of such wedding figures, they can be both stylized for the bride and groom, and performed in cartoon design;

• And as wedding accessories, you can pick up unusual wedding garters for the bride, which will surely please and surprise the guests.

Wedding in the style of Superman is one of the most popular options for the image of the groom for cheap photo editing price. The first reason is in the power of the hero, the second in the desire of the beautiful half to see in their men the superman. The costume can be rented or sewed. You can also combine it with the groom's classic costume, putting on a Super shirt under your shirt. It's also a great idea to make a costume shoot at the studio with your friends on the wedding day. It is important to harmonize the images and give time to change before the start of the banquet. Good emotions for you and your guests will be guaranteed. Such holiday is exactly remembered by family and friends.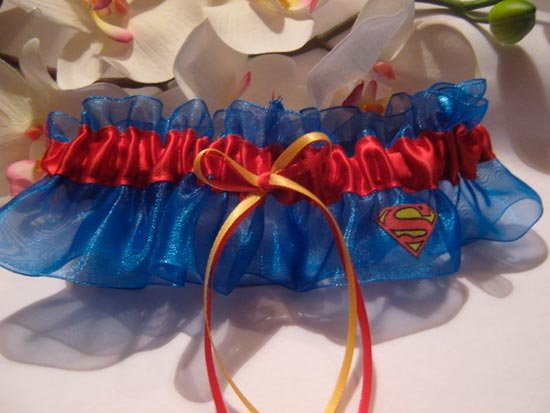 While decorating the banquet hall, do not forget about Candy Bar and thematic attributes. Focus on details, a separate photozone and a large letter S near the newlyweds' table. This is a Super family.
There is still a whole bunch of ideas on how to use superhero gimmicks; it all depends on you and your imagination!
Wedding in a costume style – this is a Super variant for making the day red-letter. The super heroes have everything at the highest level and good always wins. But if you prefer classic wedding with different marvelous effects on the photos you can acquaint yourself with photo editing price list.
Enjoy your wedding, make it bright and creative.
Fix eyes a little bit more on batman wedding ideas
Now the usual wedding photo session against the backdrop of the walls of the registry office is rarely seen in anyone on the wedding album. And this is not surprising. The newlyweds, in an attempt to make this solemn day memorable, come up with more and more new ideas for organizing a wedding photo session.
Many people, keen on comics and super heroes, decide to play a wedding in a similar theme. Among such weddings, the Batman-style wedding is especially popular.
The last film of Nolan about Batman has already managed to make a noise: a horrible incident at the premiere in the US, and the fact that this is the last film of this director, and, of course, a tense plot and gloomy stylistics. If you were the first in the queue at the box office for the first screening of the film, if you have the entire room furnished with attributes from comics and pasted with posters and stickers, then surely this news is for you, crazy fan of Batman.
Wedding agencies that organize thematic ceremonies will prepare a special batman wedding ideas for fans of a dark superhero in cloak and mask. This is a wedding in the beautiful and gothic style of Batman. The collection of photographs of wedding dresses, accessories and table setting is made in the spirit of Nolan's films: the bride will be so beautiful in a black and gold wedding dress, and the groom is uninhibited and will be, for at least one evening, the real Bruce Wayne. Everywhere, of course, there are bats and wealth; crystal glasses, gold napkins, tuxedos and masks. Judging by the movie's box office, a Batman-style wedding will soon become a real classic.

Here are some concrete batman wedding ideas:
• For example, you can decorate the banquet hall with the bright and unusual Candy Bar in Batman style. As an ornamental wedding accessory, you can prepare an original wish book. And especially fanatical lovers can buy stylized wedding rings Batman.

• Brave brides can wear a black dress to match the style of the superhero Batman. For the brides who prefer white wedding dresses, you can buy garters with Batman symbols.

• For the wedding ceremony, you can order an unusual wedding cortege, which will include limousines made in the form of a Batman car, now it is not difficult to find such unusual cars.
• As an ornament of a festive table it is possible to use an unusual and stylish wedding cake which will make the present furor on guests.

• By the way, for a wedding in the style of Batman, the unusual wedding figures will suit you.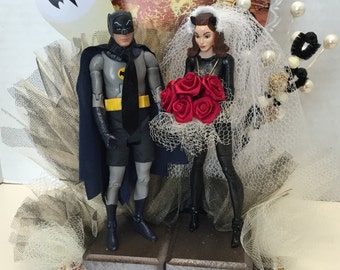 A wedding in the style of a superhero is always a cheerful mood and a positive charge.
You have nothing to worry about, when you are standing with a real superhero, who is ready to rush to rescue you at any moment! Enjoy a themed wedding, which will be remembered to you as the most unusual and colorful event in life!