Best friends photography ideas and poses help capture those precious moments of the friendship much. When it comes to photo session, we seemed to be at a loss for best friend pictures ideas to photograph the images of friends and family. If you are in need of some inspiration, our photo editing service offers you a list of ideas that are in trend now.
Top 50 friend picture ideas
1. Pillow fight!
Out of all the friends photo shoot ideas this one is the most fun. Friendship is about enjoying silly little things together. So, why not have a pillow fight? The photos come out so lively, with you bouncing up and down on a bed and all the feathers flying around!
2. Intertwined
Looking for meaningful pictures to take with your best friend? Friendship is an unbreakable bond and braiding your hair together is an amazing symbolic concept, which shows that your lives are interconnected on many levels.
3. Favorite cafe
Best friend photography would be plain if there weren't anything personal in it. If you and your friends constantly meet up in cafes, why not add a personal touch to your photoshoot and take pictures in your favorite one? You are constantly going to look back at these photos and remember that time you spent one-on-one in that special place.

4. Pin up girls!
Retro looks are iconic, that's why they are perfect for best friend photo ideas! This will give your pictures a vintage feel. Besides, transforming yourself into pin-up ladies or gentlemen can be so much fun!

5. Piggyback rides!
Cute best friend photoshoot ideas also include piggyback rides. Giving your friends piggyback rides should be a must of any friendship. Fooling around is just a part of being soulmates.
6. Lollipops
This idea is just so easy to recreate – all you need is cute outfits and lollipops! And look at the final result: the pictures are so colorful and full of joy!

7. Sunset with friends
What can be better than watching a sunset with your friends? Moments like this really stick with us and make us feel nostalgic. It's not surprising that it's one of the most common friend picture ideas.

8. Bubble up the fun!
Everyone loves bubbles. Blowing bubbles is such a wonderful activity! The advantage of this idea is that it requires no fancy props whatsoever.

9. Smoke bombs
Smoke bombs can add a magical touch absolutely to every picture. Colors of brightly colored smoke leave nobody indifferent.

10. Shopping carts
We've all seen these pictures of friends racing shopping carts online. Why not make this idea into a photoshoot with your bestie?

11. Matchy-matchy
One of the classical best friend photoshoot ideas is wearing matching or color-coordinated clothes. It's a great expression of closeness and love.

12. Playing in the sand
Here is another fun activity. If you are on a holiday together or just live near the beach, consider having a photoshoot. A day on the beach is the day spent well.

13. Road trip together
Need even more exciting friend picture ideas? Every road trip with the friends leaves us with lasting memories. Having a photoshoot on the road will leave you with amazing impressions of that day.

14. Reading buddies!
Another great idea for best friends photography is book-themed photo session. It looks so adorable!

15. Amusement park
Amusement parks fill your days with thrill, why not go an extra mile and have photo session there? It's a sure-fire way of capturing real and authentic emotions.

16. Sparklers
Sparklers help create magical pictures with your bff. You can also take photos with long exposure. The ambient light of sparklers adds something special to the atmosphere.

17. Top of the world
Travelling is the real test for friendship. That's why travelling photos can really prove how your bond really is. One of the cute poses for pictures with your best friend is resting your head on his/her shoulder. Check out the article "Don't you know how to take travel photos? We are in haste to help you" if you at a loss for ideas.

18. Picnic
Having a picnic with your friends is always a great idea for a day out with your buddies. Besides, a park creates a beautiful backdrop for any photo. As a result you'll get stress-free photos that will remind you of those pleasant moments.
19. Fun splash
If you are looking for pictures to take with your best friend during vacation this is an excellent variant. Take a picture of you jumping into the water. Such pictures are usually a hit in social media!

20. Group hug
There's nothing more cute than a hug with friends. If you want the cute best friend pictures poses – this is the one for you. This pose can also work, if there are only two of you.

21. Flower wreaths
Flowers can make any picture ten times better. This is a great choice for female friends photo shoot ideas. Flower wreaths are so simple, yet elegant.
22. Confetti everywhere
Confetti helps create timeless images of you and your bffs. It may be difficult to get that perfect shot, but it's well worth it. Just look at the fabulous result!

23. Hippies
People are obsessed with hippie movement even today. Give it a go and try on a hippie look for a picture with friends. Browse hippie style online in Google search to get some inspiration for your best friend photoshoot outfit ideas.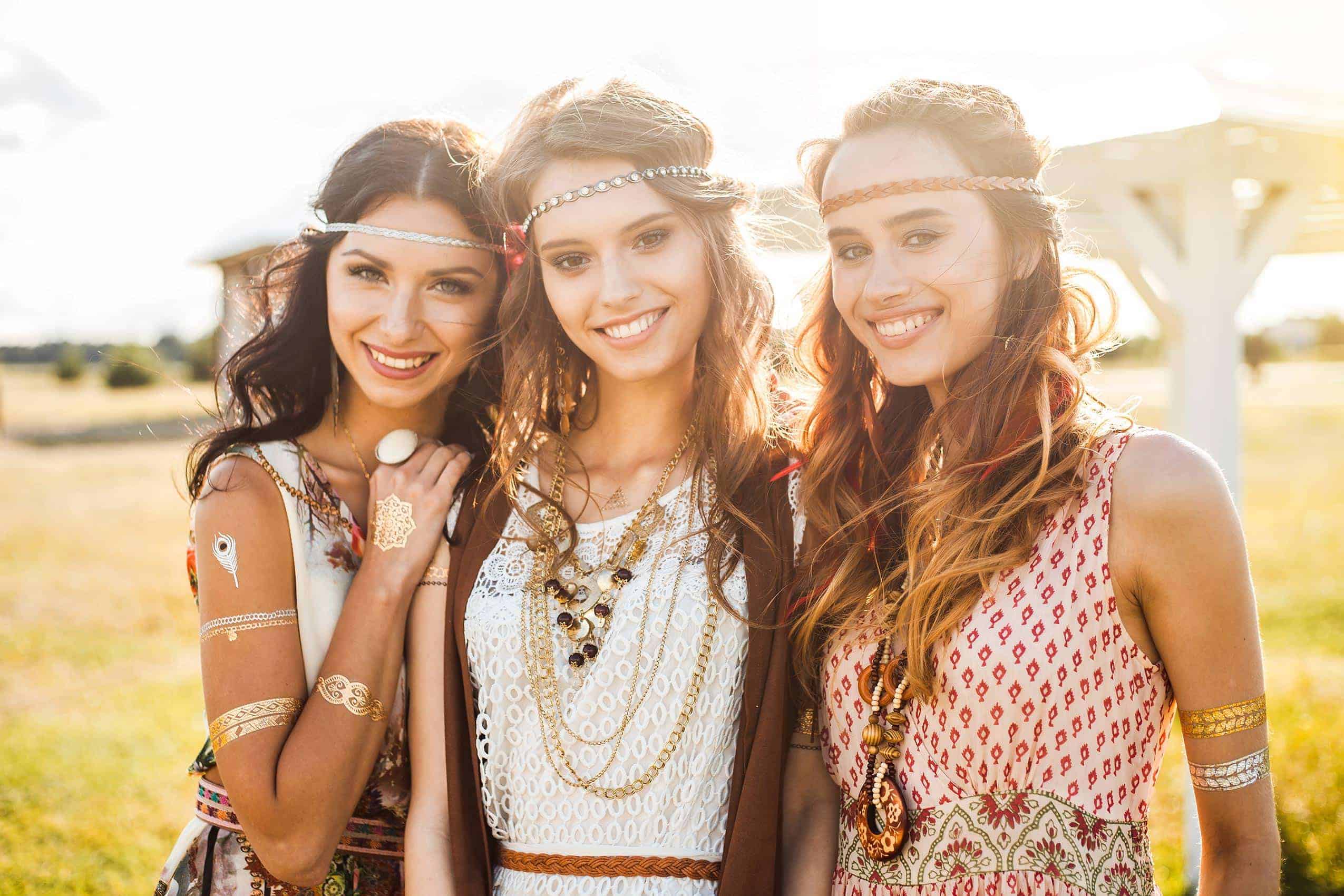 24. Holding hands
Here's an adorable idea for you: take a picture with holding hands. It's a classic picture for a couple, but doing this with your friends gives it another meaning. There's no better pose to capture your life long partnership.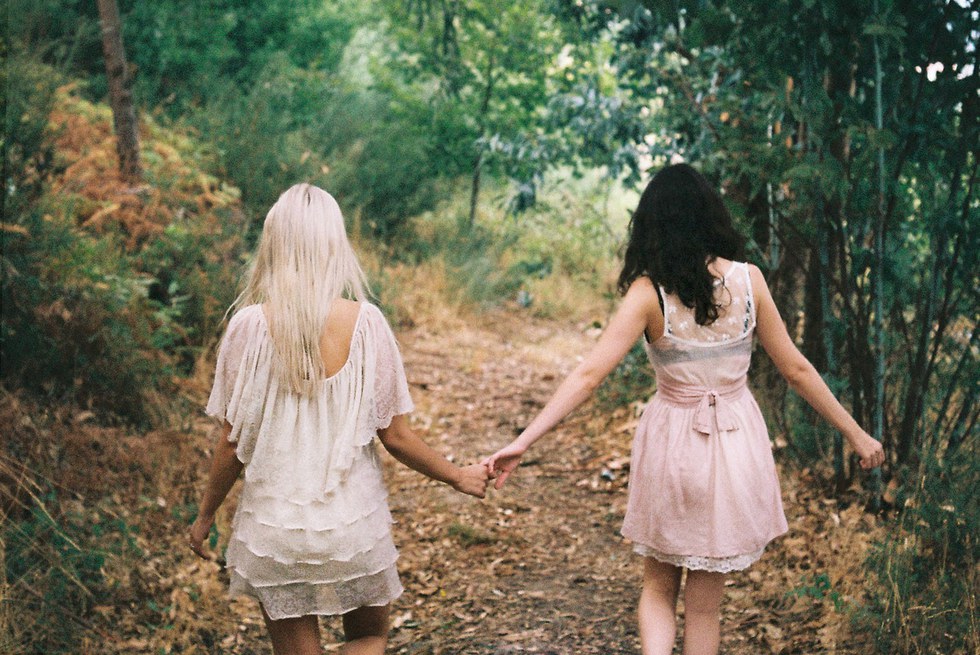 25. Paint fight
If you are looking for the best friend photo ideas and you aren't afraid of getting messy – organize a paint fight! It's an excellent way to capture real emotions.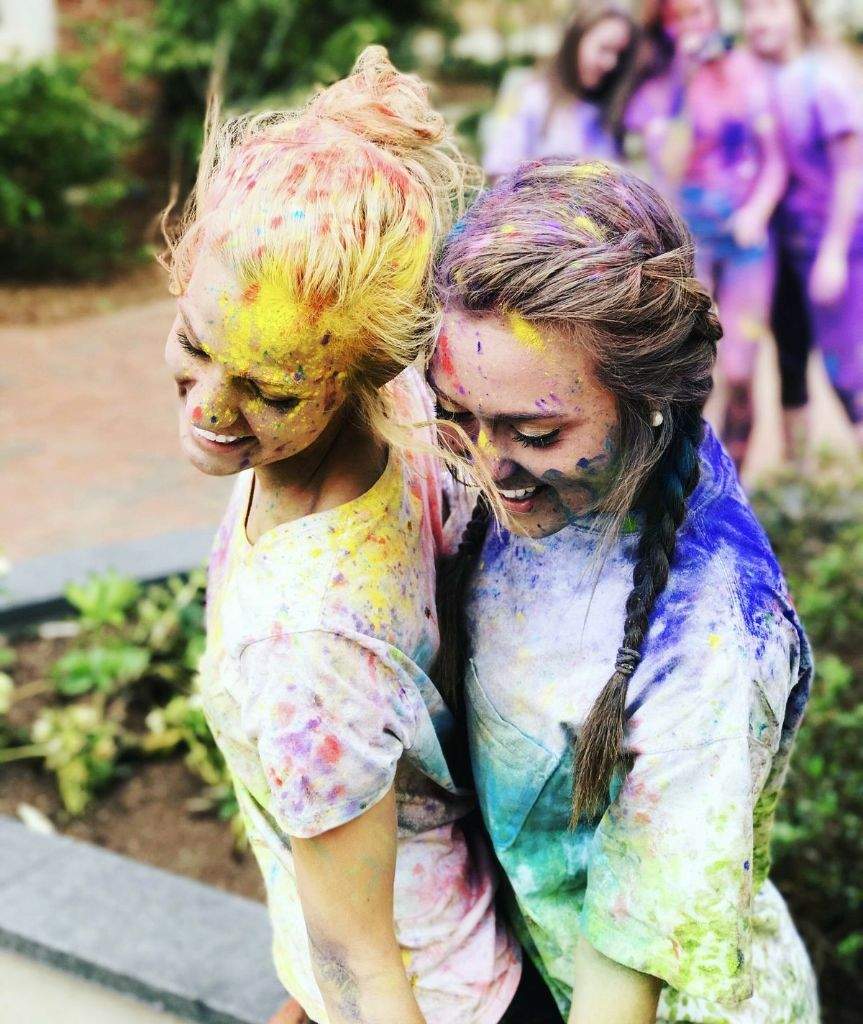 26. Railroad tracks
Railroad tracks is quite a popular place to take pictures, but taking pictures with your bff there can also give a more symbolic meaning to it. If you want to find the best friend poses for 2 on a railroad, take a look at this cute picture.

27. Balloons
One of the most common best friend photo ideas is using balloons as props during a photo session. It is simple, but funny. However, you can make it more creative by taking pictures with giant balloons.
28. Flowy dresses duo
Outfits are the most important parts of any photoshoot. Here is a piece of advice for you – flowy dresses look fabulous in any shot. Why not double the effect and take pictures with your bff in flowy dresses? This look will dazzle everyone.

29. Bike rides
Whether it's you riding across the city or posing with your bikes – it's an excellent prop. It can also be a great childhood flashback to the times you used to give your friends a ride. Here's an idea for cute poses for pictures with your best friend on a bike.

30. Playground friends
A very sweet idea for pictures to take with your best friend is using a swing! It will add a nostalgic feeling to your photo and make you feel as if you were children all over again.
31. Jump and touch the sky!
Jumping photos have been a huge trend for a while. Forget about rehearsed best friend picture poses, and instead of this, take pictures of your models bouncing up and down in the air.

32. Underwater
Underwater photography is so unique! The results are simply mesmerizing. So, grab your compact waterproof camera and your bestie and start experimenting. You will have so much fun, that you will lose track of time.

33. Superheroes dress-up
Are you and your best friends crazy about superheroes movies? Even if you aren't, dressing up is always a memorable experience. Just find the one superhero that feels most relatable to you, and organize a photoshoot with your friends. Take a look at the article "Superhero photography ideas make the best memories" to see some bright examples.

34. Disneyland photoshoot
Another excellent idea for the best friends photography is having a photoshoot of your dreams in Disneyland. Disneyland is known as the happiest place on Earth. Become a part of fairytale with your soulmate. The photoshoot will be unforgettable and you will be thrilled with pictures!

35. Coffee talk
One of the best parts of any friendship is sitting down and chatting hours away about little things of no importance over a cup of coffee. Why not capture that precious moment?

36. Sport themed photo session
This idea is especially great if there's some sport you are going in for together. If not, just choose whatever game you like. Sport equipment makes an interesting photo prop. The photos look like a straight up fashion photoshoot.

37. Hold on to your hats!
If you are looking for easy friend picture ideas, this is the one for you! Even if your outfits are different, wearing matchy hats is a playful final touch to your photoshoot.

38. Getting ready
Everyone knows how special the process of getting ready before going out is for us. Why not photos lift the curtain of the process? Final images seem very personal and fun!
39. Show off your legs!
This is one of the cute poses for pictures with your best friend. It is so simple and will work with any number of friends!

40. Dancing
An important aspect of dancing as well as friendship is togetherness. Try taking pictures of you and your girlfriends dancing. Depending on your taste, pictures can come out either hilarious or entertaining, cute and adorable.

41. Partner in crime
Getting into trouble together is the definition of friendship. This idea is for bffs with a good sense of humor.

42. Abbey Road recreation
Remember Beatles' iconic "Abbey Road" album cover of them crossing the road? Try recreating it with your friends. It's very funny and perfect for best friend photo ideas.

43. Chewing bubble gum
Try blowing bubbles with your bff for a photo. Colorful bubbles will help you make the pictures very cheerful. Very easy and amusing.

44. Fairy lights
Fairy lights are not only great decoration tools. They also serve as amazing photo props. Employing fairy lights into a photoshoot is always a safe bet! You can't go wrong with this idea.

45. Slumber party
Taking pictures during sleepovers is excellent for friends photo shoot ideas. We have all had those epic sleepovers. It's just such a great way to make them even more memorable and bond with your friends!
46. Pool party
Pool parties with friends are simply the best! They are always a big hit! Swimming pool, floats, fruity drinks, friends – it doesn't get better than this. Capture these fleeting moments in a photo session.

47. Quirky photoshoot
It's always important to remember not to take yourself too seriously. Goof around, pull funny faces! It's also a cool idea for the best friend selfies.

48. City landscape
Climb a hill, overlooking your city and skyline or gather together on a rooftop and snap a few pictures with your friends. You will be astonished with results. These pictures look like movie scenes. You won't be able to take your eyes off the final images.

49. Bubble bath
Bubble bath pictures are in trend right now. Why not use this opportunity to take original pictures with your bff? Just look at these smiling and cheerful friends relaxing in a bubble bath.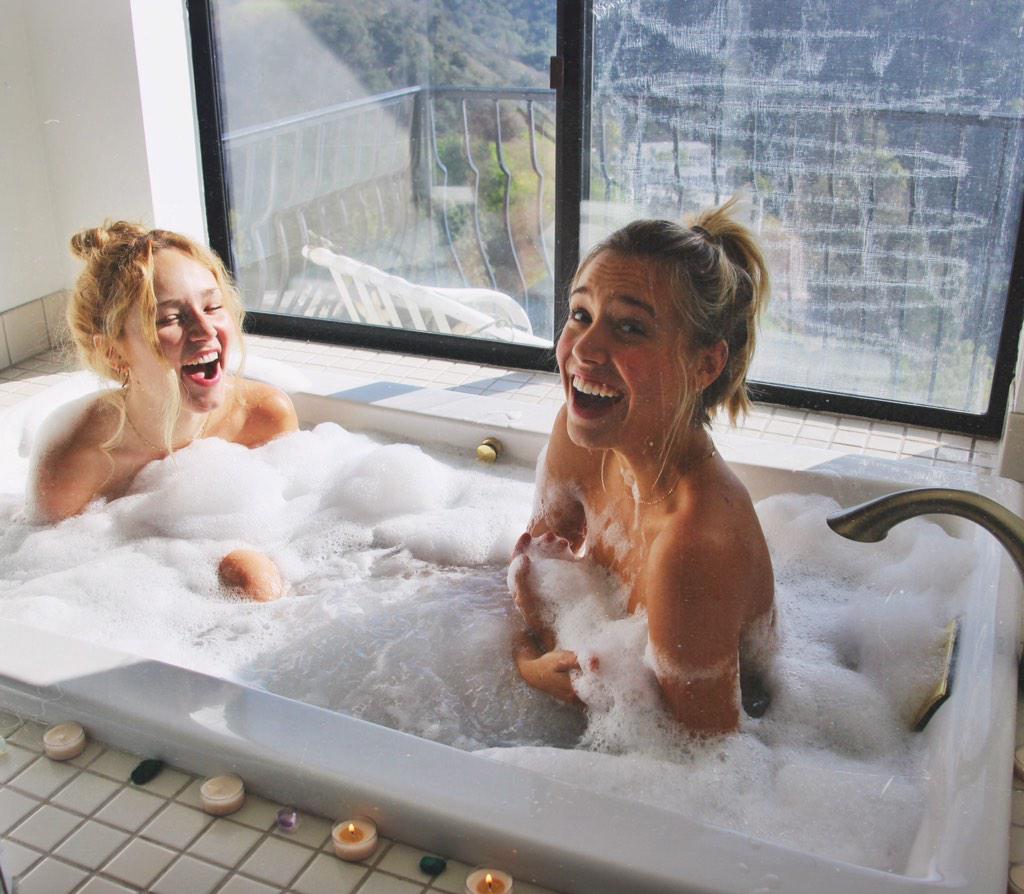 50. "F.r.i.e.n.d.s." themed photo session
Remember the greatest TV-show about friends and their iconic opening? Have you ever wished to be in their skin? Well, you can! Try recreating the scene with umbrellas with your bffs. It's worth it.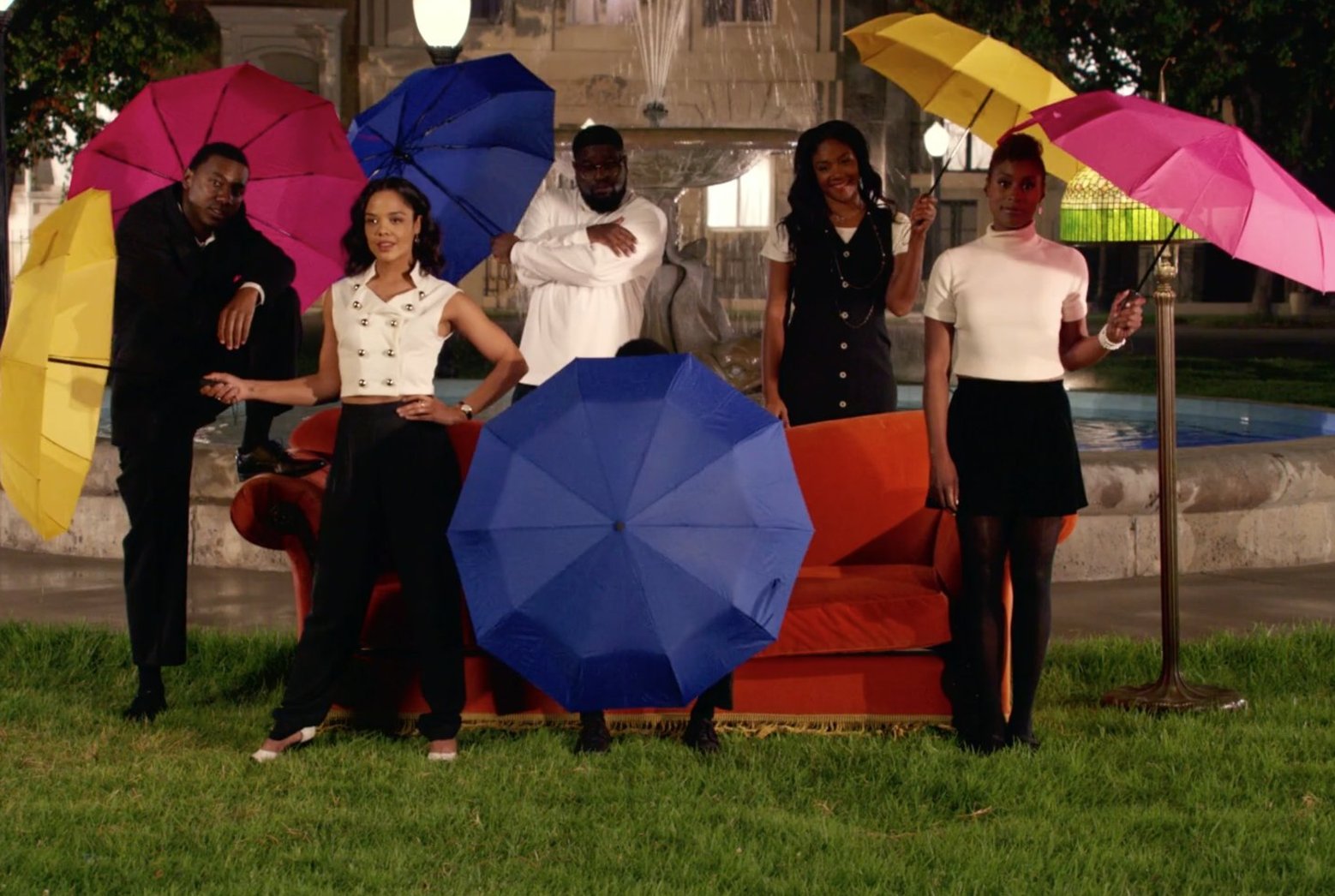 Hope you have found ideas you can use for your photo sessions. Moreover, our company offers reliable photo editing prices and high quality customer service if you need. Remember, that you can always leave the image post processing to us.