Christmas photo shoot is an excellent way to capture holiday atmosphere, used in a number of countries to make Christmas cards. However, to arrange such a photo session, you need to follow some Christmas photography tips: a guideness on how to take best family christmas cards, how to take pictures with Christmas lights in background and more. Our photo editing service has gathered a list of 50 trending Christmas photoshoot ideas to add that special Christmas spirit to your photos and share it with your friends.
It's true, that there's no time like Christmas, when we gather together with our family, and the festive atmosphere fill our hearts with joy. It's also time to make new memories. We all love the tradition of taking pictures during Christmas to send out on cards. And with Christmas just around the corner, all you need is some nice and creative Christmas card photo ideas. If you are looking for Christmas photo shoot ideas, you have come across the right article. We'll help you make this holiday season special!
Christmas photography backdrops we suggest will make your photos unique and exceptional. If you are tired of scrolling through Pinterest in search of the best Christmas Photoshoot ideas – this article is definitely for you. By the end of it you'll be filled with ideas how to make those adorable pictures for Christmas cards. The photos will be so incredible you will a hard time choosing the best one. Hopefully, they will help you make this merry season memorable.
Christmas photo shoot ideas for different models and environment
Obviously different photo session types suit different people. That's why we have included all the possible ideas for this holiday. Depending on whether you have a family or a couple, money for expensive props – the ideas will be different. That's why we did our best to divide all the ideas into 8 subgroups: Toddler, kids, family, funny, couple, casual, formal and props.
Toddler Christmas photo ideas
Idea 1. Santa helpers
Dress up a baby in a reindeer costume for adorable pictures! You can include family pets into the picture and dress them up too! That will only double the cuteness.

Idea 2. A present for you
Put a baby into a present box! One of the simplest, yet one of the cutest toddler Christmas photo ideas.
Idea 3. Christmas tree toys
Take a picture of a baby with Christmas tree toys! They create a fairy tale atmosphere and serve as good props and the photos will look good effortlessly.

Idea 4. Baby's first Christmas stocking!
We all love Christmas stocking stuffed with gifts. Try to be more creative and position a baby in a Christmas stocking, you can even hang it in the stocking on a fireplace. You will love this picture in years to come!

Idea 5. Christmas spirit
Pick up Christmas objects lying around and try to make your own simple Christmas photography backdrops to create that special and enchanting spirit. This can be different: ornaments, tinsels, candles, fairy lights, string-art, presents, Christmas tree toys.

Idea 6. Fairy lights
Fairy lights and Christmas go hand in hand. That's why it's a popular idea to incorporate Christmas lights into the pictures. Besides, the decorating possibilities with them are simply infinite.

Idea 7. Under Christmas tree
Take a picture of a baby sleeping under the Christmas tree. The photos will be beyond adorable!

Idea 8. Christmas wreath
We all want to keep Christmas wreaths up all year long. Why not photograph your baby in it? You can create Christmas wreath by yourself adding different adornments, glitter.

Idea 9. Milk and cookies for Santa
Kids have been loving milk and cookies since forever. Making them a part of your photo session is a nice way to show that you value traditions.

KIDS creative Christmas card photo ideas
Idea 10. Bedtime stories
Another great concept of Christmas picture ideas for kids is to capture them reading stories together.

Idea 11. Matching pajamas
One of the easiest Christmas photography tips that will transform your images is to wear matching clothes. Dress your kids in the matching pajamas to emphasize that special bond they share.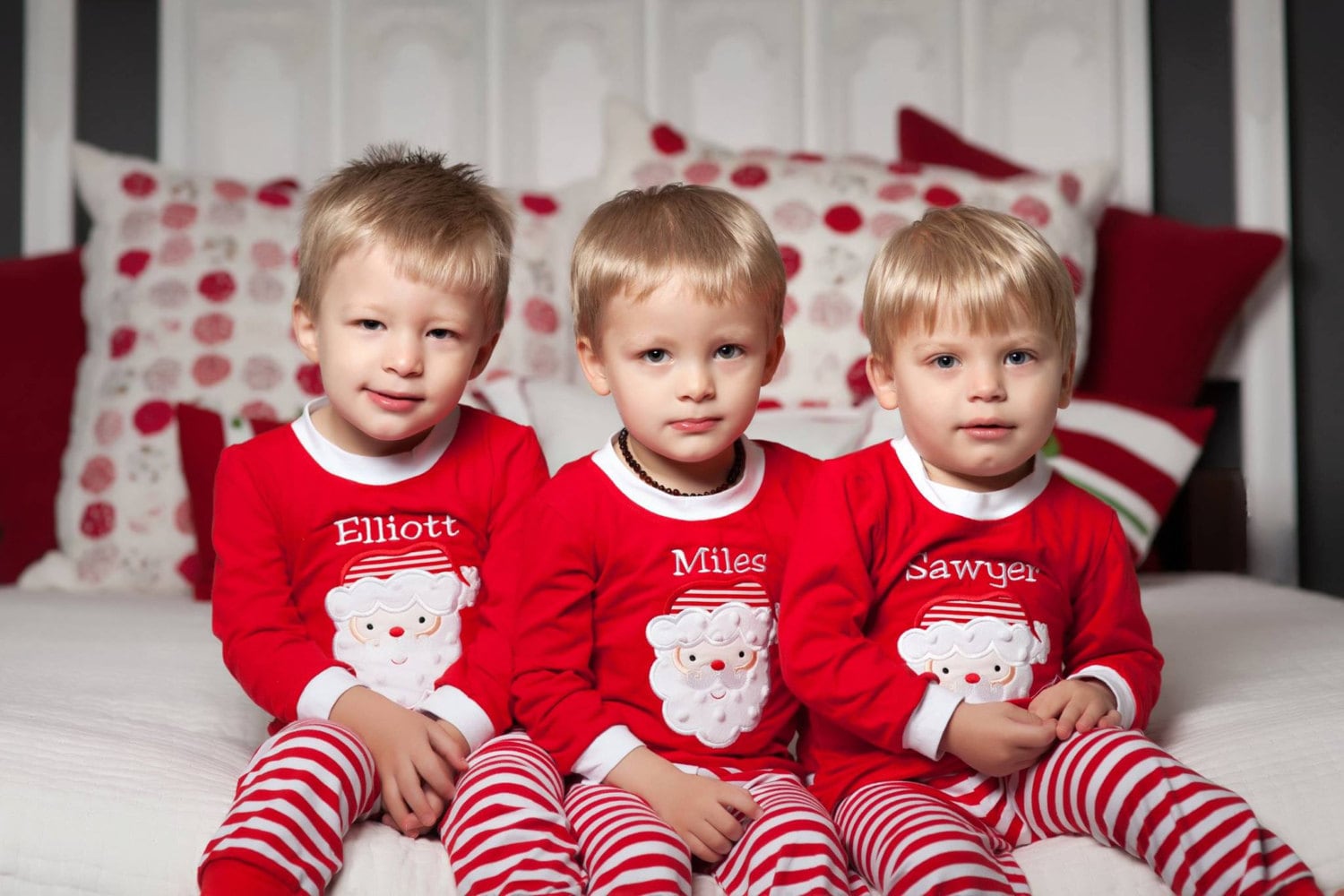 Idea 12. Christmas cooking
If you are looking for cute Christmas photo shoot ideas for kids, consider taking pictures of your kids cooking a Christmas dinner! We all know, that kids' helping out in kitchen is a recipe for a disaster, but it will surely help create entertaining pictures.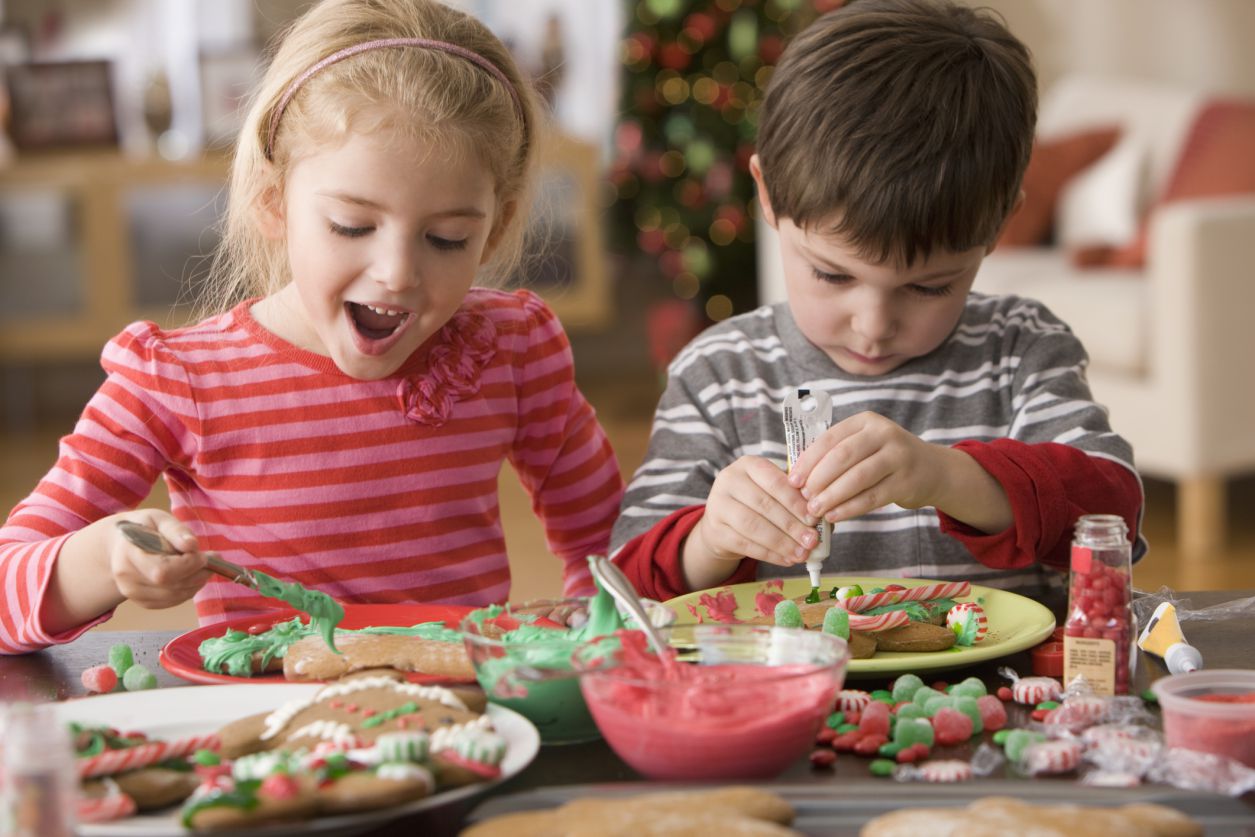 Idea 13. Truck car
One of the best outdoor Christmas picture ideas is to decorate the back of a pickup truck with Christmas props and put your kids there for priceless images.

Idea 14. Decorating Christmas tree
What can be better a feeling of joy on children's' faces than taking pictures of them while decorating it? Involve them into decoration process and see how much fun they will love it!
Idea 15. Meeting Santa!
Make your children believe in magic. Make their dreams come true and take your kids to see Santa. Don't forget to capture this special experience!

Idea 16. Playing around with snow
Get outside and have some fun with snow. You can tell your kids to blow snow out of their hands for that perfect shot.

Idea 17. Unwrapping the gifts
Take picture of the children unboxing the presents to capture their reaction and see joy on their faces. Needless to say, it's their favorite part of the entire holiday season. Their delight and the way their faces lights up is so precious!

Funny couple Christmas pictures
Idea 18. Heart-shaped candy
Take two candy canes and form a heart with them! Festive and romantic!

Idea 19. Wrapped up in a blanket
This idea is great for couple Christmas photo shoot! Grab a blanket and start taking pictures!
Idea 20. Couple Christmas photos with dog
Your four-legged friend is a big part of your family. It's only natural that you want to include your pet into your pictures. We suggested going to Christmas tree farm with it!

Idea 21. Under the mistletoe
According to the well-known custom, if you stand under the mistletoe – you should kiss the person close to you. Taking a picture holding mistletoe is not only an original idea, but also a great way to show love.

Idea 22. Tied together
This one belongs to cute couple photoshoot ideas. Its secret is in Bokeh lights Photoshop, which create magical atmosphere around you. Go outside, wrap fairy lights around yourselves, and trust us, you will love the results.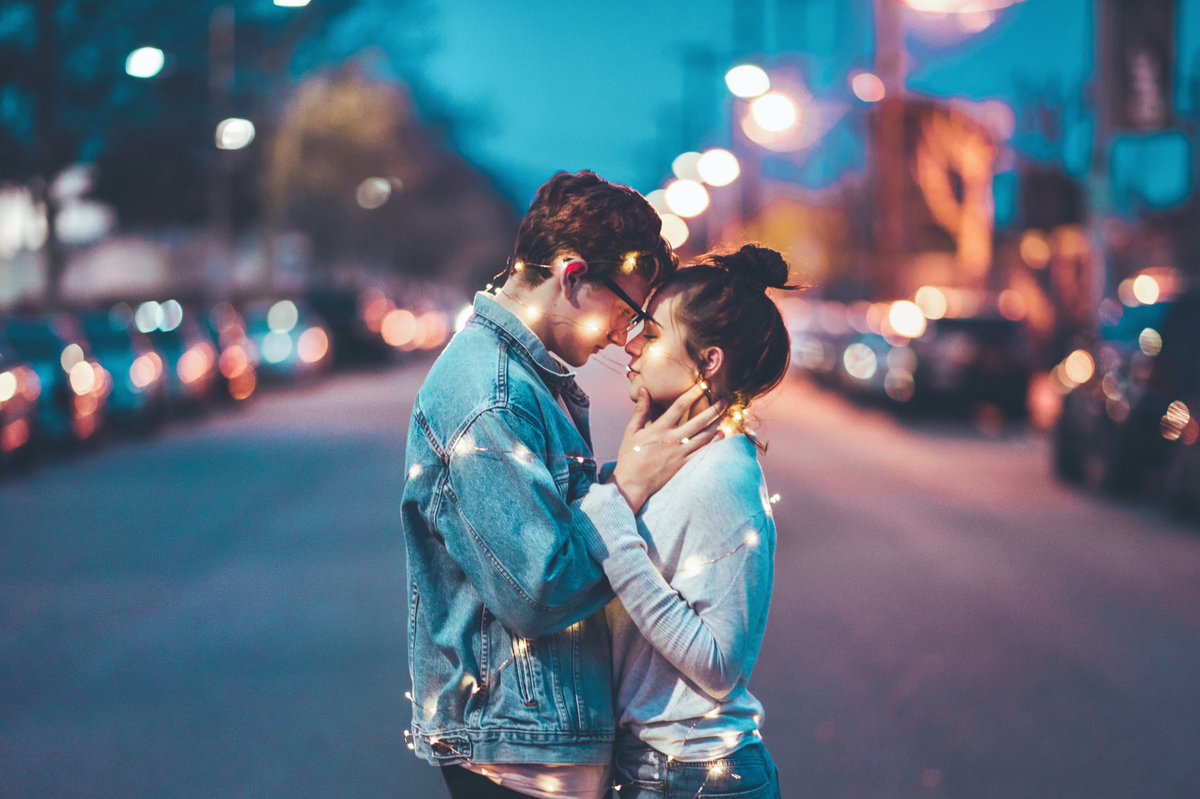 Idea 23. Front door
You don't need any fancy Christmas photography backdrops. Just take a picture with your loved one in front of your door decorated with a wreath. Your home is a sacred place for your family. That's why, this kind of picture will have deeper meaning behind it.

Idea 24. Christmas tree and cute kiss
Kissing in front of the Christmas tree will look incredible in pictures! But before that you need to learn how to take pictures with Christmas lights in background.

Idea 25. Christmas portrait photography
Keep it simple: get cozy, forget about the camera for a minute and take portrait pictures, showing your affection for one another.

Family Christmas pictures ideas
Idea 26. Santa hats!
Nothing screams "Christmas" more than Santa hats! This idea has been around for a while, but it never gets old! Get everybody a Christmas hat and capture that atmospheric Christmas family photo.

Idea 27. Matching outfits
Coordinating your outfits, when doing a family shoot is a time-honored tradition. Wearing matching outfits during Christmas photo session will show your togetherness.
Idea 28. Presents
If you are not a fan of boring, cliche ideas and would love something quirky – we have an idea for you. Out of all the funny Christmas photo ideas- this may be the best. Have fun with your family by dressing up in present boxes and goofing around.

Idea 29. Picture from above
If you have a big family and are looking for Christmas photo shoot ideas – here's one for you. Lie down, creating a snowflake! This is a good way to engage everyone into the picture, no to mention that overhead pictures are always in trend.

Idea 30. Family Christmas portrait photography
If you want to have stunning Christmas photos – Christmas portrait photography is the answer! Take your family portrait to commemorate this holiday. The portrait may be formal or casual, depending on your preferences.
Idea 31. Giving presents
What can be more joyful and pure then giving Christmas gifts. Capture this intimate and special moment!

Props you need for indoor or outdoor Christmas picture ideas
Idea 32. Fairy lights!
Christmas photography is impossible without fairy lights. If you know how to take pictures with Christmas lights in background, you'll get amazing results. You will admire the pictures!

Idea 33. Christmas toys!
Christmas tree toys are the simplest, yet the most effective photo props. Don't forget that using Bokeh lights Photoshop will get your photography to another level! If you are interested in fining out more about it – read the article "All you should know about bokeh effect Photoshop".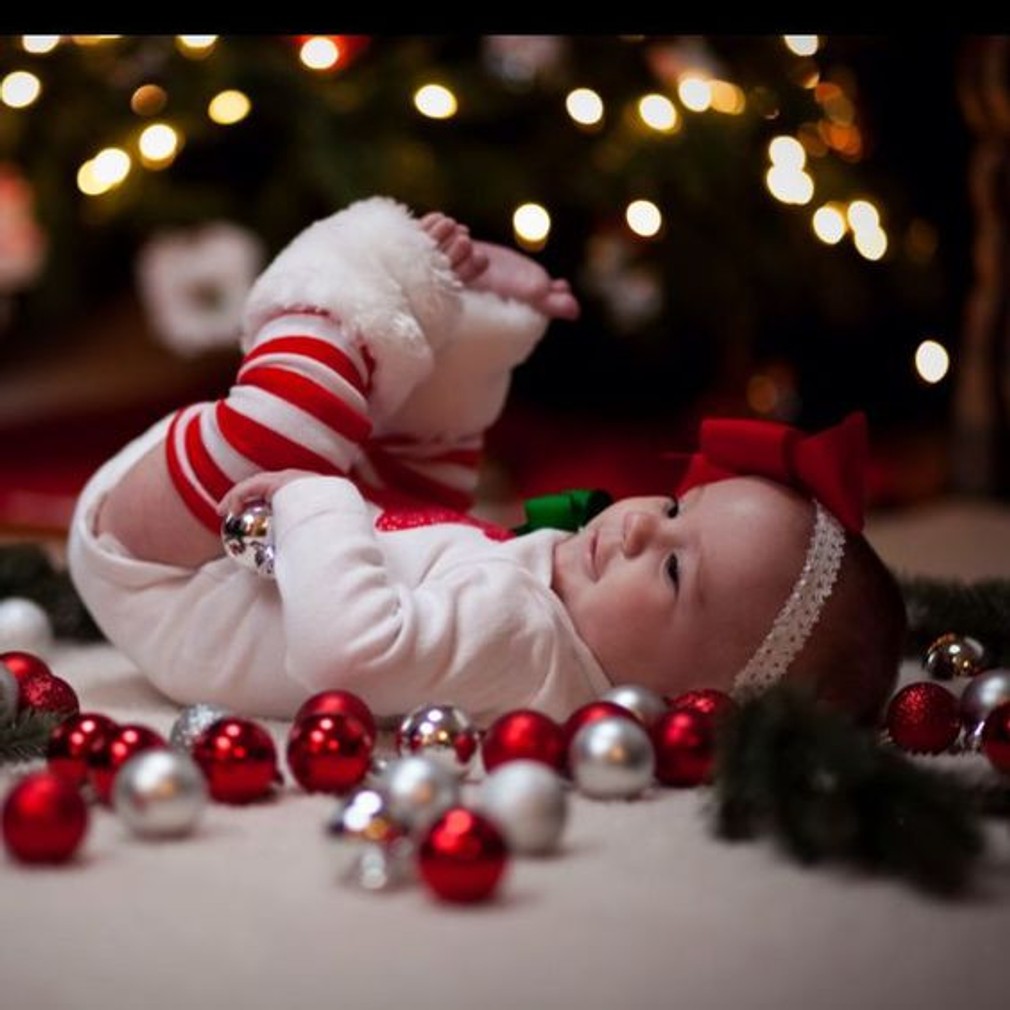 Idea 34. A cup of coffee
Make a cup of coffee or any other warm drink you prefer and incorporate it into your winter photo session. This will instantly give your pictures that fuzzy and cozy atmosphere!

Idea 35. Candy!
We all love to indulge in Christmas candies, but they also make good props for photography! You can also use cookies, gingerbread houses, lollipops.

Idea 36. Christmas gifts
Christmas and gifts are inseparable. Nothing will add more festive spirit to your photos than presents.

Funny Christmas photo ideas
Idea 37. Trouble-makers
Let kids take over the Christmas! Make it look like they've ties mom and dad up.
Idea 38. How the Grinch stole Christmas
It's one of the best funny family Christmas photos card ideas. Recreate one of the most famous films about Christmas.

Idea 39. Tangled
Wrap your entire family in lights for a photo that no one will forget.

Idea 40. The naughty kid
To create funny family Christmas photos – choose the biggest mischief-maker in the family and make him/her look like you are trying to tape him/her to the wall.

Idea 41. Human Christmas tree
Grab all your best friends to create this memorable shot. If you are looking for more ideas to take pictures with your friends, check out the article. "The best friends photography ideas to try" .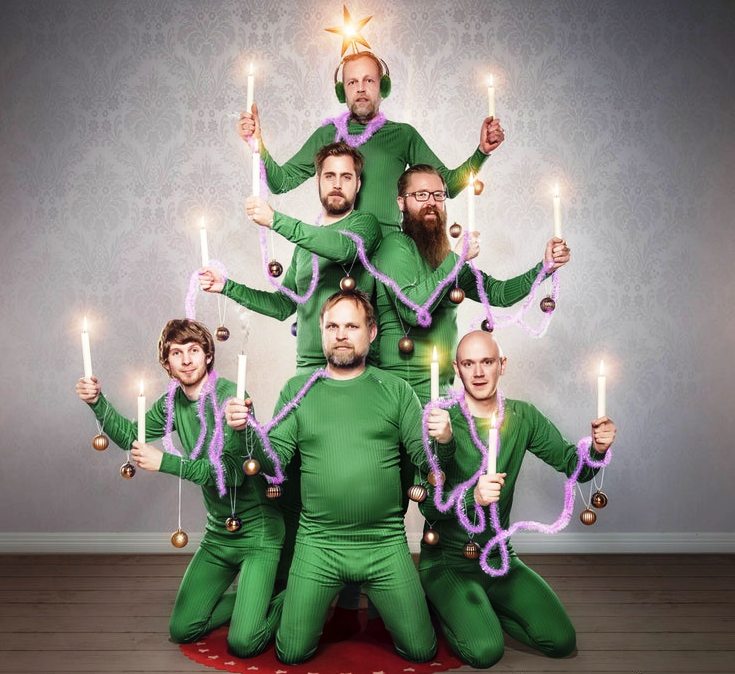 Idea 42. Getting Christmas tree
Take a hilarious shot by putting your baby in a toy car and putting the Christmas tree on top.
Casual Christmas photo shoot ideas
Idea 43. Embrace
Uncomplicated pose is always better in showing true emotions. Bokeh lights Photoshop will add a sprinkle of magic to it.

Idea 44. Unrehearsed poses
Some people goes for fake poses for their pictures, because they are afraid of unflattering results. However, it's those unrehearsed poses that can help capture intimate moments.
Idea 45. Sleighing together
Not a lot of families go for outdoor Christmas mini sessions, because they do not know what props to use. Don't forget, that you can use an old sled as a prop!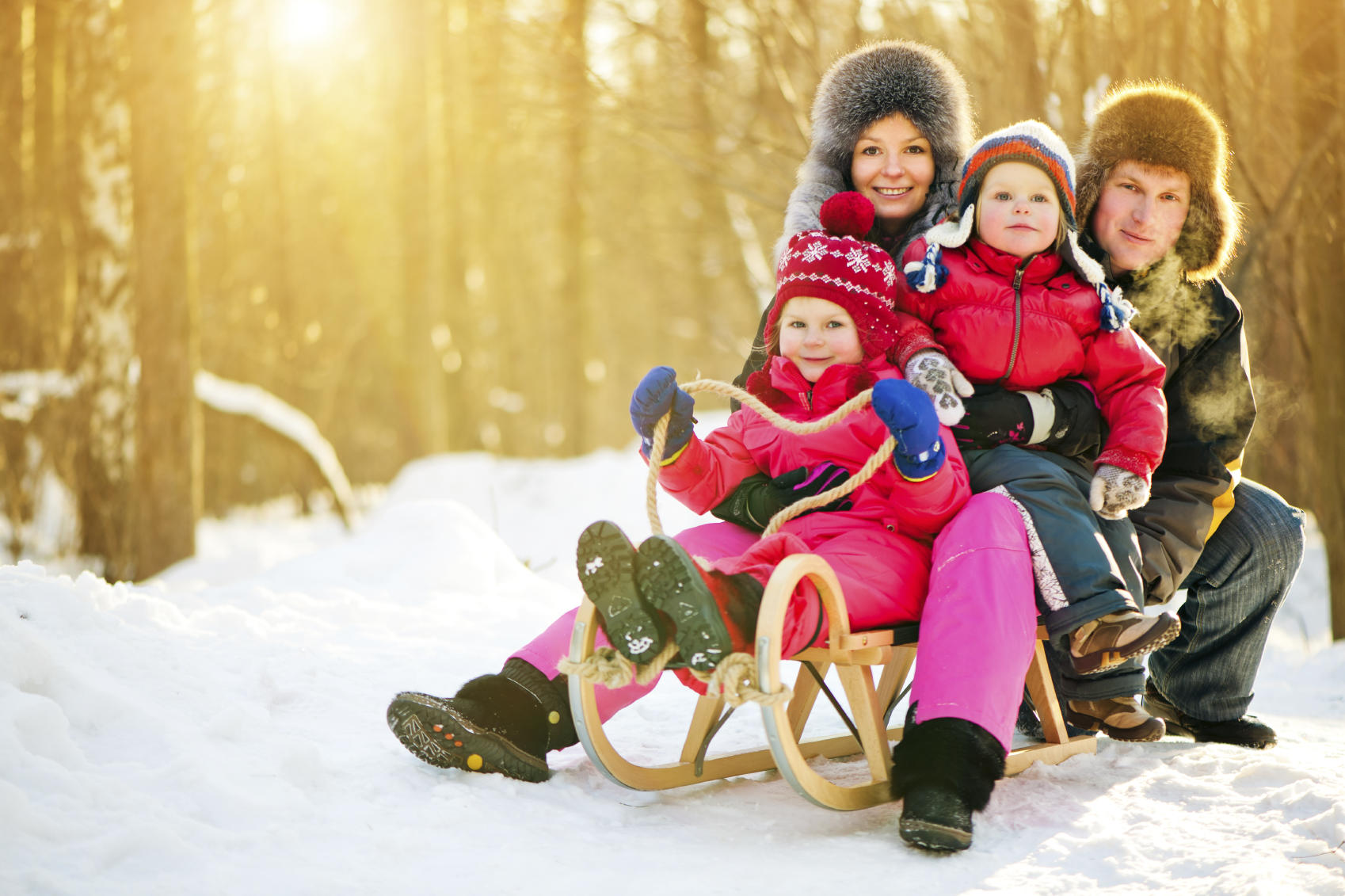 Idea 46. Snowball fight
To get the most sincere reactions at your Christmas family photoshoot have a snowball fight!

Formal Christmas portraits ideas
Idea 47. Mantelpiece shot
Gather your entire family in front of your fireplace, which is a great feature for your decoration.
Idea 48. Fancy studio
If you really want your Christmas photos to be pompous – rent a studio filled with expensive decorations.

Idea 49. Formal attire
If you really want your Christmas photos to stand out make it formal! These pictures are best suited for Christmas cards
Idea 50. Easy and formal
If you want to make formal photos, but still want to keep it simple – dress up and take simple family portraits in front of your Christmas tree.

Hopefully, you've enjoyed reading these Christmas photography tips. Don't forget that you can always leave image post processing on us! We value your time and money. That's why our photo editing prices are affordable, without compromising the quality of results.