When we look at the wedding photos, where we or our friends are captured in photograph on the beautiful day of the wedding, it is simply impossible to look up from such beauty. The newlyweds in the photo are happy and gorgeous and it seems that the smiles never died on their lips. Looking at the photo, you are literally soaked with that atmosphere of celebration and fragrant air, where every event and every moment of a joyful day is imprinted and kept for future generations.

Wedding photography is an important part of the wedding celebration. Thanks exactly to the photographer and his work; we have the opportunity to look back again and again the once experienced happy moments. Needless to say, the quality of photography depends on the professionalism of the wedding photographer. Therefore, if you want to have the best wedding photos, you need to invite a good specialist whose cost of services will answer the quality of his work. After all, only a professional wedding photographer can guarantee that the photo session will be successful and there will not be any overlap.

Today, the profession of a wedding photographer has become especially popular. Despite the new technologies of photo-industry, when anyone can take a photo even on a mobile phone, a professional photo is always like gold dust. It's not a secret that a beautiful wedding photographic image, where all the fragments of the exhibition are visible, with the correct usage of light and shadow, is a visiting card of the wedding celebration.

We all prepare for the wedding long before, we save up money, buy the best and expensive outfits, try to glam up this holiday as well as possible. The heroes of the occasion are sometimes so carried away by their rueful feelings and worries that they cannot see clear and appreciate all the shine and luxury of their holiday. From this perspective, there is a normal desire to capture on paper the whole wedding, where the smallest detail has a great importance, both for the newlyweds, and for their dear guests.

Today the art of modern photography and the possibilities of the photographer allow us to develop even the most absurd wedding fantasy. Professional wedding photographer will make for you a unique photo album, and every professional has his own style and style of design. The wealth of collages' ideas, vignettes and other devices for caprioles of fancy, will turn your wedding album into elegant and the one-of-a-kind photobook.
Wedding photography, where the mood and the emotional inner history of the celebration are recaptured, a fullness of feelings and beautiful moments is the professionals' condition, thanks to their work you have the chance to get high-quality and vivid illustrations of your wedding celebration.
Photo manipulation techniques you should try
The manipulation of digit photos is a kind of the advanced art that depicts the acquirement of the technical tools' handling and the designer's creative thinking. As a result, the image should inspire each of us. This type of art acquaints us with the undiscovered aspects of our reality and makes us feel different.
The photo digital editing is the contemporary blend of parts of different images and graphic elements in order to gain a completely new work with its own meaning and purpose. Masters of photo metamorphosis embody their creative ideas by combining different, as a rule, quality stock photography, into a single whole artistic image.

The photomontage implementation with the introduction of computer-aided technologies (Adobe Photoshop) gained common access. These programs have made significant contributions, allowing you to improve the task of photo correction and get more accurate results. In addition, they minimized the probability of error, enabling to the designer to "cancel" the wrong action. However, in modern art there are many photo collages that were created so painstakingly that they can compete with traditional art works. Modern photo manipulation trends allow you to make pictures that bring together painting, theater, illustrations and graphics in a photographically "cutless" way.
Photomontage can include elements of natural and fantastic world. Such mixed photographs and digital program operations represent a clash between aesthetics and ethics, e. g. photomontage for fake news. The U. S. National Organization of Press Photographers has constituted a Code of Ethics to promote the fidelity of published pictures, which states that all public photographers "should not manipulate images that may misinformed viewers or distort the subject". It was established due to different political and ethical problems, caused mainly in mass media.

The photographic compilation is an integral technique of the now popular scrapbooking, which attracts many families around the world. Scrapbooking involves creating an album of family history, in which photographs of family members are part of a collage of scrapbooks, ephemeral paper and other decorative elements. The advanced scrapbookers also use computer programs to create collages and original signatures to them. These programs can twist home projects, including wedding celebrations, into expert products. In addition, the digital photo collage allows you to create your own website with a family history, which will be available for viewing by friends or relatives anywhere in the world.

Quality photo combination is not a simple "gluing together" of pieces of various pictures in the Photoshop graphics editor. It includes the processing of all fragments of digital pictures in a single color palette, tone correction, takes into account the position of light sources and the direction of the shadow, it is almost impossible to divide it into original photographs.

Photo editing programs, which were mentioned above provide photographers and graphic designers with an abundance of techniques, using them simple image can turn to masterpiece by removing flaws, applying different textures and 3D-effects. Below we show some techniques:
1. Photo cutouts are the most popular function in the Photoshop. You can run a contour of a needed subject or an object and cut it from a background. But it requires a practice to make a seemless photo cutout, combining a few techniques.
2. Color combustion is a photo correction technique that includes a bucket of various plain pictures to make a digitally-enhanced picture. Once you get a concept in your mind, you can start to draw together necessary stock images for your digital photo compilation. You can apply adding, cutting, adjusting, altering, painting and modifying features. Every curve and hue of colors depends on your fantasy.

3. Age progression is the Photoshop effect, which helps you to put years on somebody or something. For this you need well-defined picture, because it shows all details and flaws of skin, and start visualizing photo to age the person or the object on it. Added wrinkles and gray hairs you can see how the person would look in his frosty years of life.
4. The maintaining aspect ratio is one of the most essential things, before you start to combine different parts of digital images to make the one whole picture. If you create devious photograph or collage, you have to consider proportions of objects to make them more realistic and obvious.

5. Focus on details to show people the main purpose of the image. Using different effects and techniques, the "cherry on the cake" can fade from view. In order to avoid it, you have to concentrate the audience's attention on the most colorful or eye-popping area of the picture.
6. Using the C4D technique. This tool offers animating, lightening and abstract effects. They can be utilized to enhance the flesh of your artwork, and give it an even realistic look.
There is a ton of designer's techniques for editing an image, but do not forget about few important thing, mentioned below, to make the photograph quality and realistic.
Crazy Photoshop manipulation ideas
Throughout the ages, glorious artists often seek different opportunities to demonstrate their unique character to express themselves and originate new directions and techniques to distinguish their work aside from the throng. Photo compilation contains out of the box ideas that stipulate a skill and accuracy as we know to show up of the digital age.

We present you a list of the interesting the popular photoshop manipulation ideas, which photographers can apply to your images.
• The common photoshop action is black & white effect. The Photoshop offers about more than 10 dramatic black and white variations, playing with these combinations you will create a perfect eternal image.

• Cine Stock Photoshop Actions. Leaving the photo in its original condition you can fix up the tones, saturation, and contrast of given picture to create that cinematic and deep look.

• Actions on the Anaglyph Photoshop drawing. The creative retouchers can apply a professional anaglyph effect to your photos, just choosing the right one effect and experimental action to reshape your photographs by nondestructive correcting.

• With using the Watercolor Photoshop Action, your simple images turn into oil painting. You just point out the area by brush.

• Matte & Faded Photoshop Actions. With a diversity of soften and faded effects, you'll give your images that beautiful dreamy quality with a click of a pointing device.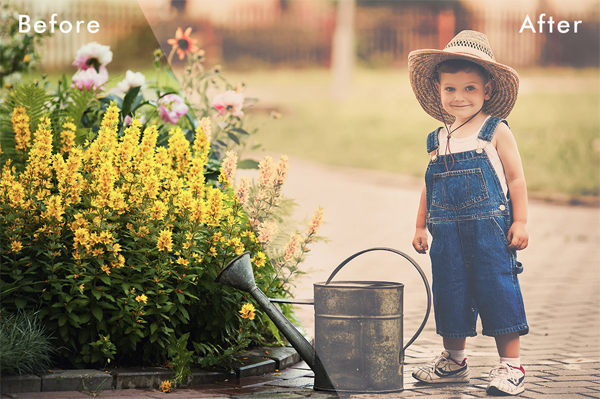 • Shimmer Photoshop Action. Add to objects and subjects magical sparkles, by touching the marked area of a brush.
Professionals can experiment with these effects like what the heart wants; they transfer their dreams and ideas into the computer to execute successful artwork.
Photo manipulation inspiration for amateurs
The talent in any sphere requires a lot of practice. We illustrate you a list of wonderful ideas for photo projects, especially which can be used for wedding photoalbum. Get inspired yourself and perfect your knowledge of the photo manipulation photoshop techniques!
It is interesting and amusing process, utilizing the Photoshop programs you can create quaint images and funky works to implement their in life and boast them. Here we show some incredible effects and tools, which you can draw upon for your photo manipulation inspiration.

The photos can become mysterious if you make faceless portraits or take pictures of lovers from their back, covering any other small details. And the most jolly photos, these are always taken accidentally.
Today, no event is conducted without gadgets, each guest and the newlyweds do a bunch of cadres during the preparation for the wedding and during the holiday itself, all these photos can be put together and you can play with them using the most crazy effects, for example, deconstruction of images, portraits with the effect of the Brenizer (Bokeh Panorama and Bokehrama).

You can add the effect of small glowing bubbles to the images, or select fragments and make them close-up, or create a texture in the photo.
The result of "Toytown" was used by high-priced tilt-shift lense; however, today you can reach the same result in the Photoshop program by blurring the entire picture except for a small section. For more persuasive power, shoot the location from a hill when sun shines brightly.

Playing with optical illusions, you can use the perspective to change the perception of the audience grounded on the ratio of various objects in the picture. Pitch upon a small focal ratio to achieve greater depth of field, this will enhance the illusion effect.
A session of animated GIF files illustrating the movement requires processing in Photoshop and you will have to shoot a video, but the results may look mindbending.

You can add retro digital effects in surprisingly simple method to given photos using the Photoshop program or Lightroom. But the scenes will look even more natural, if you plan the style of the images before you shoot. Low fidelity effects hang together with simple, graphical objects.
For example, a wedding album can be performed by obvious narrative, color, contrast, or in a more abstract and unexpected way.
Creative photo manipulation – how to stand out of the croud
Now we would like to tell you about one of the newest effects that will boost your wedding photoshoot and top up luxury and brightness to it.
Strobist effect is a new concept in the using of flashbulbs. Thanks to the compact, most commonly camera flash, it is possible to achieve the effect of studio shooting, practically in any space. Also it is very effective to use strobism in portrait photography.
For this, an average of 2 to 20 flashes is used at the same time. For convenience and efficiency, the photographer is assisted by aidants who understand him from a half-word, arranging them on the basis of the author's idea.

The effect of strobism is very convenient when taking photos at events, especially indoor or at night.
The flashes are placed in certain places and are triggered only when the shutter is pressed on the camera, with the correct power of the flash units, the frame turns juicy and bright, comparable to the effect of the spotlight illumination, and given the fact that the flash lasts for a fraction of seconds, the guests of the festive event are not bothered by constant bright light.

Lately, strobism has become very popular creative photo manipulation precisely in wedding photography. Due to the compactness of photo flashes, mobility, proper placement and professionalism of the photographer who can correctly illuminates and highlights the necessary objects, and also "catch" a beautiful cadre and after it, properly edits these images. In fine, you will get not just an album with wedding photos, but a magical photobook that takes you to this unforgettable, most important and heart-piercing day.
The team of our site closely follows the trends of modern wedding fashion and is in the swim of new trends and fresh ideas.
The most important trend of wedding fashion is the rejection of patterns and stereotypes, the rejection of traditions that have bored the newlyweds. In modern weddings, more and more individuality of the couple, and this should be expressed not only in the images of the bride and groom, but also in
photographs, which will then warm your soul and make you happy. Less focus on others and listen more to yourself. Fantasize, dream, create and love!
Pay attention to the little things, be thankful for really beautiful and professional photos! After all, they will remind you of this gorgeous event – a wedding – for long years.