We know that you as a person, who lives in modern world is familiar with popular types of photography. What it is not necessary, you definitely come across varied kinds of picture that feed our eyes with their brightness and versatile captured details. But the tick lies in different place. When you realize that photographing may become something bigger and more important than just a hobby, a certain challenge will definitely find you.


It may be connected either with fresh and new trends in photography or with a main topic that will become a basement for all your photo sessions. Thus, we feel our responsibility for helping you with making your final choice concerning photo theme and style. But before we will present you the most appropriate themes for shooting, let`s get down to photoshot tips that every beginner should take into close consideration, as without them any kind of photography will not look alluring. We will start with a video that is focused on the biggest mistakes as that is the most convenient way to learn.
Now you are ready to absorb various kinds of photoshoot ideas for beginners. All of them will be quite polar and not quite simple, that means that we will not advise you to shoot the blue sky and colorful flowers. It is too boring us. We are creative and modern people, who are not afraid of challenges and fresh trends. So, let`s start.

Fashion photography – for those who are not afraid of difficulties
Fashion photography has come in a high genre from the service industry. At the beginning of its definitely stellar path, the genre of fashion photography was close to everyday life, common photographing of documents and surely portrait photography. The development of fashion industry and glossy publications has brought a fashion photo to a new level. Now it's not just images with beautiful things and people who advertise clothing and just varied items, but a separate sphere in which many artists have found their realization. Photos of this style are exhibited in museums and original images are usually bought at auctions for different private collections. Thus, here you will have enough space for realizing your abilities especially with our photoshoot style guide.


In the history of photography, there is one feature that distinguishes the fashion from other photographic genres. Fashion is a kind of chameleon. It can pretend to be a documentary photograph and an art photo, take a little out of the movie, replicated images of pop or counterculture, and eventually a wild and startling mix is born.


Here the most important goal is to get the emotional response of the viewer (often with the help of shocking and challenging captured events) and make them impressed after looking at your pictures.


Now many art and documentary photographers shoot for well-known magazines. In order to get a brilliant fashion story for a magazine level like in Vogue, Espire or others, you need not only a good photographer, but a whole team of professionals. This is absolutely a team game. Here no one has the right to make a mistake. The failure of one of the participants can affect the final product more than it may seem at first glance. There is no genius fashion-shoot, made on the spot. The team should have brilliant make-up artists, stylists, producers and models. Of great importance is the period of preparation, when a story is invented, clothing is collected and the necessary places are chosen. But that is only your tempting future. It definitely may happen to you in case you will be hard-working and enthusiastic. For a beginning level you will need just a professional camera, creative ideas, great models and unusual photoshoot ideas for beginners.


When doing a low-budget shoot, do not plan to shoot a lot. Invent the concept and select participants strictly under certain requirements and a limited theme. Call one girlfriend, find a couple of other character heroes through social networks, through friends of their friends, and ideally communicate with the modeling agency, where you can undoubtedly find a young and not very experienced girl, who has the necessary model parameters. That is easier than you might think. Agencies often stick to a similar barter. Beginning models need new professional photos to enrich their portfolios and photographers are always looking for fresh and interesting faces. You may persuade the designer or show-room of fashionable clothes to participate in your photo shoot.


It is important to work with models as with real actresses. Remember that you as a photographer are the director of photography for them. You need to learn how to explain and communicate with the models in such a way that they can play Lolita, a gloomy-sexy vampire, a rock star or a frustrated girl sitting alone at home, that is all that you have in mind. It may be helping to do an understandable storyboard and to show it to all participants before the start. As a rule, the story should be clearly shown in it. But if do not like to think over each detail, be ready to explain at least the range of necessary emotions to be shown on future shots.


For a beginner photographer, you need to look at a huge number of photos taken in the genre you are interested in or get familiar with new trends in photography again in this genre. You have to analyze and understand where what light is exposed, what flash and reflectors are used. Try to repeat these tricks at least during your hobby-like photo shoot. Here professional equipment is not important, as for instance you can pull nylon stockings on the lens to get a pastel picture without applying Photoshop.


If you want to get a vintage shots or a frame in the style of Andy Warhol or other artists, use the filters "Granular film" or "Pop Art". "Soft focus", for example, will give the mystery, tenderness and even mystery to your photographed model. The ability to install more powerful flashes and manual settings will let you realize all your creative intentions. The main thing is the desire to get a unique picture and invest the maximum amount of energy in the shooting. So, why not trying fashion pictures? Moreover, such photos contain a lot of secrets and funny moments. Read about them in this article The secret of beautiful photos – what`s left behind the scenes photography.

Sport photography – why not join professionals?
Sports photography has a huge potential for capturing dramatic and vivid shots that will always be in trend. In no other sphere are there so many exciting moments, bright palettes of colors and unique opportunities for shooting. Thus, many beginning photographers are dreaming about this style of pictures and are desperately looking for new photoshot tips. We will describe some of them that are essential for the start.


Sport photographer are known to try new every photo shoot that enables sport images to be among popular types of photography. Each sports photo should not look the same events, as viewers will get bored very quickly. For instance instead of photographing at eye level, you may lay down on the grass in the protection zone as low as possible and work with a perfect wide-angle camera lens. This way you will manage to show the game from a new angle and tell the fresh story.


It is not necessary to photograph big sports in order to get new ideas. Even when photographers shoot football games in high school, they constantly look for fresh angles and photoshot tips.
Moreover, you should not forget about the environment and background. It may seem elementary, but do not forget that there are also landscapes around. Whether it's a stadium full of impatient fans, or a nearby environment, all these provide unique opportunities to convey the spirit of a definite game without completely shooting the action. Additionally, very often backdrop may be even more interesting and beautiful for shooting.


You should also have special equipment and a special belt or bag for it. Have you ever wondered why sports photographers wear so much equipment? The answer cannot be simpler. When you are situated on the sideline of the field or right in the middle of an action, it's difficult to go to the bag and back and change necessary equipment. Many modern sport photo makers use one of three ways to wear their equipment during matches: a waist bag, a belt system or a special vest. Every item is quite effective.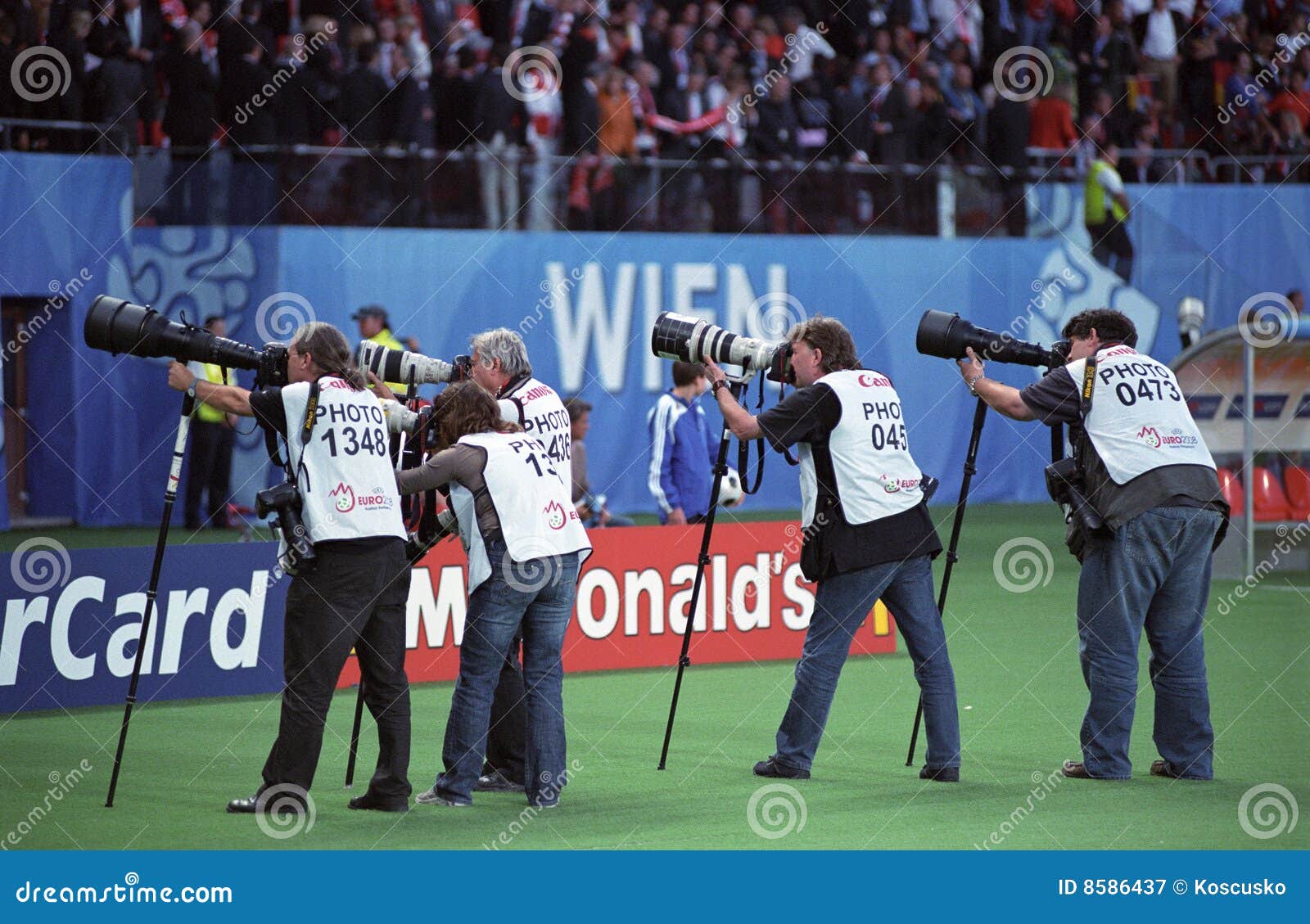 We have totally forgotten about lens. The choice of the lens influences your success. Sports photography sometimes requires the most high-quality equipment. This sure thing allows you to shoot from anywhere in the sport stadium creating flawless shots. Moreover, you should look for professional lenses that have passed the test of ruthless time: there are certain reasons why Nikon and Canon rarely release new models. This way you will not get mistaken.


Additionally, you should get rid of bad photo making habits. Remember, you must not chimp. Unfortunately, every sports master can become a victim of such a thing as "chipping". If you are not familiar with it, we will give you a brief definition.
Chipping is a habit of checking every frame on the LCD-back of the camera. Why is that so bad? You distract the view from what is happening and direct it to the screen. There are two reasons not to do so. Firstly, there is a growing risk of injury and secondly, you can easily fail to make a good shot, which is even more disappointing.


In the very viewing of photos there is nothing wrong, but for this there is a separate time and necessary place. In sports, after pressing the button the second chance will not be possible.
Using a long shutter speed will be also useful. Together with the search for different events, sometimes it is worth trying a different endurance. If you want to photograph the silhouette of an athlete during the shooting of a basketball match, we do not recommend working with 1/60 sec.


For sports that are held indoors, organizers usually install powerful flashes (or stroboscopes) on the rafters of the hall, that ideally light up the playing field. Then these flashes are synchronized with your used camera using the Pocket Wizard or other modern tools. If you still notice some imperfect after the game is over, do not get disappointed and ask for our photo editing service.


Wedding photo shoot – photoshot tips that always be in trend
We continue our photoshoot style guide with a classical genre of pictures. That is shooting of such solemn celebration as weddings. Many photographers tend to think that this style is so popular that there are no secrets and new trends in photography to be revealed about this sphere. But still, wedding photo shoot is such a complicated process that you cannot but read new and new guides concerning this topic. We also will present you a couple of advice that will become helpful for your start.


Professional photographer, in principle, is universal. He can take pictures of anything he likes, while not focusing on any one direction. The main thing is to love taking pictures.
For sure, you do not need to undergo special trainings, attend thematic courses and read tons of books to become a master of wedding shooting. You can create your own style and come up with your own rules that will characterize your work and lure customers. But before, you will need to discover some important rules.


The most useful piece of advice is not to manipulate. When the bride's morning preparations are going on, do not bother or ask for an artificial smile. Just be totally attentive and try to predict what will happen next. That will contribute to your portfolio, even without stereotype photo tips.


If the hairstyle and makeup are already over, then it is high time for a bride to get dressed up in a wedding dress. When she is already in the dress, most likely, the solemn exit of the bride will follow next and you should take a comfortable position somewhere downstairs. If you are a photographer, you do not have time to relax even a single minute. Be prepared to this work.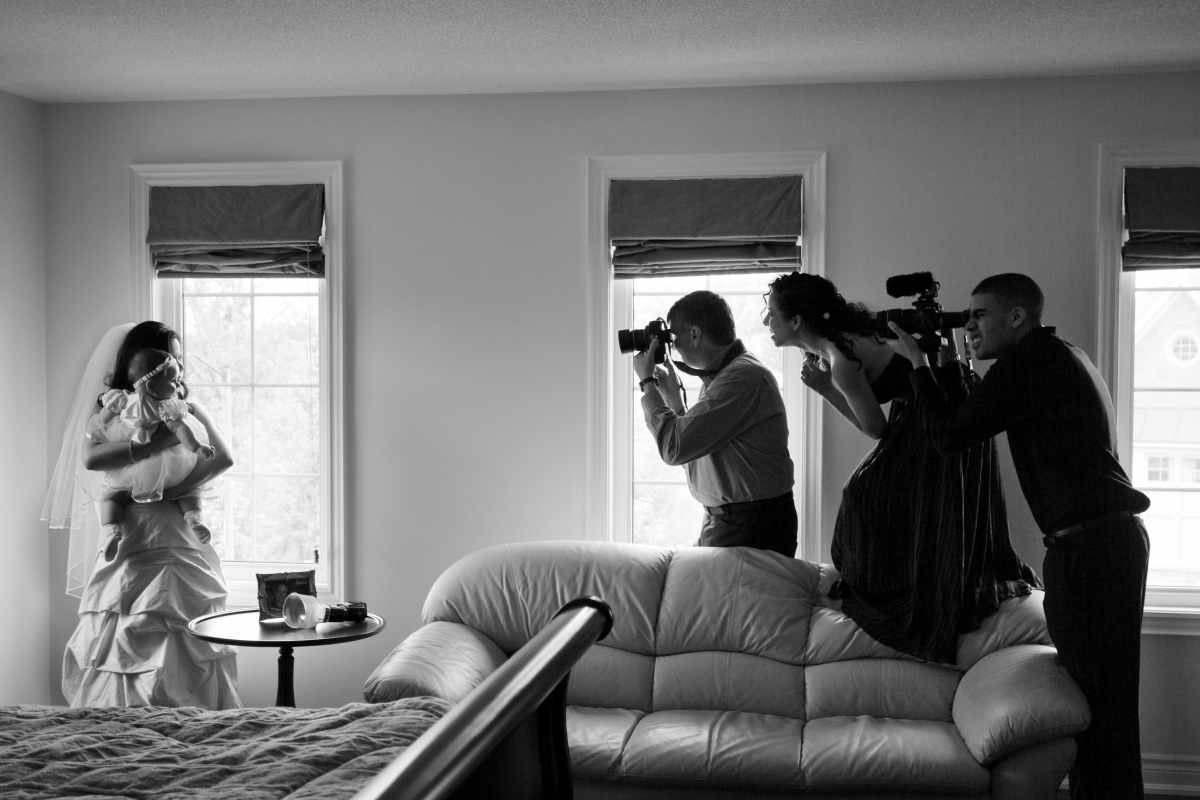 Your main aim is to fill the album, so use every chance. If you are allowed to wander around the house or around the house, you can make beautiful photographs that can be used to fill the future wedding album. Such images can create a sense of a photographed place and convey its special unforgettable atmosphere.


Ideally, if you are in the bride`s house. There you will find a lot of memories that are suitable for shooting. Family photos around the house, items and toys from the childhood of the bride, her bedroom will suit just ideally for making touching photography. Even makeup brushes, dresses, and various items in the house as, for example, wall clocks will look outstandingly.
We also recommend spending a few minutes alone with the dress, shoes, flowers, etc. Do this on your own, so that without fuss you will be able to capture significant memorable elements.

Furthermore, you should not be embarrassed. Really, do not be shy in front of the audience. Of course, you can use a zoom lens, but you still need to be strong and persistent to communicate with different people. Remember that you are here on special rights, you were invited and definitely authorized! Your movements should not cause concern to the public and, if necessary, you can take a shot even from behind the priest's back. Remember, that you have rights for it and in every photoshoot style guide arguments for it.


If you are a woman, forget about the wedding dress code and wear jeans. Do not try to look beautiful, or at least do not concentrate on it too much. Otherwise, you will spend more time adjusting your own skirt than taking a picture. And do not forget about comfortable and sure thing quite shoes. You should not create unnecessary noise.


One more advice concerning these popular types of photography is to stay impartial. If you happen to shoot at a wedding with your friends, then your attention will be shifted towards people, who are familiar with you. That is obvious. It happens on a subconscious level. Thus, you should identify close relatives on both sides and distribute your attention evenly.
Do not be afraid to command. This part is not easy for everyone, especially for shy photographers.. You will need to choose a location and take the newlyweds away from everyone who, for at least 30 minutes, will have an individual survey. This point is most often hampered by the increased attention of invited guests.
You should always have a couple of extra ideas for a wedding photo session. Bride and groom tell photographers what they want, but still that is not a rule. Thus, think your photo shooting long before it starts.


For the organization of group photography, you can involve someone from the invited, who knows everything and everyone. For example, one of the groom's or bride`s friends. Warn everyone about the beginning of the photo session. Then ask your assistant to declare the group of people you are interested in according to the prepared list. You will be able to spend 30 seconds per one shot and not more. It's not as simple as it sounds, but it's quite possible. Ask everyone to look at you and smile. Do up to ten frames, at one time.


Do not forget that you a professional. Among photographers, as well as among other professions, there are different individuals. It is unacceptable to look sloppy, spitting at the wedding photographer during official portraits. By his behavior and appearance the photographer can easily spoil the event. Excessive caution, gaiety, increased sociability and the wish to have productive work are what you need. So do not forget to behave professionally and that is all.
You do not even need to accept an invitation to participate in a banquet. The best idea is bringing a little food with you. Remember that people look at you and among them there are those, who are looking for a professional photographer.


Think twice before shooting people at the table. Do they want to stop eating, drinking or a peaceful conversation to cram their faces into the frame. What will the couple do with these images in general? Of course, it's great that you will imprint all, but do not cause trouble, do not be obtrusive and do it in a beautiful way. Try to become invisible.


You document one of the most important moments in people's lives. Your talent will certainly impress the newlyweds, because they know why they have chosen you. So, just put your soul in everything you shoot. Moreover, you may improve your skills with our articles Best Photoshop manipulations ideas to try.

Landscape pictures is among the best photoshoot ideas for beginners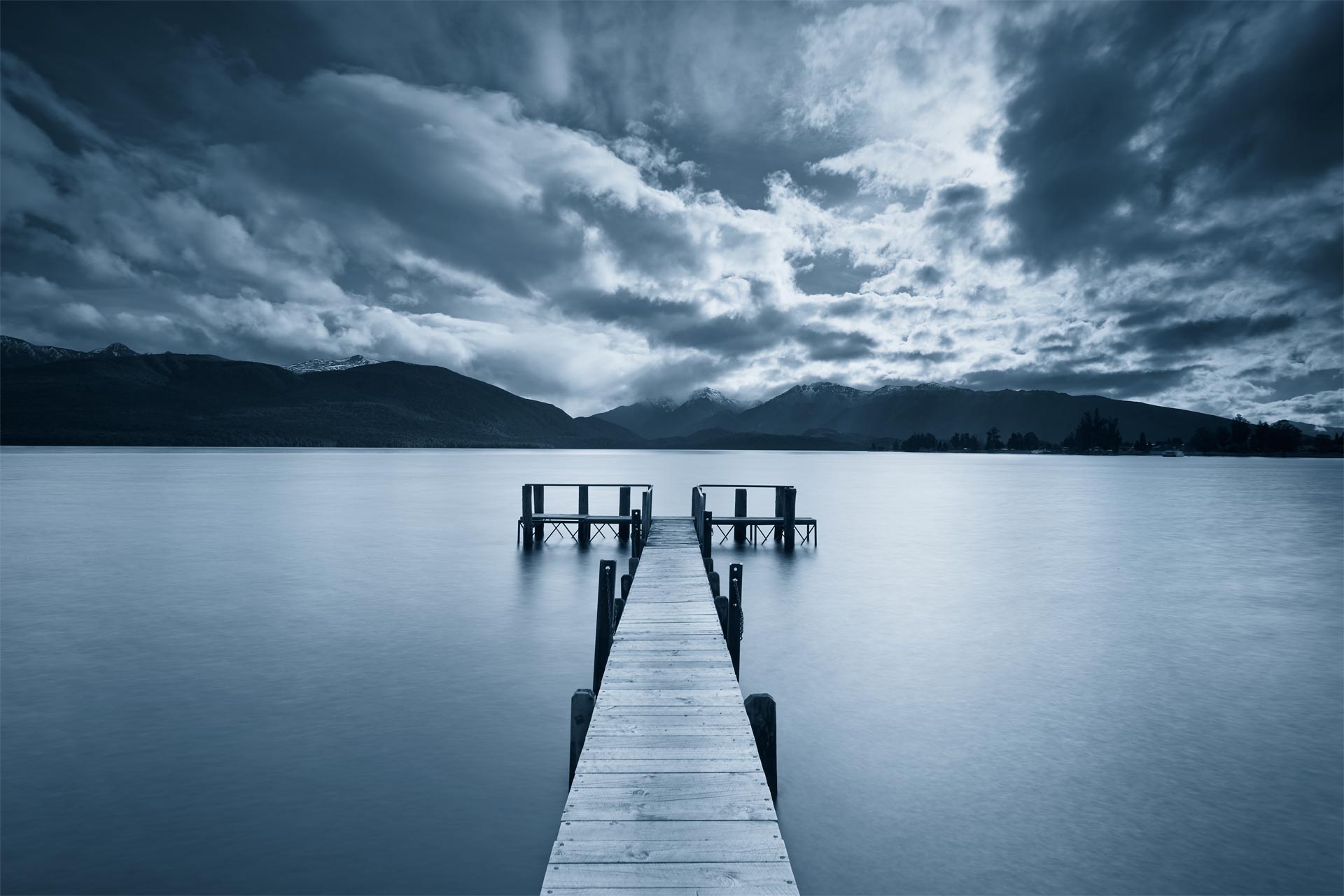 We used to live in cities among concrete and glass. Many people only occasionally manage to escape in order to admire nature, enjoy pure air, clear water and shrill silence. So every meeting with nature seems special and you want to remember it for a long time. Landscape photography allows you to keep memories of those rare moments and definitely helps you to mentally move to your favorite places.
But still it is one thing to shoot it for yourself, and the other is to convey the atmosphere of the place to people, who have never been there. Not everyone can do this. We try to give the most important advice to beginning photographers that will help you learning how to shoot a very beautiful, memorable landscape.


Beginners, as a rule, tend to think that there is nothing easier than to take pictures of a landscape. They have a mistaken point of view that in shooting landscapes there is nothing complicated, as the only difficulty is to get to the place of shooting. At first glance this idea is true. Here is the pond, here is the forest, here is the road, here is the sky with clouds floating on it, so you need just to take the camera and capture this wonderful moment. But, basically, after the first photo shooting, it becomes clear that it is not so easy to find an interesting story that will become a basement for future photography. It is difficult to see unusual things in everyday life and, to make the things worse, it is not always possible for a beginner to make the right accent.


After all, it is very important for the landscape painter not only to fix the beauty of some picturesque corner or place, but to be able to show the mood of nature itself, its state, the harmony of color and light. But still all this is the key to the success of landscape photography.


The first and maybe the most difficult thing you should be ready for is getting up at dawn. Get up early, because the light at dawn or a few hours before it is the best for shooting outstanding landscapes. Therefore, if you want to enjoy landscapes and a definitely magical view, then you must be ready to get up extremely early. Before the sun heats the earth in a ruthless way, there is usually considerably less wind and consequently less blurring captured while shooting. Moreover, the certain "plus" will be the smallest number of people in the field of view of you camera. That will also add much to your success, as usually landscape photography does not contain photographed people.


During exploratory walks, use a compass to figure out where the sun will rise and set and think ahead of time where it's best to shoot the dawn. Such images are of great value. Moreover, after professional service at low photo editing prices, you will be impressed.
Take fewer pictures, but pay attention to their quality. Spend more time focusing on one picture. Look at the subject as an artist, in different angles, whether in this position you really like everything, compare and only then click on the button.


Use a tripod. Especially for shooting landscapes it is better to use a tripod. This reduces camera shake. Of course, this makes the shooting process slower, as it takes more time to focus on the composition. The tripod also helps to get an even horizon, which is quite problematic for manual shooting. If you do not want to use a tripod or you just do not have it, then the correct shutter speed will help you to sharpen the photos you take. But to get a great result when shooting a landscape, it's better to use a tripod. This equipment is a part of a professional bag for every photo maker.


Have a habit to shoot in RAW mode, since in this case there will be huge opportunities for adjusting your images, either by your own hands or with professional support. Notice, that working in jpeg mode you lose quality with every retouching.


Use special filters for making your photos varied and bright. Of course, this is not really a piece of advice for beginners, and maybe you have not got a complete set for the photographer yet. But still in order to get the most contrasting picture of the landscape, you need to adjust the contrast between the sky and the foreground. And special filters cope with this task quite easily. And you will not spend much time for improving your taken photos, as filters will do it instead of you.


Often landscape painters shoot in the horizontal position of the camera, because in this position we can create pictures with wide and stretching landscapes. It looks quite impressively. However, a horizontal landscape image is not always a rule and stereotype for getting an interesting shot. If the photo plot requires vertical shooting, then all accepted rules can be broken. For example, if for the object of your future mages you have chosen a lonely standing tree, a rock or another tall object, you should pay attention to vertical framing.