Smoke bomb for photography are the photo sessions on the street or indoors that are performed using colored smoke bombs. These smoke bombs are basically fireworks designed to produce smoke upon ignition. The question "how to capture smoke bomb photography" is one of the top ones in Google today. Our company always wants you to be in trend with the latest events in the world of digital photography. We gathered all the information you should know about smoke portrait photography and photo editing service used to enhance it.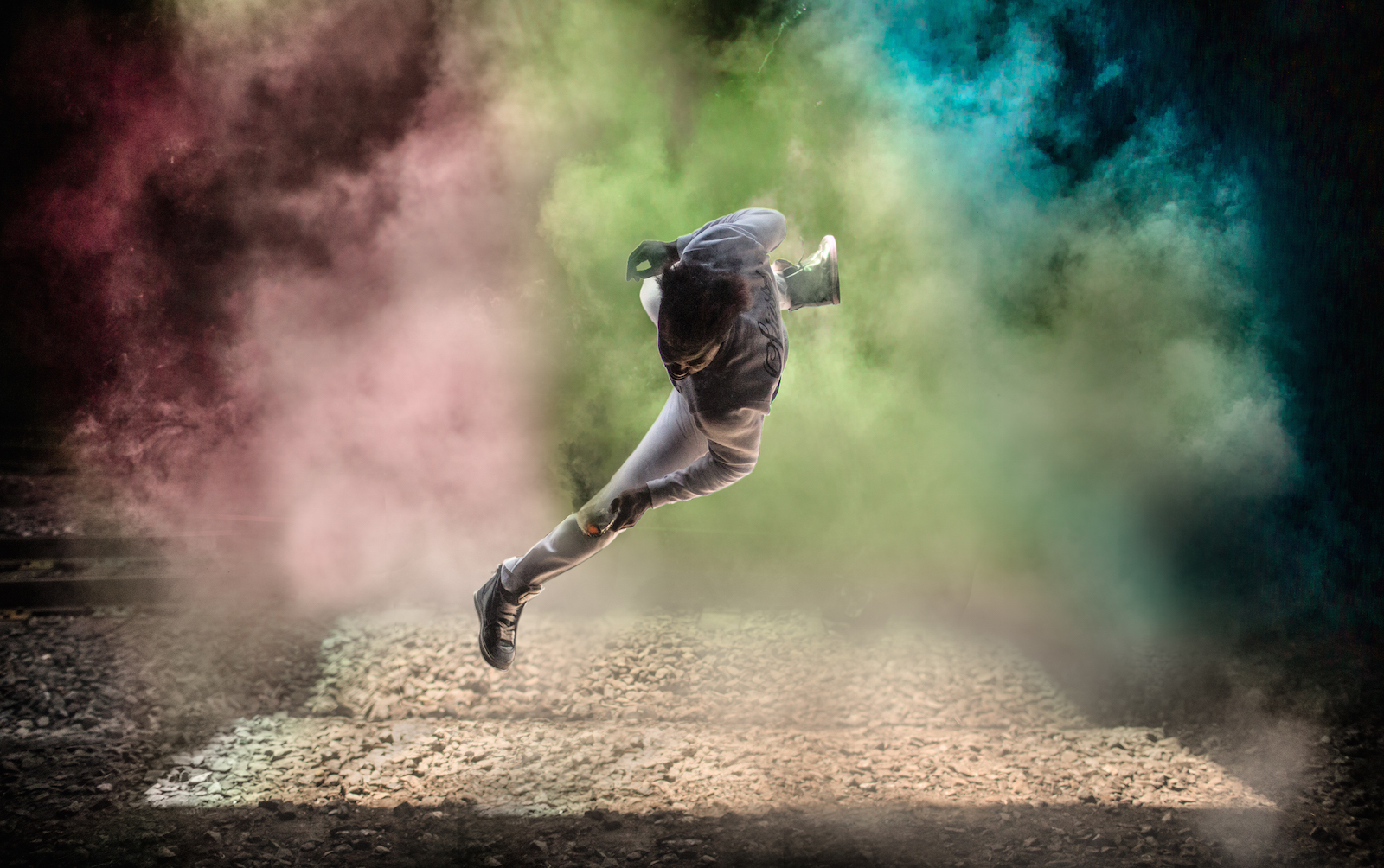 Smoke bomb photography for beginning photographers
What is good about this type of photography? It is not hard to perform even when you've never tried it before. The smoke bomb photography ideas usually look unique, sensual, and touching. You can excite viewers with just one photograph and inspire them for ideas that are more creative. All simple portrait will look fashionable and dreamy having applied smoke bombs. No matter whether this is an engagement photo session, newborn photography, even photoshoot, or a New Year's party. Any occasion is equally good! So here come several smoke bomb photography tips.

1. Prepare beforehand and get several bombs for each event
How does a grenade work? Just like the military one. It means that you pull a wire and thus it's set off and gets going. How long does the smoke stay? Usually about a minute or a minute and a half, depending on the quality of the bomb you bought. It means, that you cannot pull the wire and decide on the pose, scenery and props later, you have to do it in advance. We all know that often good frames cannot be taken from the first time, so you'll have to repeat the photograph several times. So, all in all, make sure you've got several bombs to cover the whole time of a photo session.

2. Color choice
The most interesting pictures are usually made with the usage of one or two different colours. Do not try to mix the smoke bombs with different colors in one photo, it'll only mix everything up. Sticking to the one or two-colored theme will make your shot elegant and exquisite.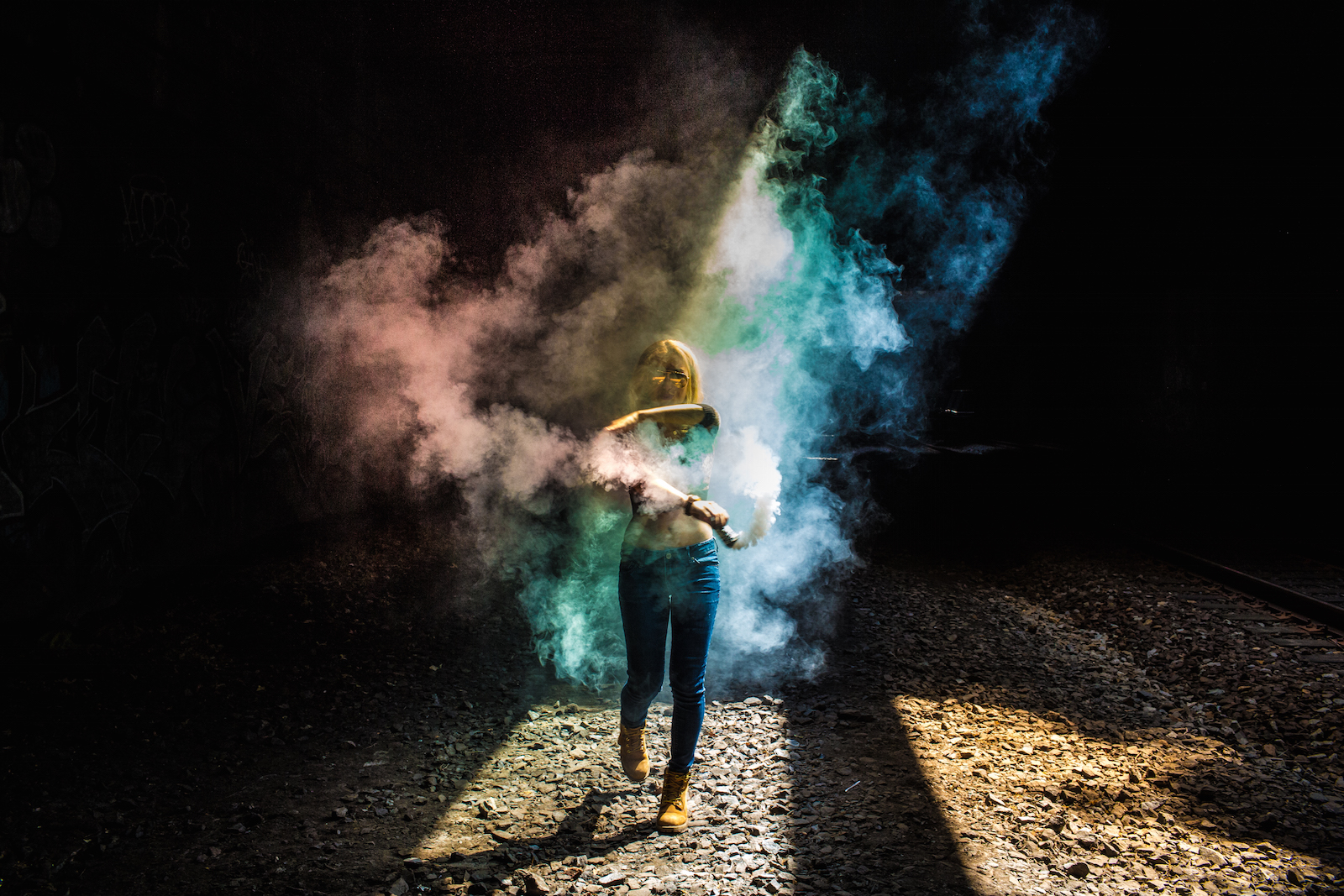 3. Be ready for the unpredictable
You can't just name all the details that are going to happen during the photo session. You better wear something you will not regret damaging.
The question where to buy smoke bombs for photography is not so difficult to answer when we all got the Internet and are able to buy anything there. For example, "colored smoke bombs Amazon" is a very often googled phrase. And the model who can be covered with some stains after the session is over. So prevent you clients not to wear anything too expensive.

4. Timing affects the result!
The usage of color grenades indoors would be a total disaster, so you should always use them outside. Landscape background can be helpful. For example, you'd better do your photo session on a windless day, because it's able to ruin all your smoke bomb photography ideas. The process of picking the destination has to be thorough too: trees, for example, are capable of holding off the wind (at least partially) and making great mysterious background too.

5. Smoke bomb photography tutorial: lightning
In case you want to have more elements that are magic on your smoke bomb photographs, take the photographs on the sunset. The sunlight's going to be soft and pleasant, the colors in the sky will be a great plus to the charm of the photo's composition. Portraiture will be very nice in this time period.

Smoke bomb photography ideas for different types of photo sessions
1. Portrait
Have you been looking for some crazy and unbelievable things to make pictures of? Well, this smoke bomb photography tutorial is just what you definitely need to study. First of all, you can change boring usual habits into something cool. For example, smoking. Many people smoke, but how many look like they're going to blow something up with their mouth? Close portraits, full sized – all of them can be turned into a wonderful shot. You can make crowns with the colored smoke, wings, make the skies change their colour or, on the contrary, turn the ground into some kind of a cloud. You have more freedom than ever and with a couple of color smoke sticks you're certainly going to turn your client into something literally magical. In case you wish some tips for the creation of portraiture take a look at our article "How to find good portrait background ideas".
2. Male
Do you want your client to look like an angel? Or a demon? Prince or king? With the knowledge where to buy smoke bombs for photography you will never be boring again. There won't be any need to seek inspiration out of your mind because colors have magical influence. Even if you're tending to like the black and white photography, there is a lot of grey tints and shadows so that you could depict any mood whatsoever! Black dark smoke photography portraits will underline the masculinity and the self-determination. Suits, smokings, being a James Bond or a Schwarzenegger? Not a problem. A good retoucher can make muscles visually bigger, and a professional photographer will help you choose the most suitable positions to reflect model's personality!

3. Female
In many cases photographing smoke bombs are able to replace or to complement make up. Excellent for cosplaying model's favourite characters, excellent for showing themselves off like queens or princesses. Nothing too complicated to imagine when there's so many possibilities! If a girl wants pictures associated with her gender, a pink smoke grenade would do just perfectly. Not too bright to make you feel sickness, not too dark to look like violet. The client's choice of place is also great! In the woods, on a desert field, inside an underground tunnel, in a lake. With all the clothes, naked – it all would look fun and interesting with the smoke. One of the most popular photo trends has been photographing in the bathes with colored water and\or air. If you want to know more about it, read the article of ours "Milk bath photography – 2018 photography trend".

4. Children
Oh, how must children love playing with smoke and other cool special effects! One of the great pluses of the smoke bomb for photography is that you will not have to worry about client's children misbehaving and getting distracted during the session! Being superheroes, favourite TV characters, anime characters, history heroes, princess and princesses, knights and fairies – this is but a bit of possible dressings for any kid! If your client's child lover reading, things can be even more fantastic: you just put a kid reading in the front, and behind him or her, a thick smoke line and some fairy land happening. This is a possibility for the youngest to literally live their favourite world or universe, so do not miss this wonderful trend of the world of photography!

5. Engagement
Isn't it a great reason for the photo session? A celebration of love, appreciating your significant other – this is all about engagement. And what can be more magical and touching, than love? Most of the songs, books, TV series are dedicated to that feeling and to the dangers of the everyday human life that threatens the deep feeling. Every day is actually a challenge: is it doing to last? Are your feelings strong enough? Are you ready for this? What are your next step? This and many other questions can be brought up a plot for the photography session! Choose the decorations, choose the company that you like the best, like Enola Gaye smoke grenades, and start living your own color experience!

6. Wedding
Oh, how any ideas are there to picture with our smoke bomb photography tips! For example, a gothic wedding! Both newlyweds are dressed in black or other dark colors, perhaps mixed with a little bit of something bright, stylish dress with a corset, a suit. Or something to do with rocks and high boots, this will do just fine as well! Black bomb, a sunset or an early evening, a couple of crosses behind… Juicy! Or during the photo set a couple can use the colored bombs instead of letting some pigeons fly away… Or even holding a color grenade together! All sorts of things are available: matching the color with the bride's dress and so forth, so do not miss this chance!

7. Fashion
You decided to go for something special on your photo shooting. You think about trying something new. Where to buy smoke bombs for photography? Here's a piece of advice: better choose the website where you can find a special type of smoke bomb for sale. This is going to cheer up any photo set! So let yourself feel free with the choice. Follow your ideas. Or your client's. Does he or she want to be covered in nothing but smoke? It could be done. Stand without a head, but with the whole body still? Of course! Imitate some strange and scary accident? Why not! Another concept for dark haired: dress in black, make dark make up, and be photographed when it's already getting dark, the skies are dark blue and model's covered in the lavender smoke!

Ten useful smoke portrait photography principles
1) Do not get other people involved. You will not be able to see everything clearly and it may be dangerous. Use open spaces!


2) It's flammable, so do not make your photo sessions when the weather is very hot and dry. Do not risk your or your clients' lives just as the areas around you.

3) Forget about chilly windy hours, when your hair can look gorgeous from the wins – the smoke would not look good. A little breeze is okay, though.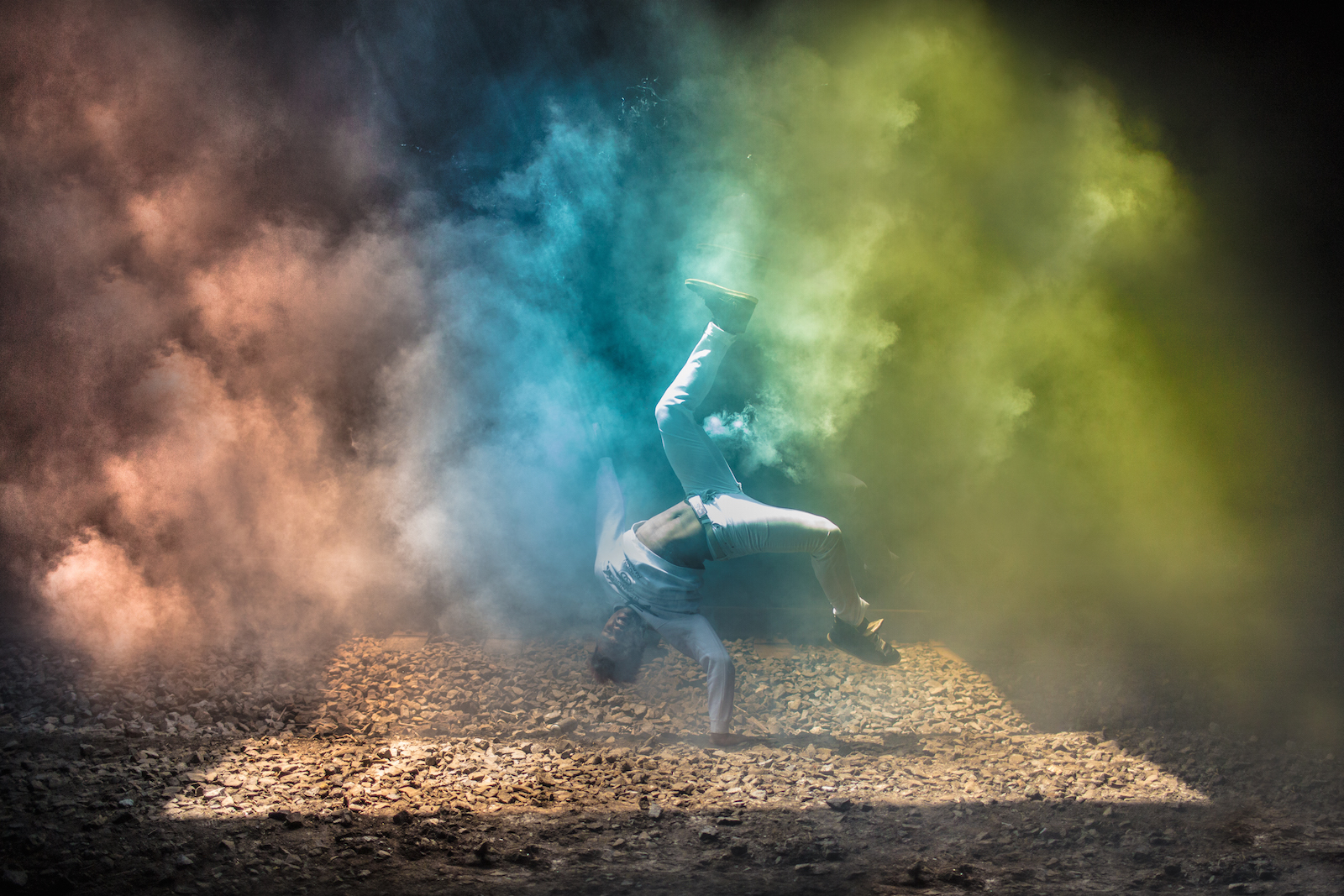 4) Do you need a manual for those smoke bombs? Well here is our small smoke bomb photography tutorial. You do not need lighters or matches. This is just a small grenade. It's mostly safe, when used properly. You pull the ring so that it ignites. You're ready to photograph.

5) The choice of the colours is big. Maybe there aren't too many shades but you definitely get more than a rainbow. Choose freely. But remember to wear something you are not afraid to stain!

6) The average time of the smoke rising is from 60 to 90 seconds. Sometimes it can be even less than a minute, depends on the method of making it. So get ready to shoot before you pull your grenade or grenades. Before letting it go it would be very preferable to do some photo tests.

7) Remember that the sessions are usually long – bombs will not last it! Buy more than you were planning from the beginning for the emergency cases or if you wouldn't be able to get the shots from the first time.

8) Always discuss the precise details with your model before you photograph. You may not have the times with all the bombs and staining. In case model's outfit gets dirty, he or she has to prepare one more just in case.

9) Ask somebody to be your assistant. Most models like to be hands free to have more options to choose from when it comes to posing and this way it will certainly ne cleaner. A model can hold bombs too but it won't be comfortable enough.

10) Let your assistant walk or at least move their hands if they're hiding somewhere to be absent on the picture. Thus the smoke will be smooth and more natural on the shot. Otherwise it will just look like a huge cloud and there will be a chance that you won't see your model clearly and the image would be ruined. And one more tip: do not hold the grenades close to the model's face – it will not be pleasant even if it looks totally ethereal and artistic.

So, now you know, what to do with smoke grenades. If you like our style and you would like to cooperate with our photo retouching services, feel free to visit our website, study our style, look at our photo editing prices. It's always your choice which instruments to use, but you must be kept informed about all the possibilities we can offer.