Milk bath photography is often used in situations where you need to get gentle photos with a nice and monotonous milk background that followed by photographers. Nowadays the milk bath photography is so fashionable, and not only for milk bath photography maternity or babies. Photographer can use this direction in digital art with mothers, toddlers, in boudoir photoshoot, fashion photoshoots or with a kid and a mother together. Thanks to the natural white, sometimes creamy hue of milk, you can achieve focus on your object, and besides this background is not difficult to handle in any photo editing service. Therefore, we would like to share with you some tips about how take the most beautiful and interesting photos made in the tub.
Steps to create beautiful milk bath photography
If you need to take a photo session of a pregnant woman or woman with baby, you can take a creative approach to make the woman relax and feel comfortable in milk bath photography. Below we will give some advice on how you can achieve this.
1. Preparation
Very often when people see white or colored milk bath photography, they ask the following questions: Do they really need to use real milk? How much milk do they need? How to achieve this natural effect? We advise you to use real milk. You can fill the bath to the level you need and then add 2 gallons of milk to it. If you think this is not enough, then to increase the effect and obtain a cream color, you can add a little milk powder. But even a small quantity of milk will give a pleasant shade to water.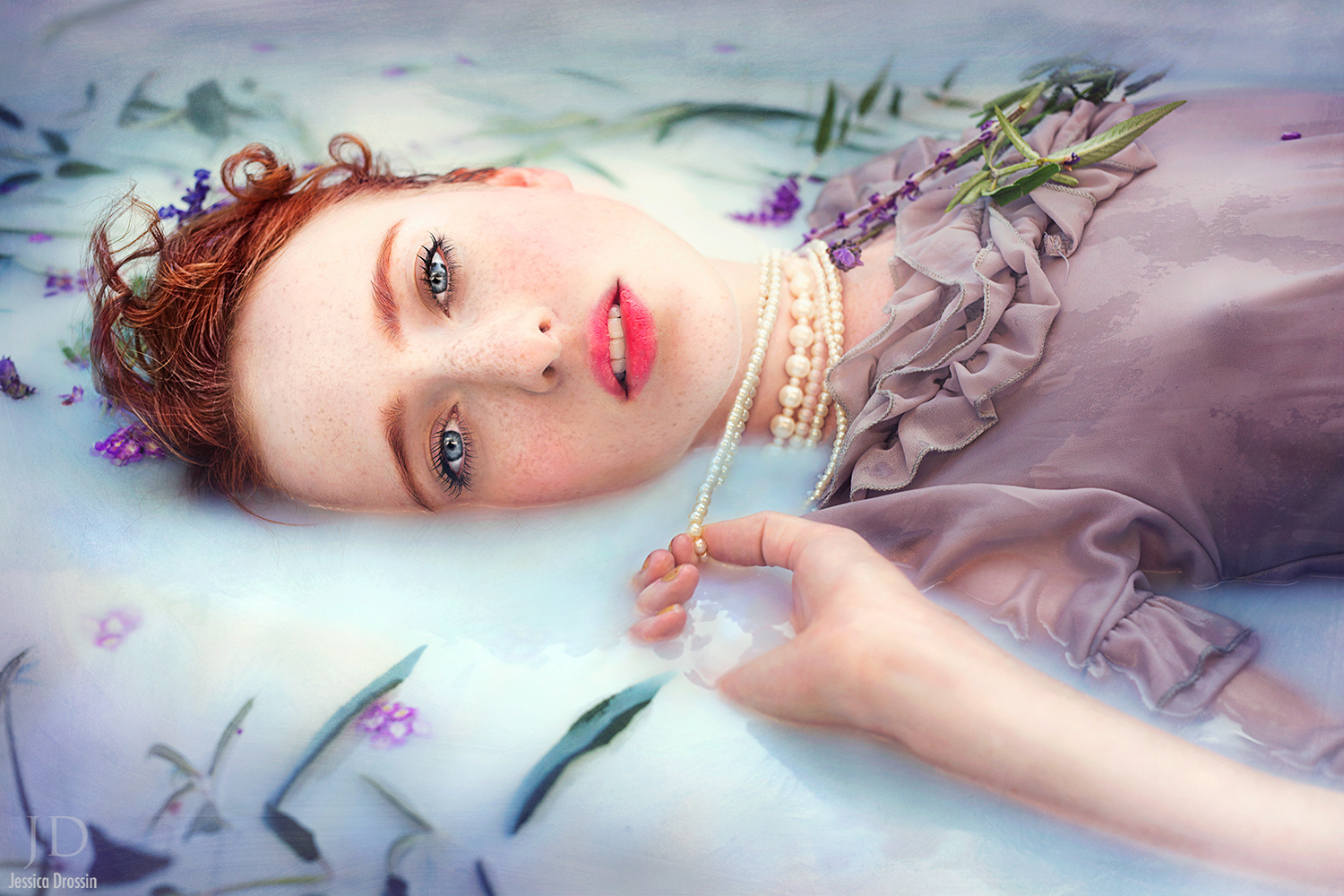 2. Adding requisite
If you decide to take images of someone in a bath with milk only, all attention will be on the object of the photoshoot. But in turn, any decorations, especially organic, can add a contrast photo and make the composition more interesting. To begin with, you need to select the color gamut in which you want to take a photo session and then go shopping. If your choice has stopped on the milk bath flowers, then we recommend buying real flowers and not synthetic ones. Because most synthetic flowers are drowning. You can try to make these flowers waterproof benefits but some of them will still go to the bottom.
3. Accommodation of props
In order not to spend a lot of time on placing decorations in Photoshop, you can devote a little time to this before taking an image. You will also need to ensure that they don't move significantly and move them. When you are taking milk bath baby photos this can be a bit difficult.
4. Choosing clothes
The choice of clothes for milk bath photography depends on what style you want to photograph and how comfortable your model will feel in such clothes. We can recommend you to use tulle or lace, they are pleasing to look at and will not strongly contrast with the milky background. You can also take a photoshoots without clothes and use milk as a cover.

5. Adopting the pose
Usually posing is one of the most difficult cases during a photoshoot. Our advice is not to copy postures from photos in the Instagram or Pinterest, because for each body different poses may or may not be approached. Moreover, each model can have its own preferences for milk bath photography concept. Yes, sometimes it will be necessary to take an uncomfortable pose to achieve an ideal photo. You can change the level of water to achieve a different cover for the body of the model.
6. Selection of lighting
As in any other kind of photography, milk bath photography lighting plays a big role in photo session. Try to use natural light from windows. If your bathtub is far from the window, you can use an external flash and point it to the ceiling so that the light reflects off the neutral surface. We also advise you to try to avoid reflections in the water and sharp shadows.
7. Milk bath photography with newborn
As if charmingly and beautifully it didn't look, the first thing to do is to give sufficient attention to the safety of the child. It is necessary to keep water in the optimum temperature and monitor the water level. This sounds trite, but if you comply with these rules, then any baby milk bath photography will be a great success.
8. Choice of equipment
For high-quality photos, we recommend to use the full frame cameras and wide-angle lenses so you can capture both the entire tub and some of its details. Just need to make sure that your camera is not afraid of splashing, because you will work with milk bath photography concept.
9. Editing the images
Editing of dairy photos has an important role. In most cases, photographers use Adobe PS & LR. In Lightroom, you can play with contrast, exposure, remove unnecessary shadows and saturation. You can easily delete unnecessary reflections and stains in Photoshop. For high-quality post photo processing we recommend reading our article How to calibrate monitor for photo editing
Milk bath photography maternity tips
Milk bath photography maternity are something incredible and amazing. On these photos we see a real connection with the mother and the unborn child. And the milk bath photography gives this style of naturalness and helps the models to relax in turn. Therefore, we decided to prepare for you a small milk bath photography tutorial for pregnant women.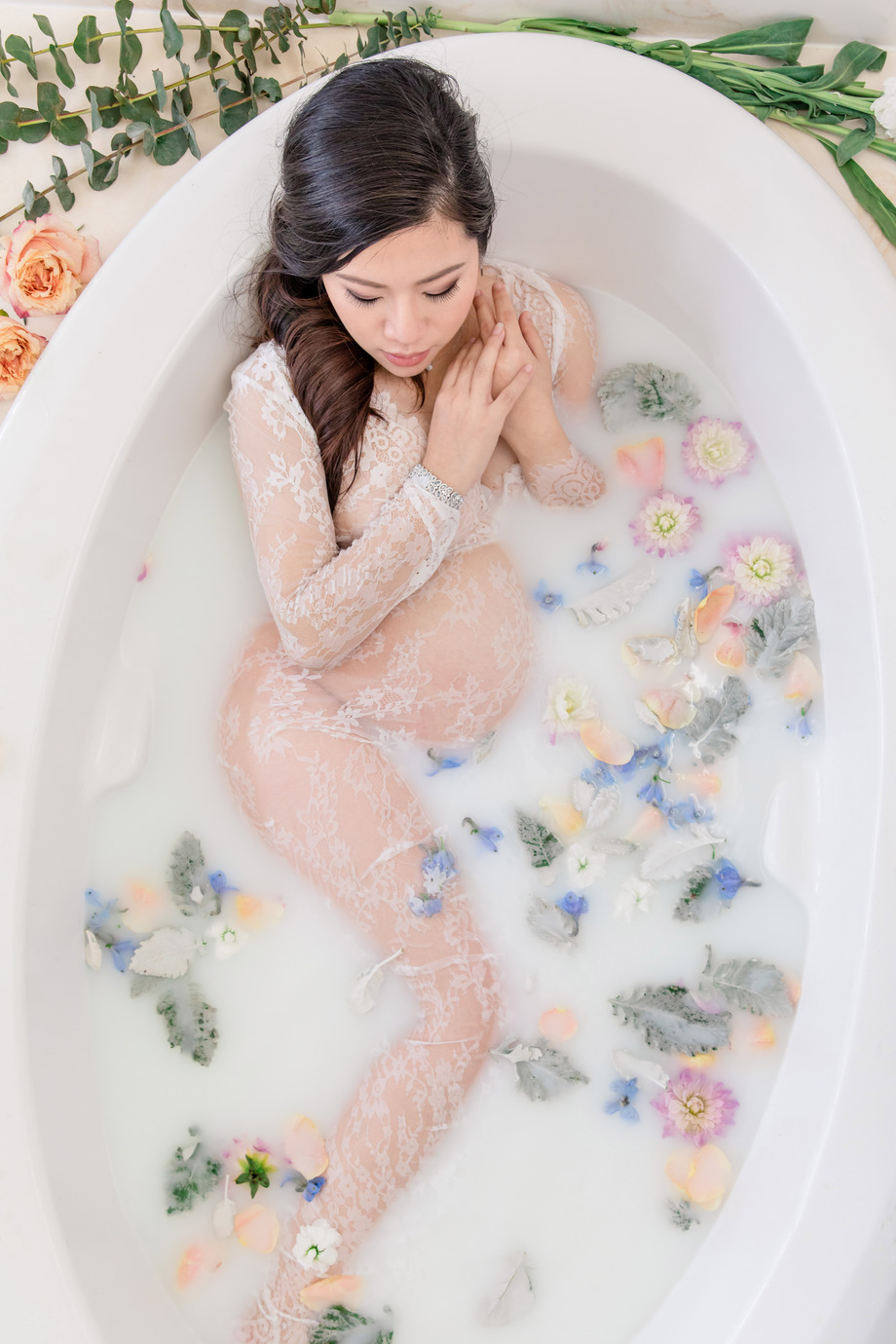 1. Preparing for a photosession
Naturally, you can't get a maternity milk bath photography without a tub. Therefore, the first thing you need to find it. The tub is desirable to be near the window, and to be lit by a natural light. Then you need to buy milk, maybe milk powder and a few decorations. For diversity, you can also buy safe food dye to take colored milk bath photography.
2. Decorations
We already wrote that the flowers are great for milk bath photography concept. But for a milk bath photography maternity, they fit perfectly. Because they give tranquility and tenderness to photography. For this case, roses and dahlias are ideally suited. We advise you to buy more of them so that they don't finish at the most inappropriate time.
3. Concentration of milk
The concentration of milk plays an important role in your milk bath photography maternity photo session, if you want to achieve a certain transparency of liquid. We recommend you fill the bath halfway with water at first, and then start adding milk a little. Two gallons should be enough to make the liquid not transparent, you can add all the same milk powder too. For a more transparent version is suitable 1.5 or less gallons.
4. Bath Size
Yes, the size of the bathtub should depend on what you photograph. In the case of milk bath photography maternity, it should be large, so that the model feels comfortable and it was possible to diversify the background with different decorations. If you don't have a large bath, you can buy a children's pool and cover it with a white cloth or tarp.
5. The dress
Of course, you can take milk bath maternity session in the style of nudes, which will emphasize the unity of woman with nature. But the clothes on the model, especially the dress, give it elegance and charm. The dress can be short or long, the main thing is that it fits to the body and emphasizes its lines. If the dress is more free, it can take up all the space.
6. Model Selection
Since you are photographing the model, you need to approach this issue seriously. We recommend removing women between 31-33 weeks, so that the changes in the figure are noticeable and there were no unforeseen situations during the photoshoot. It is also important to ensure that there is a suitable make-up and hairstyle. Nothing should distract from the female body and milk background.
Fashion milk bath photography at home
Bath milk is not only designed to emphasis the skin, but also to take incredible images even at home. Therefore, we decided to prepare for you a milk bath photography tutorial in the form of 6 tips on how to take milk bath photography in the house.
1. Prepare your materials
We think we need to start with milk, as this is the main ingredient. Different photographers advise using different milk: whole or coconut milk, heavy cream or milk powder. In the fact, any milk that you find can cope with the task. We recommend taking the cheapest milk (2%). Naturally, for milk bath photography it is necessary to have a camera, tub and a model. About how to choose the camera and the model we have already wrote above.
2. Setting the scene
First of all, you need to fill the bath. Then pour a half tub of water and start to add a little milk. The quantity of milk directly depends on the size of your tub and therefore whether you need that the water to be transparent or use it as a cover. You have to answer the question: do you need to get a background with a more pensive tone or a clear white line on the body. We recommend using about 2 gallons of milk, so that the body is immersed in it, but at the same time, an attenuation effect appears. And remember that it's easier to add milk if it's not enough.
3. Select the type of lighting
If you want to create a non-gross effect of reflected light from milk, we recommend using natural light from the window. It is also possible to use indirect light from lamps directed upwards or a screen that will scatter light. Milk reflects light very well, you can use an external flash that will make your bathtub even whiter than it is.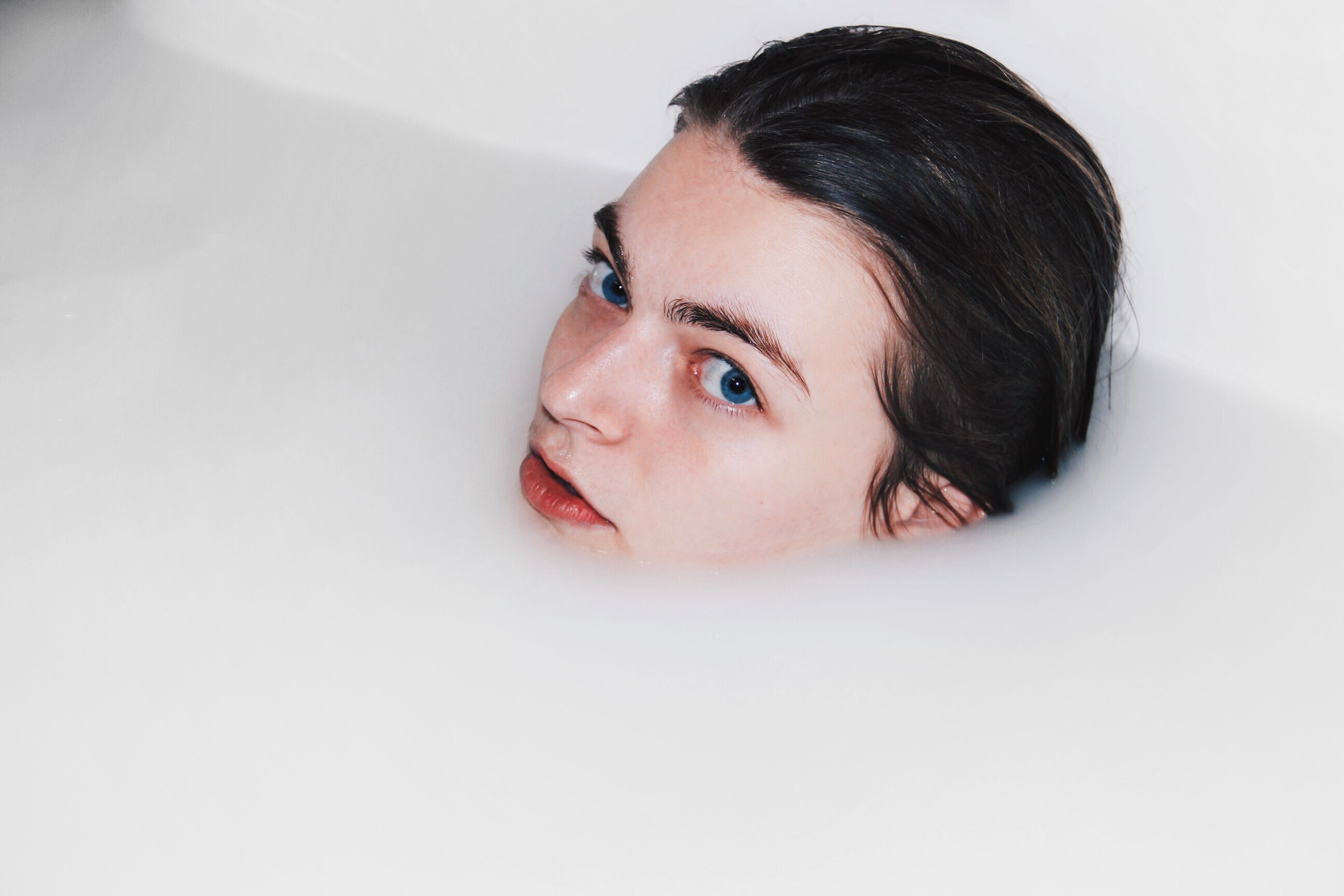 4. Angles selection
One of the main points in milk bath photography concept is the angle of photoshooting. Try to choose a small angle so that the light from the flash is not strongly reflected from the surface of the milk. Try to find more fun, non-standard and interesting perspectives. In addition, it is not necessary to capture the whole tub, you can leave a place near the subject of photography thereby creating the impression of an endless space with milk.
5. Choosing the right poses
Experiment with all the poses that come to your head. You can ask the model to dip or inhale, as if she/he lifts itself up. Part of the photos can be done with quietly water, and some with waves and splashes, you can also add a few decorations. Try to make more photos in different poses than planned, so that when editing choose the best of them.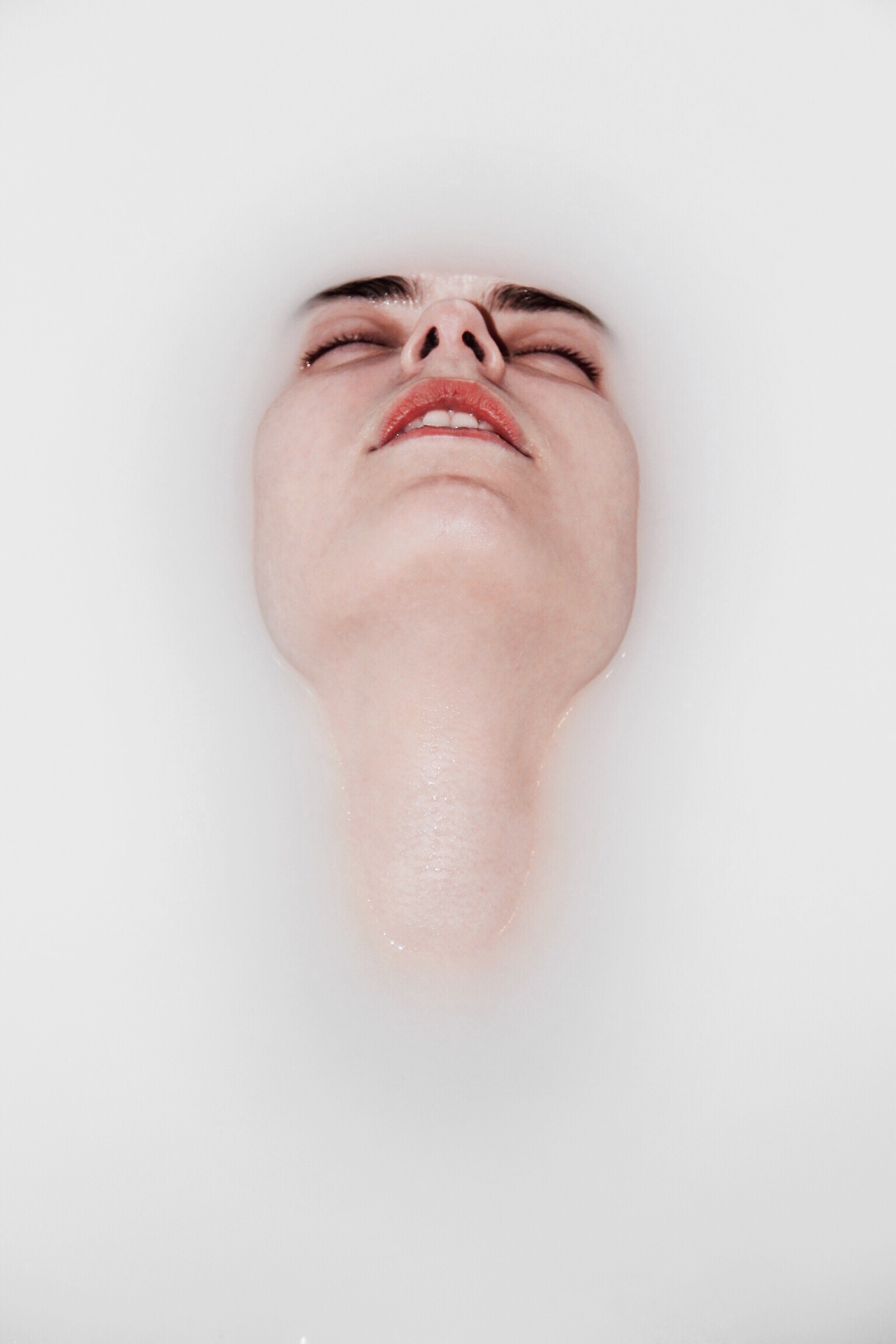 6. Post photo processing
When photographing dairy photos, editing photos is also important. You can play with the exposure, saturation, give the photo contrast, make it deeper, or even remove the shadows. Also in Photoshop you can change the color of the water to completely different, let it be pink or blue, so you can take colored milk bath photography and don't even have to spend money on food dyes.
So, today we considered the style of photography that is rapidly gaining popularity and will definitely be a trend next year – milk bath photography. We shared with you the secrets of creating a beautiful milk tub, showed amazing colored milk bath photography samples, told you a few milk bath photography maternity tips and gave some advice on how to take fashion milk tub photography at home.
But there are such cases that the light was natural and fell at a small angle, you chose the right consistency of milk, picked up well-fitting decorations, the model took an interesting pose – it could seem that everything was perfect. But you can't edit the photo in such a way as to make it unusual and give it naturalness. In such cases that we are ready to help you. Our retouches fit each photo individually and make it unique. We invite you to familiarize yourself with our photo editing prices.