Retouching hair in Photoshop is not so simple as we imagine, we know perfectly well, that we can enhance make-up in Photoshop, remove stray hair on face and even change the background, but the fact of the matter is that there are much more technics and tricks we should observe by basic editing and also by retouching hair in Photoshop. Nowadays people cannot imagine their lives without Photoshop, the great variety of social nets allow people to demonstrate their best photos and of course everybody wants these images to be perfect.


But when we speak about people, whose work is connected with the photography, they need the professional high quality photo improvement and this retouching presupposes not only simple face and back ground fixing and color correction. In this case each detail is extremely essential. In such a way during the process of professional editing, the specialists pay especial attention to editing hair in Photoshop, make up enhancement and different kinds of photo manipulations. Maybe that is why the photo editing prices for the professional picture editing are so high, but at the other hand this work takes a lot of time and energy of the photo retoucher.


We got used, that the process of picture enhancement is complex and we know that there is a lot of technics and tools, which give the picture the final beauty. But the truth is that the photography improvement is a multilevel procedure and if we want to perfect our retouching skills and to enrich the knowledge of the Photoshop and LightRoom options variety, we have to learn each of the editing technics separately.


Today for example we are eager to give an account of specify of retouching hair in Photoshop. There are a lot of video tutorials , which can help the amateur image retoucher to get more experience and to become better in this sphere.
We will tell you about difficulties during the editing hair in Photoshop, the best photo makers and models, we are going to share with you the most interesting ideas for photo session and of course we will put you in touch with the most important tips, which you need to know by working as a photo editor.
Popular red hair photographers
Speaking about professional retouching hair in Photoshop we must admit, that the biggest problem of hair editing is connected with the fixing red hair, because the retouchers, who are dealing with the red hair models, have as a rule a lot of troubles with flyaway curly hair which is beautiful only after qualify fixing. But there are, of course, photographers, who have to do only with red hair images. Such photo takers are not afraid of difficult tasks and edit red hair pictures with pleasure. Among these retouchers are Brian Dowling from Los Angeles and American photograph and editor Stephanie Redhair.


Brian is a person, who perfectly knows, how to fix frizzy hair in Photoshop, his splendid project "Redhead Beauty" gathered the prettiest red hair models from North Amerika, Australia and Europe. After the two-years work he printed the portrait photography book, where the most beautiful and unusual photos of gingers from the different corners of the world are collected and frankly speaking his portfolio is amazing, so you can also make it sure yourself.


Another talented photo taker and editor Stephanie Redhair makes marvelous pictures of nature and people. She demonstrates the beauty of peaceful landscapes and underlines the perfection of simple human smile. The pictures of red hair models, are made by Stephanie, are full of kindness and love. Especially stunning is her collection of senior portraits, which gives a demonstration of her great experience in picture editing. She understands not only how to fix flyaway hair in LightRoom, she knows how to accent each curl and to win the hearts of audience with brilliant photography.

Red hair photography – peculiarities and bright examples
How does the red hair retouching differ from the usual procedure of editing hair in Photoshop? The answer is that, first of all, the number of models with natural red hair is lower. And in addition to the wonderful hair color, people have also flecks of sunlight and moreover the skin color of these models has especial pigment. That is why the process of red hair enhancing takes more time and needs especial skills of photo retoucher.

To begin with, it is not so easy, to find the model, who has so unusual appearance. There are of course countries, which are rich in gingers, so for example German and Ireland. But even when you are lucky to work with the ginger model, you should pay attention to the peculiarities of this unusual image. First of all, you should be very careful with the seasonal color analysis, which help you to combine colors properly. Green and blue match the red hair the best. So, after that use Photoshot tips necessary for beginner to choose a photo theme for your session and any doubt your pictures will be amazing.


Among the artists, who create magnificent pictures of redheaded models is Hanne van der Woude, who put together the Netherland`s landscapes and red hair people, who, by the way, are not professional models and that is why the images are so natural and energetic. Two another photographers have to do with gingers are Joel Meyerowitz and Uwe Ditz. They published even books, which deal with the peculiarities of redhead with the best examples of their beauty.
Red hair models
Those, who have got this especial gift from the sun, are really lucky to differ from the other people. When you are a model such appearance opens the whole doors in the fashion industry. But as a rule not all red hair people are happy to be unusual. This is easily to explain with the photo editing problems they actually have. Their beautiful red hair is too difficult to comb in a proper way, so the editor has to know, how to fix frizzy hair in Photoshop or how to make a hairstyle with the help of special retouching technics. Fortunately, it is not a big deal for specialist, because they understand, that various options of Photoshop remove stray hair on face, and the color correction can change the picture and make the picture perfect. So as you see the hair improvement is not a problem and redhead people have all chances to become a great model.


And now let us to show the professional red hair models, who have made their carrier thankfully to the unforgettable rare appearance. They used their unicity rightly and in such a way they could achieve great triumphs in the fashion business. They realize they look awesome and their look helps them to be high-paid runway or photo models ever.


We begin our top list with the name Bruna Dapper, whose outstanding green eyes, nice sun spots and bright red hair looks just wonderful and are admired by the thousands model fans all over the world. The most famous fashion houses dream to work with her; her photos are seen in the best fashionable magazines and she runs on catwalks only in the best dresses of the fashion house Yves Saint Laurent.

Bruna Dapper
One more beautiful girl, who has aristocratic set of the features, is Lululeika Ravn Liep. This young model is all-known in the sphere of couture fashion. She has experience of walking the runways for Cucci, Louis Vuitton and Victoria Beckham, her portfolio is the example of elegance of style and complete professionalism of the model. Her unique appearance is to see on the covers such magazines as Dior, Prada, Vogue and Marc Jacobs.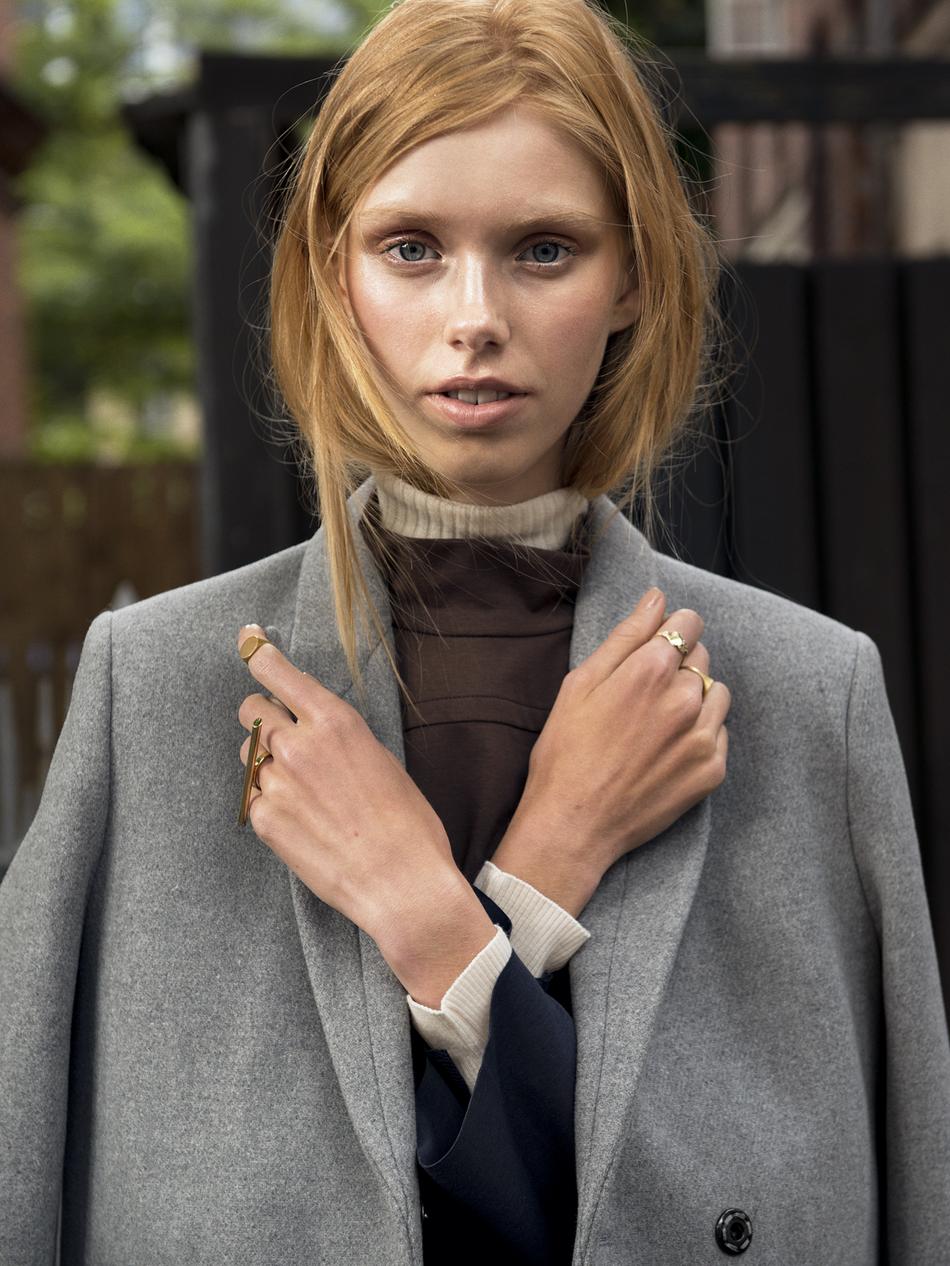 Lululeika Ravn Liep
It is difficult to believe, but the next model, who has spectacular red hair and freckled face is from Brazil. Her name is Cintia Dicker and she has indeed natural red hair. She is not just model, she is also successful in designing. She creates fantastic swimwear and moreover she is able to advertise her collection herself. Cinita is very talented model, who works with the most famous fashion designers and companies as for example L'Oréal and Yves Saint Laurent, she is photographed for catalogs of Victoria`s Secret, H&M and bebe stores, but the most essential is the fact, that she is not just a beautiful girl with perfect appearance, she is a person, who made her career herself and this is the reason, why all amateur models should follow her.

Cintia Dicker
Editing hair in Photoshop – tips for amateur shooters
So it is time to figure out, how to fix flyaway hair in LightRoom, how to remove stray hair with the help of Photoshop and how to fix or even to make an outstanding hairstyle at your picture. We are going to tell you the whole list of tricks to help you to create a masterpiece. So we present you the most important options by the hair editing. Everything you need is Photoshop or LightRoom and thirty minutes of your spare time.


As a rule photographers use raw pictures, so first of all you should use the option Camera Raw to regulate white balance, get rid of all defects or just cut a picture to the proper size. After that you have a photo is ready for editing. Next step is connected with the removing the hair from the background.
Here there is one tip, which will be especially useful for you: don't be afraid to leave single tiny hair at the picture, in such a way your work will look natural.


At this step we deal with options of Photoshop remove stray hair on face. You can resolve this problem by choosing Spot Healing Brush. At this stage you can also enhance the hairs, which are wrong directed.
Our next task is to fill the places at the photo, where hair is missed. For example, when the session passes in the street the wind can spoil the image and in this case you have a lot of work to do with filling locks. But remember that everything should be not too much. Create a new layer, in such a way you will have a chance to work nondestructively.


If the model at your photo has a fringe, you should also take care about the area face near to the fringe. So use Clone Stamp option and keep depressed the key Alt to copy the pixel you need. After picking the target, use 100% opaqueness for the chosen area.


After that mark your layers at your layer board and press Cmd/Ctrl + J to make a copy. Clicking Cmd/Ctrl + E you can combine these layers. We need this for the next step.
Then use Liquify in the option Filter and choose big brush. Be attentive by removing hair border and make use of short brush to create a piecemeal effect. Stay in the Liquify panel and improve board of the fringe, but remember, do it careful to achieve naturalness.


So now the hair looks orderly, but still we need more fringe border. That is why we copy the upper layer in the layer board and name it Frequency Separation.
At the next step we should separate the texture and coloration layer and add one more layer for the foolproof editing. Now we work in Frequency Separation layer. On the panel Clone Tool with 100% opacification with example in the tools setup to Current Layer. So just press Alt to rectify the fringe corner.


On the next stage our retouching takes place on the Low Frequency layer. Choose Clone Tool at 10% opacification with the Sample setup to Current and Below. This trick will help you to correct the color changing between the fringe and the forehead.
We make a new layer again with the help of key combination Cmd/Ctrl + Shift + N. It will be named Highlights. Set its mapping mode to Overlay and tick a box. It allows you to fill out the layer with 50% grey. This is a foolproof layer, which will help us to avoid spots by the maintaining the origin picture.

Make use of Dodge setting, Highlights should be at 5% opacification. Touch with the brush the highlighted hair areas to make them shine. So that is the last step of hair editing. And only when you are ready with this stage of retouching, you can go on with the other improvements on the picture.


But if you are a greener in photography editing, you can begin your practice with the shutterstock pictures, which are available on open access. If you are interested in it, you can read Shutterstock photo editor – How does it work and choose any image for you retouching trainings.


As you see the theme of retouching hair in Photoshop is especially essential by the photo editing process. That is why each editor should know perfectly well how to fix frizzy hair in Photoshop, how to remove stray hair on the face and background and even how to add the locks and to change the hairstyle. Fortunately our photo editing service can easily cope with the whole of the tasks are important here. Our specialists know the ropes of Photoshop and LightRoom, they can provide any manipulations with your photos you need and they are always eager to perfect your images with the help of the modern ideas and out-of-the-box approaches.