White foam core photography gains popularity in product and e-commerce photography industry nowadays. The reason for that is quite simple: it's an excellent budget photography trick that can take your work to the next level in the blink of an eye. Let's be honest, it feels incredibly limiting to realize that you can't afford all the gear you need to receive professional outcomes. Our photo-editing service will prove to you that you don't need it and the cheap foam boards can fulfill multiple tasks, that is why it's a "must" for products photographers to know how to use it.

In this article we will find out how to apply white foam board for photography, how to make foam board stand up and reveal some useful lighting techniques using white marble photography backdrop. You will be surprised to find out how easy it is.In the following video you can observe how foam boards can be useful in food photography. This trick applies to any genre of photography.
White foam board for photography — How to apply
How many times did you have outdoor photo sessions in bad weather conditions, and get many pictures where the light damaged the composition and the mood of the photographs?

Those days are over! We suggest you taking the matter into your hands with the help of the foam board backdrops. This paper-faced foam board is a lightweight and easily cut material. Photographers use it to monitor photographic prints – for photography framing, to make scale models, etc.
If you are a beginning photographer, the foam core will be a cheap alternative to expensive photography gear.

White foam board for photography or photography black foam core along with white board reflector can assist you in making your own 'transportable' photography studio that will enable you to produce quality pictures on a regular basis.

There is a huge variety of ways to add the foam core into your photography workflow and we'll try to break them down. Let's find out what they are.
1.Bounce Lighting
It's not a secret that light bounces off the white surface. Every photo can benefit from some light bouncing — it gives a nicer quality of light, eliminates harsh shadows, makes the pictures more flattering. But it's especially useful when we deal with photography of food, jewelry, clothes, etc.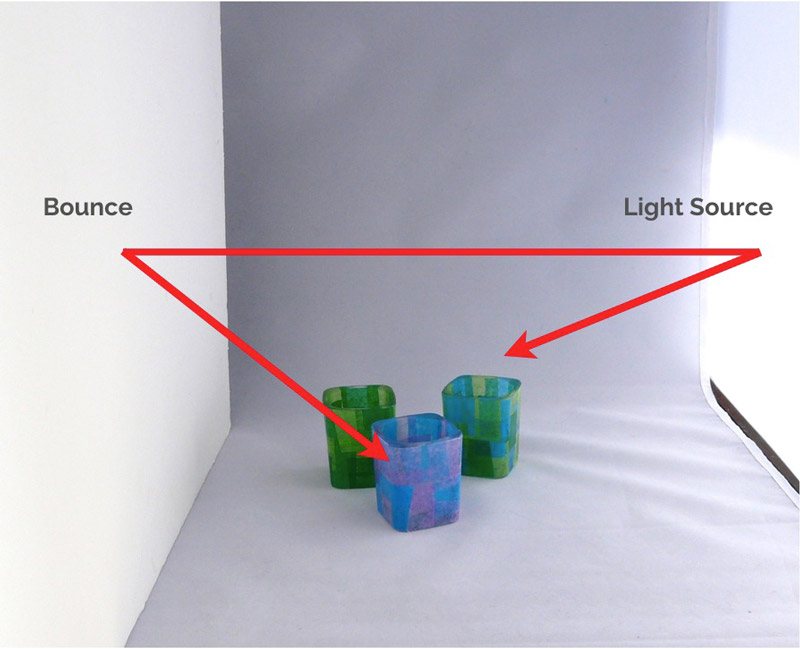 The board evens out and brightens the lighting making all products look appealing. It's a great way to utilize it. Another thing you should mind is that this material can breakdown & puncture with ease, so be careful.
It evens out and brightens the lighting making the products look more appealing. It's a great way to utilize foam core. Another thing you need to keep in mind is that foam core can breakdown and puncture with ease, so be careful.
2.Fill Light
Your subjects won't always be lit evenly. Sometimes you may have one source of light.

When using one light source, you will only have one set of shadows. Photos like this come across harsh. That's why you can transform your shadows – all you do is to place a part of white foam board on another side of the light source.
3.Backdrop
There's no getting around it, backgrounds are extremely important to help maintain the attention on the subject. Foam board photography background is an ultimate solution.


Foam core serves as a clear, non-distracting background. You should purchase at least photography black foam core as well as white. However, using it for portrait photography may be problematic, due to the needed size of the board.
4.Light Absorption
Some photographers focus only on light bouncing effect of the white backdrop and push all the other foam core colors to the side. Sometimes you need some light to be absorbed, that's when photography black foam core comes into play. Unlike white foam core, it keeps light from bouncing back onto your subject deepening the shadows.

It is also called "flagging". It makes a huge difference. When using flags to obstruct the light from a particular light source, one of the most vital things to keep in mind is the space between the light source and the cutter. (Flags are often referred to as "cutters".) If a cutter is too far away from the light, it will create harsh shades that will not only look unnatural but also will give away the location of your light source.

5.Let your imagination run wild!
With the help of a knife you can divide your light into different shapes! By putting it in front of the light source and understanding how to make foam board stand up, you can create a unique effect of shadows. Use your imagination! It can make pleasant gradients of light that are incredibly alluring to the eye.

You need to keep the knife sharp, as foam core is known to dull blades pretty quickly. As you can see, it's possible to produce beautiful photography on a limited budget. If you feel like you have already known your way round how to make foam board stand up and you are eager to deepen your knowledge in photography lighting, another popular great lighting modifiers are umbrellas and softboxes. Information about their advantages and disadvantages can be found in the article "Softbox vs Umbrella product photography"

What is a V flat?
V-Flats are giant foam core boards taped together. Using them the photographers can control light in their pictures. Why such a name? A flat, in theater language, is a background that we can easily relocate.

When you attach two flats together — they should stand on their own forming a V shape, hence – the name. V flats photography is a studio-essential. If you don't have a studio, foam board photography background is a perfect variant to make it look like you have one. It can give the illusion that the photo was made in a proper studio, when actually, it could be your living room.

Even in the comfort conditions of your own house they will help you create a functional studio. The versatility of V-Flats is endless, that's why all the product and food photographers use it. Of course, you can buy premade V-flats and spare some time. However, V-Flats can be extremely expensive.

And buying expensive gear can really bite into your profit. The good news is that it's possible to make them by yourself from cheap materials. But how exactly do you do it?

Hand-made white foam core photography
We will walk you through every step of homemade backdrop ideas:
● Depending on your location it may not be easy to find the material needed for constructing a V-flat. Check out a local art supply store to buy your foam core. Besides, you can find it on the internet too!

If you haven't managed to find the panels, go to the hardware store. There you will find foam insulation board.
● Size is directly connected to the purpose and type of your photo sessiong. Be careful as to make a right.
● Foam boards are available in various thicknesses. Mind, that the panels should be around an inch or even two inches (in case you want to improve the strength and durability of your V-Flat) in thickness. Otherwise, the V-Flat may fall over.
● Another important point is the choice of colors or textures.

Obviously, two of the most highly demanded colors are black and white. If the panel is two-sided, it's even more fun. You can use different sides for different photoshots. Black foam core helps to make the outer edges of your subject more distinct.

● Use gaffer tape. While, it's possible to use duck tape, it's still more preferable to use gaffer tape. Its advantages are obvious: gaffer tape is way more flexible and you can find a color that will match the panel.
● Put together your V-Flat: put one panel on top of the other.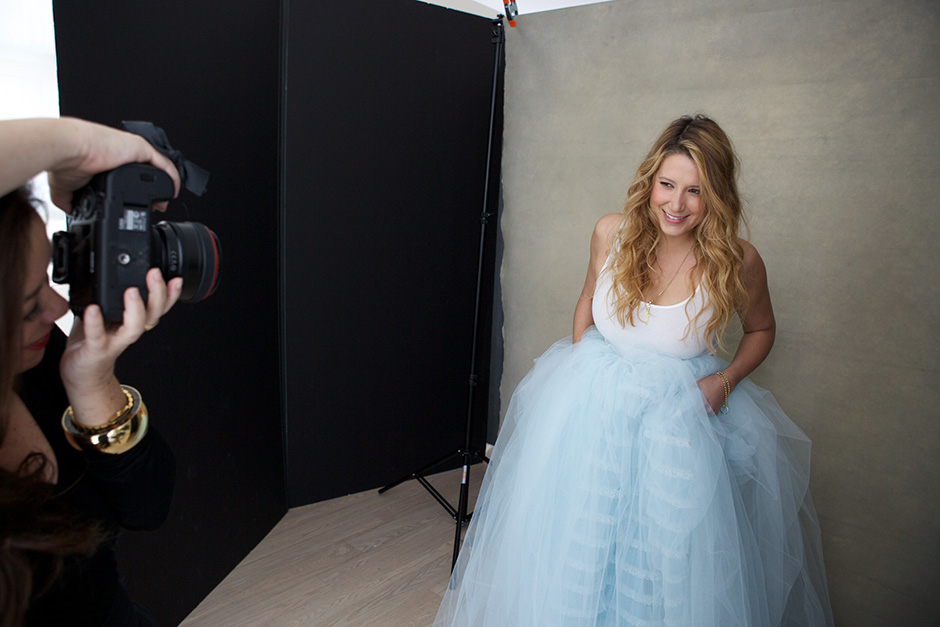 After that, tape them together. Once you've done with taping on one side, flip the boards over. Do the same on the other side. Now, you have a perfect foam board photography background. At the end your "V-Flat" should open like a book.

Moreover, it's very convenient to store it! You can constantly find new and inventive ways to use V-Flat, as the versatility of V-Flats are endless. It's an incredibly useful tool in photography.No aspect of a V-Flat concedes to a seamless studio background. In fact, V flats can also double as a seamless backdrop.

The following video is an overview of a V-flat, which is very convenient to work with in the photography studio:
Handy lighting techniques using Foam Board
Let's pass over to lighting techniques. Lighting is an extremely complex and elaborate process, you can shape light in so many different ways. And the amount of tools for lighting is overwhelming.

We have compiled and will reveal top 5 useful lighting techniques while using the foam board. If you want to know how to make foam board stand up, you should know that it is generally recommended purchasing the 25X35 black and white sheets. You can order them online or find them in stores. There are several do-it-yourself techniques you can master to save money and still have well-lit pictures.Here are 5 techniques to utilize foam boards to the fullest extent:

1. Utilize it as a reflector
In photography, everything boils down to light. That's why using a reflector outside a studio can drastically transform your images, filling all the shadows. A lot of people neglect using it as a reflector, but foam core is essential to create the desired interplay of light & shadow. If your gear includes only one source of light, a reflector should be an indispensable part of your setup.

2. Light bouncing
Set everything in a way that enables the light to bounce back on to the subject. An easy, but effective way to get true colors, diffuse the light and soften the image. Detailed and well-lit photos will always attract clients! This is very easy to do, but make sure that you have free space to do it.

3. Flagging
Flag helps to keep light away from a particular part of your image. It will allow you to be in charge of the placement of your shadow by obstructing light. You can use them for everything: beauty, fashion, product, portrait shoots and more. It's commonly used — yet extremely underestimated — for controlling light and shadows in photography.

4. Backdrops
An important thing to remember here is that a background also contributes significantly to the balance of the entire image, because it interacts with the subject of the photo. That's why foam board photography background is a trick that always pays off.

5. Create background textures
By cutting different shapes out of foam boards and shining light through it you can actually create curious shadows that will add a little extra something to your picture. Experiment and don't forget to have fun! Nothing beats practicing!Try out the recommended lighting techniques and see how they work for you. Those techniques will serve you well, and can be used to produce breathtaking photos. The DIY setup is simple, but effective.

What we love about it is that it really helps to understand how light works. If you are interested in digging deeper and want to find some more lighting tricks, check out the article "Lighting for still life photography — Make everything right".
As you can see, foam core can indeed confront a multitude of light manipulation challenges for a very low cost. This article makes it evident that it's possible to produce quality content without breaking the bank. Hopefully, you've found this article about white foam core photography informative and helpful!

With the help of these simple tricks you can save money on a wide range of photographic setups. Check out our photo-editing prices if you want us to put finishing touches to your white foam core photography and help produce stunning results by means of photo post production!