How to Get InDesign for Free & Legally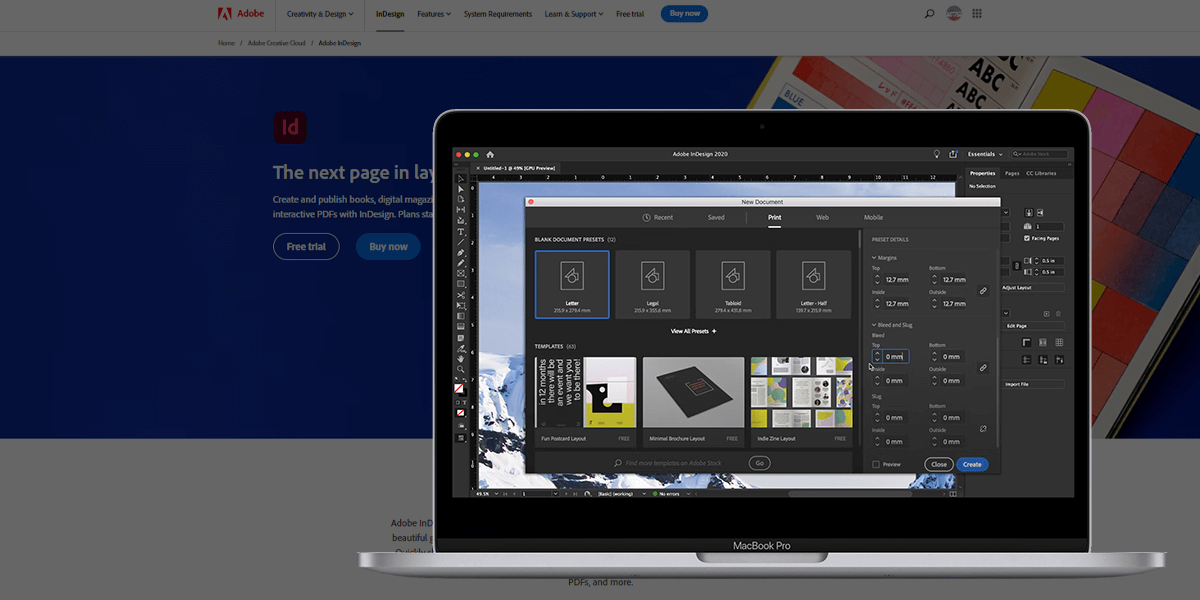 InDesign is a professional program for designing pages and materials for print and online use. It was created by Adobe Co. specifically for people, who need to make and publish books, magazines, eBooks, posters, interactive PDFs, and similar stuff. Besides, you may download InDesign for free and satisfy your needs if you want to work on a project together with your colleagues.
Similar to other Adobe products, this program is available on a subscription basis. You can pay either monthly fees or once for a whole year. To purchase Adobe InDesign, you need to choose from 2 plans – the Single App plan for $20.99/month or Adobe Creative Cloud All Apps plan for $54.99/month. Besides, there are special offers for students, teachers, and enterprises.
• Supports modern graphics

• Integrates with Illustrator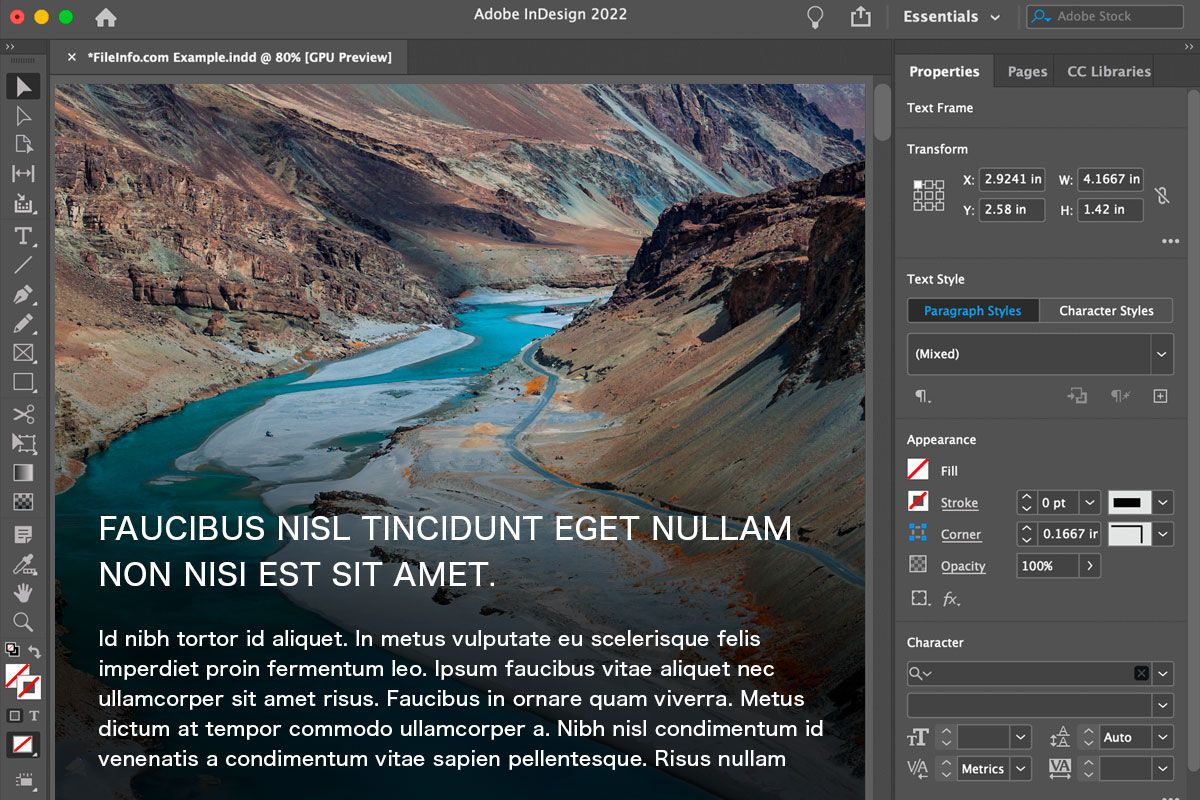 #1 Way to Get InDesign for Free: Use a Trial Version
The safest method to download free InDesign is to head to the official website and get a trial version. It is valid for a whole week and this period is sufficient for testing the capabilities of the software and figuring out whether it worth paying for. In this case, you receive all the tools and features for performing basic tasks.
To initiate downloading, take the following steps.
1. Open the Adobe website.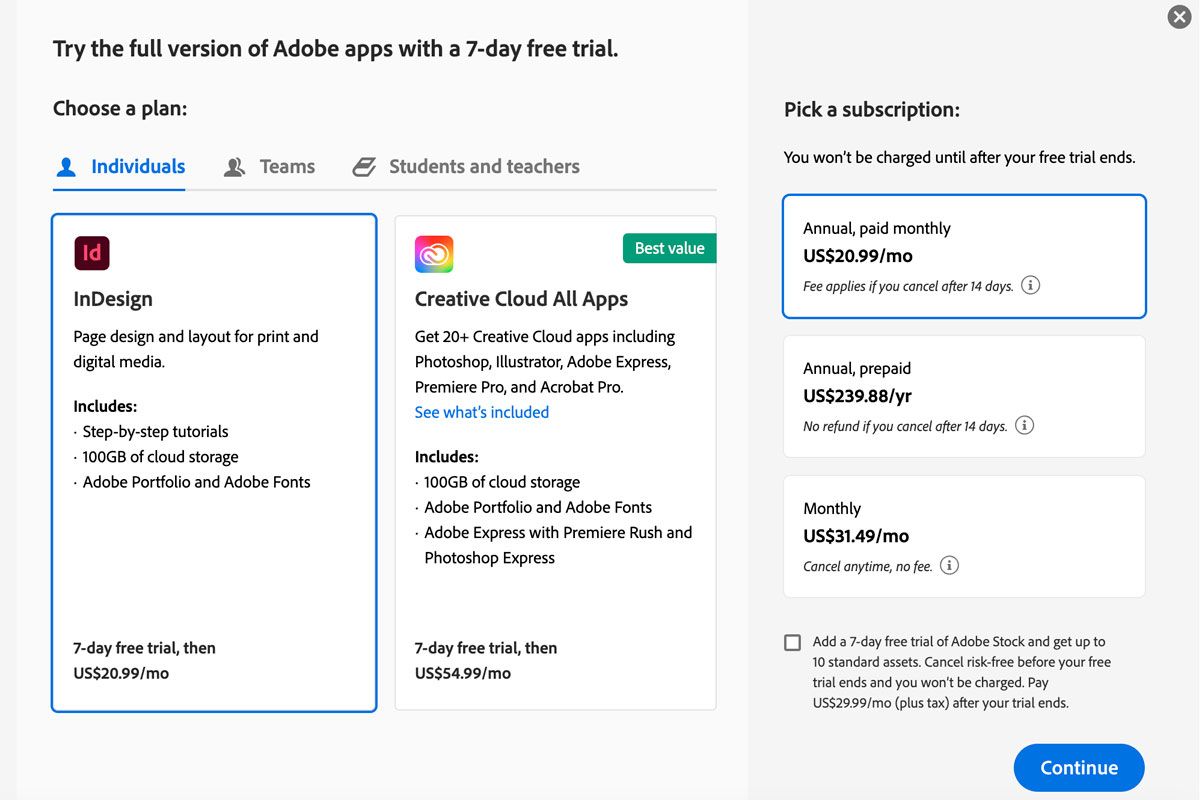 2. Choose the Plan and click "Start free trial".
The company offers two major plans – InDesign and Creative Cloud All Apps. Determine your needs and learn what features are included in every option to make a reasonable choice.
The first variant will suit you if you want to get solely InDesign. Thus, you'll be able to make sleek page layouts for print and digital media, use 100GB of cloud storage, as well as leverage integration with Adobe Portfolio and Adobe Fonts. Beginners will definitely appreciate the availability of intuitive guides. You can use free Adobe InDesign for 7 days and after that, you have to pay $20.99/month.
If you choose the Creative Cloud All Apps plan, you receive more than 20 programs (Photoshop, Premiere Pro, Illustrator) in addition to InDesign. Thus, you can easily complete advanced projects without resorting to third-party apps. Besides, users get 100Gb of cloud storage, integration with Portfolio and Fonts, as well as access to Adobe Express, Premier Rush, and Photoshop Express.
Once you know what option is more suitable for you, click "Start free trial" next to it.
3. Sign in or Set Up Adobe ID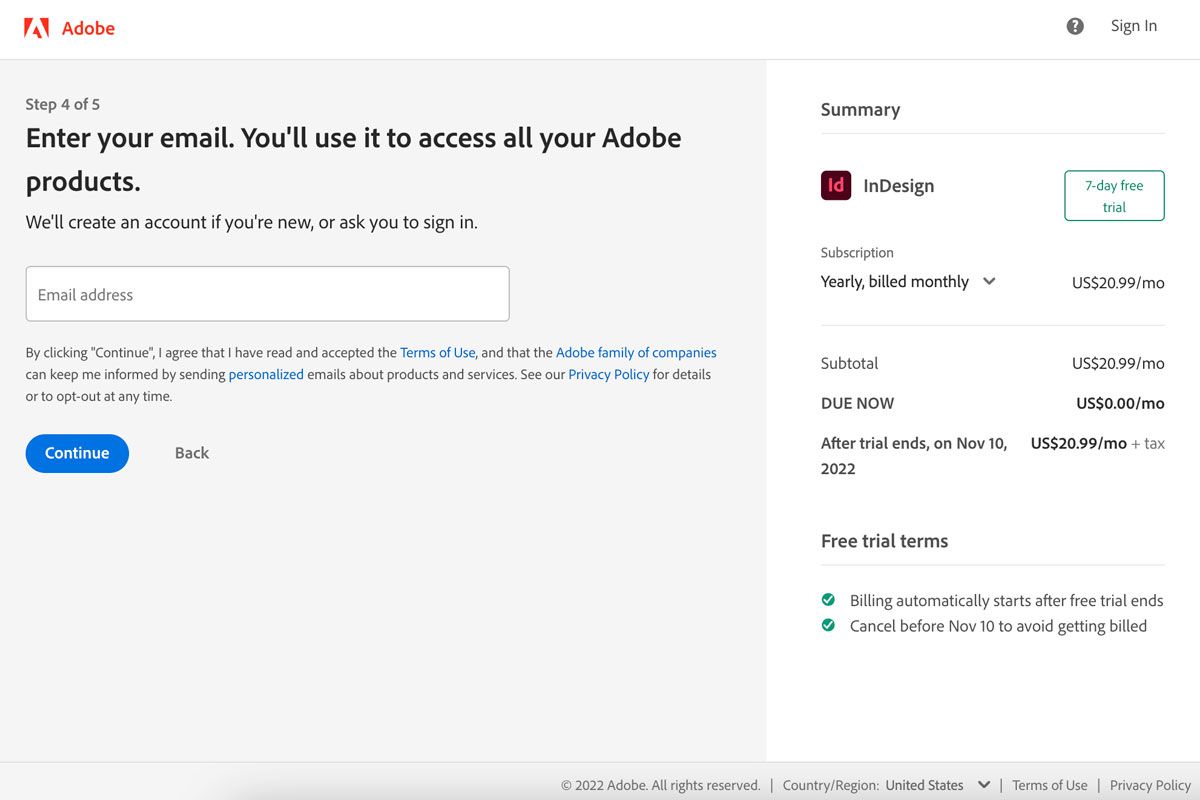 You need to sign in with your email and enter your payment data. Once the free Adobe InDesign trial period expires, money will be withdrawn from your account automatically. If you don't want to pay for the software, you need to cancel the subscription.
#2 Way to Get InDesign for Free: Install Adobe Express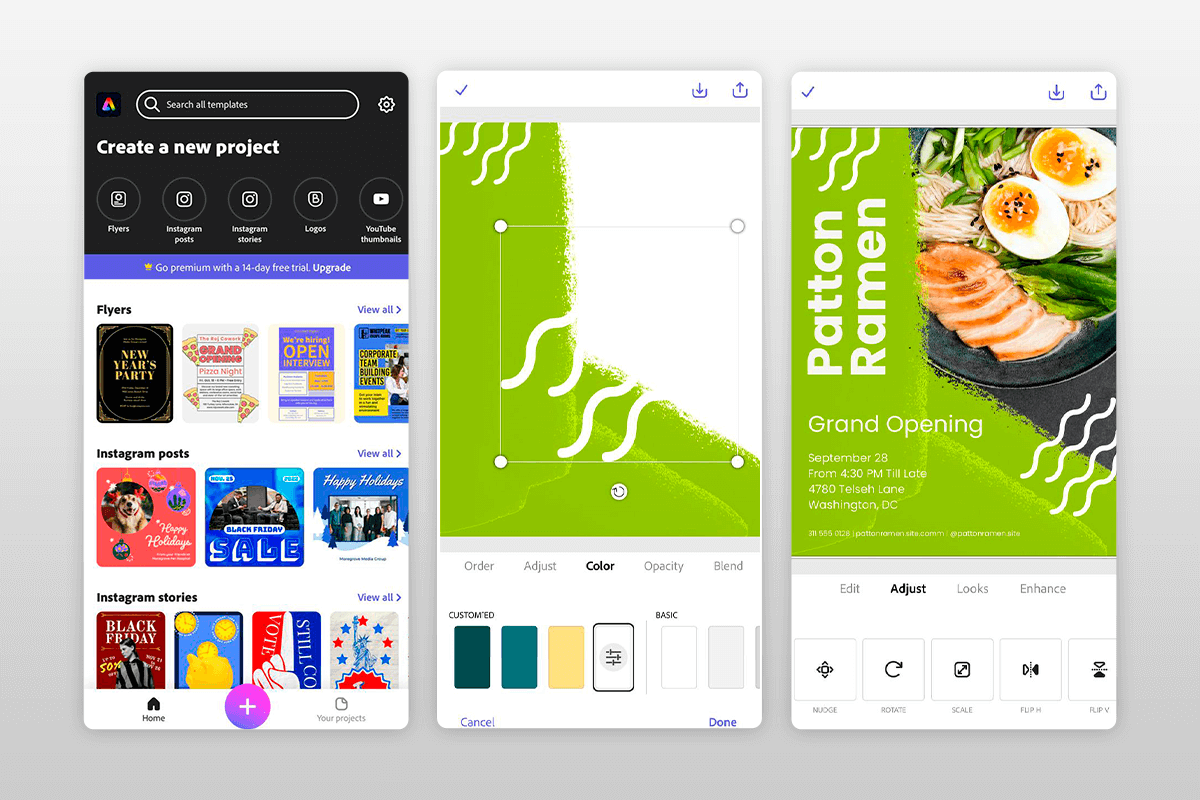 If you are accustomed to managing your work on the go, you surely want to get a mobile-friendly app. Unfortunately, you can't download InDesign free for portable devices because such an app doesn't exist. However, you can use Ps instead as this software is optimized for a mobile environment. So, get Photoshop for free and start realizing your ideas without being tied to a desk. However, the Ps trial version is also active for a week only.
Adobe also developed a mobile app for creating layouts on iPads, called Adobe Express. Using it, you can turn rough shapes and lines into crisp graphics, experiment with colors, images, and text styles, as well as create inscriptions with the help of top-notch fonts. Once you're done, you can send a project to Ps, Illustrator, or InDesign, and apply the final touches.
Free and Efficient Alternatives
Adobe is widely regarded as a developer of the best programs for design, image editing, and other creative tasks. However, if any of the methods of how to get InDesign for free suits you, why not use a feature-rich alternative instead?
Though analogs may lack some functions embedded in InDesign, they can still perfectly cope with major processes. Besides, it is better to use a legal program than a pirated one even if you want to own it a lot. Learn about the strong and weak points of the software described below and choose tools that can substitute Adobe InDesign in your case. Moreover, you may consider some photo editing software as they also have handy features on board.
1. VivaDesigner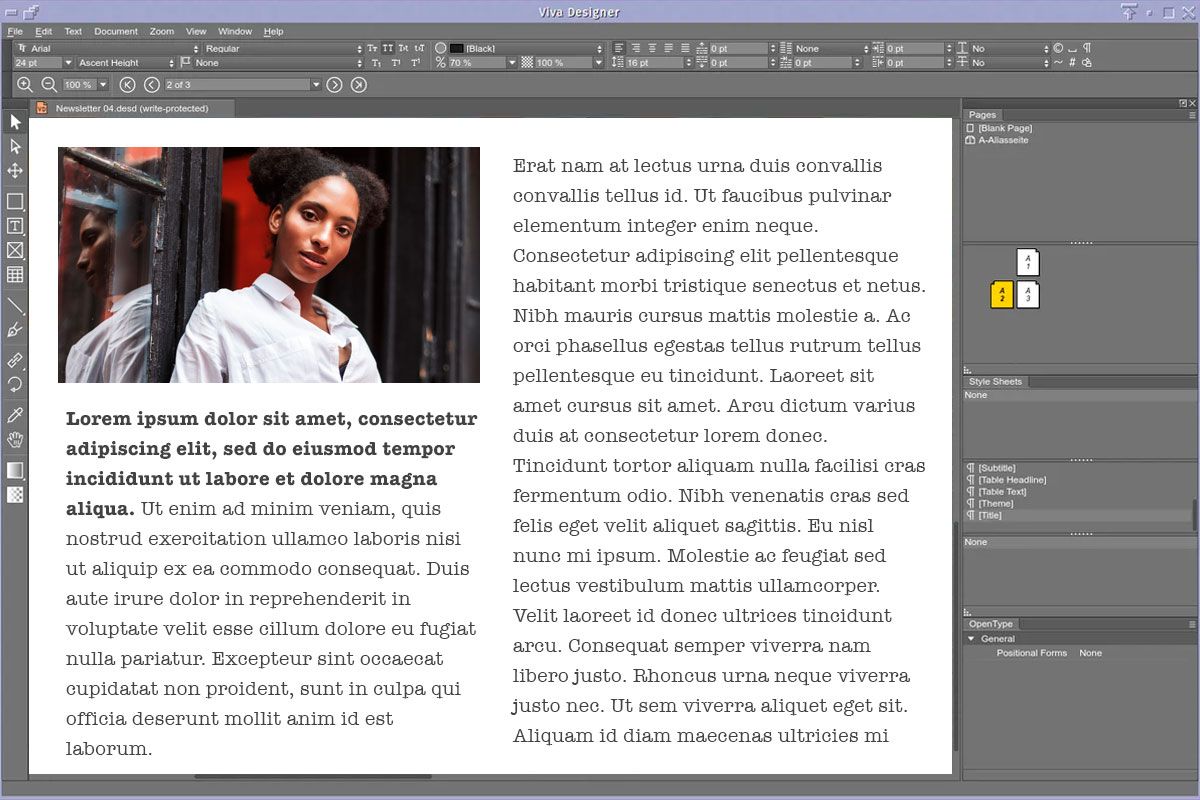 This program can stay on par with InDesign and even surpass it in some situations. It is available online and as desktop software. VivaDesigner has lots of features and can handle the most complicated design tasks you throw at it. Thanks to native file import capability, it can be paired with Adobe products.
The interface is absolutely straightforward, so even novices will master it with ease. The most popular tools are those for tracking, character inspecting, clipping, image searching, and text editing.
Available for: Web, Windows, Mac, Linux
2. QuarkXPress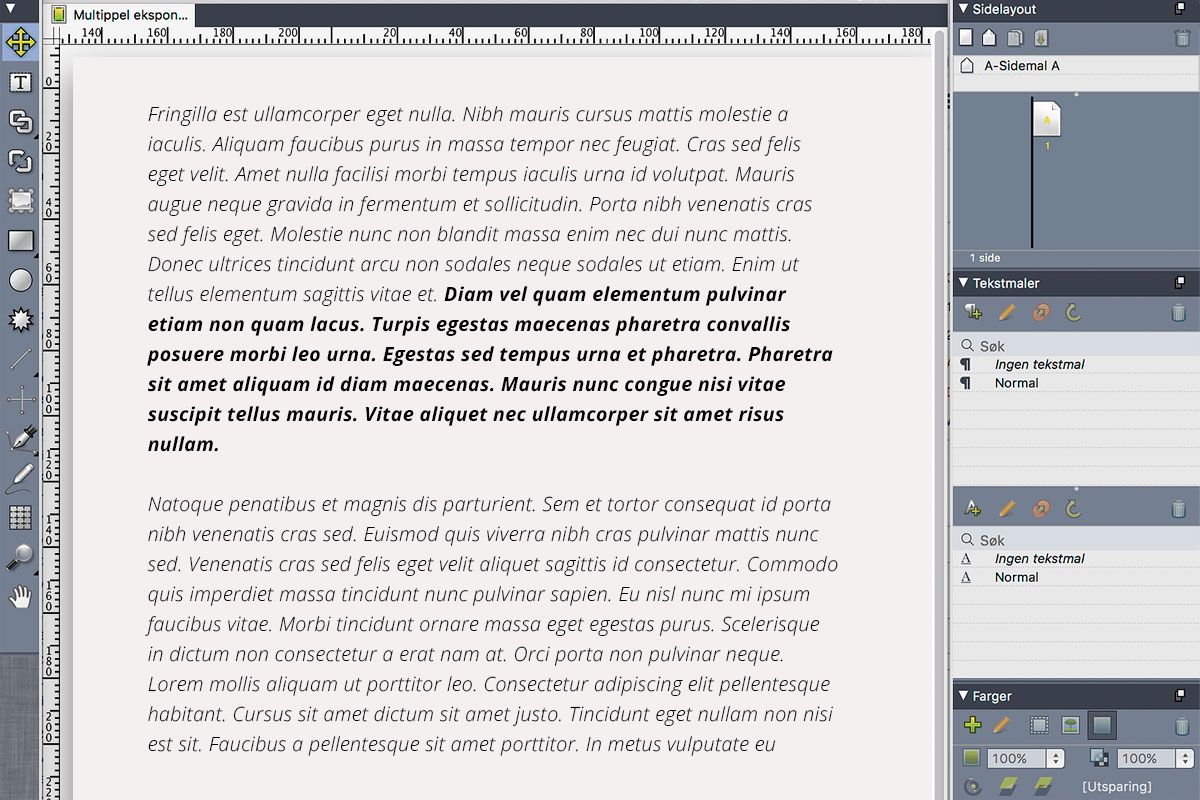 QuarkXPress was a leading desktop program for publishing. Most design studios used this software before it was replaced by Adobe InDesign. However, it doesn't mean QuarkXPress is useless – it is regularly updated and has many interesting features.
You can use the software to make presets, flyers, brochures, magazines, catalogs, eBooks, as well as mobile and web apps. In fact, here you can find everything for producing materials for print and digital projects. Besides, it is possible to upload InDesign files.
Available for: Windows, Mac
3. Scribus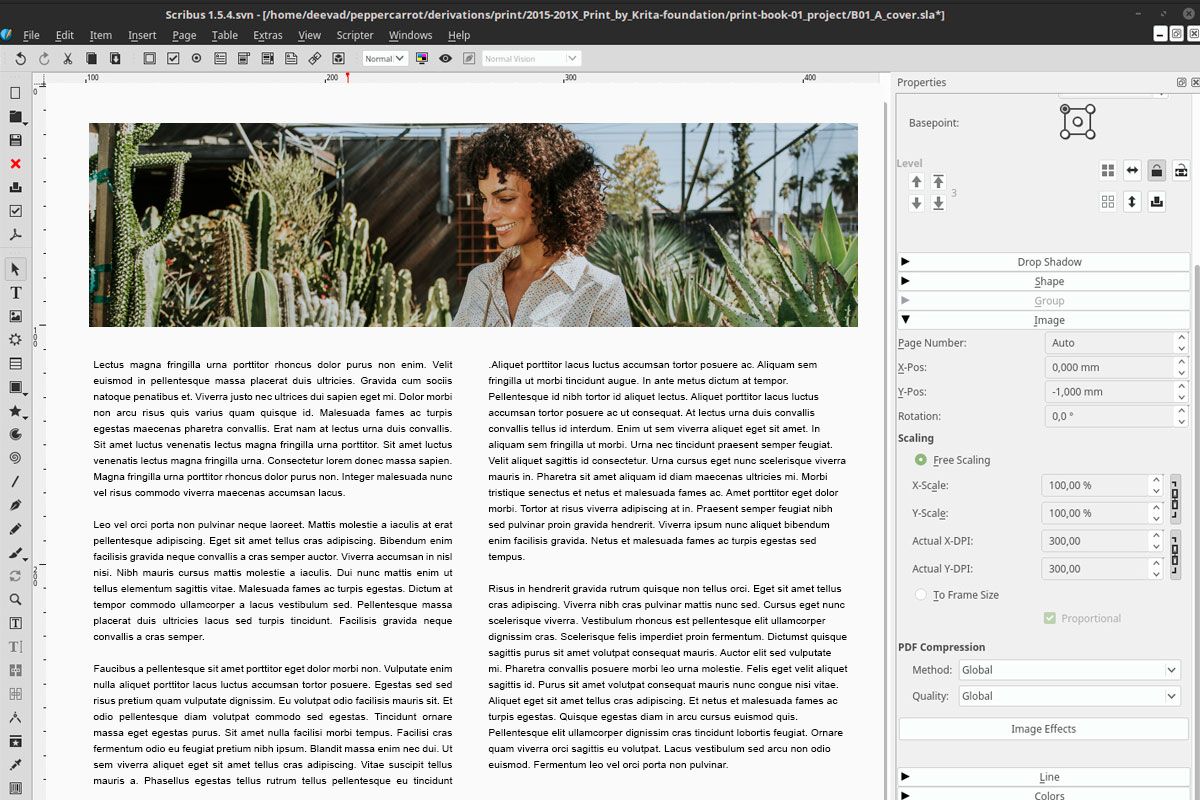 If you need a free Adobe InDesign alternative that resembles the Adobe software, Scribus ticks both boxes. It offers impressive functionality free of charge and is very similar to InDesign in terms of tool layout. So, it won't take you long to master a new program.
Scribus has fantastic DPT features. For instance, you can take advantage of the support for OpenType, CMYK colors, spot colors, various PDF creation tools, and ICC color management instruments. In addition to that, users receive vector drawing tools, color blindness emulation functions, and options for rendering markup languages.
Available for: Web
4. Affinity Publisher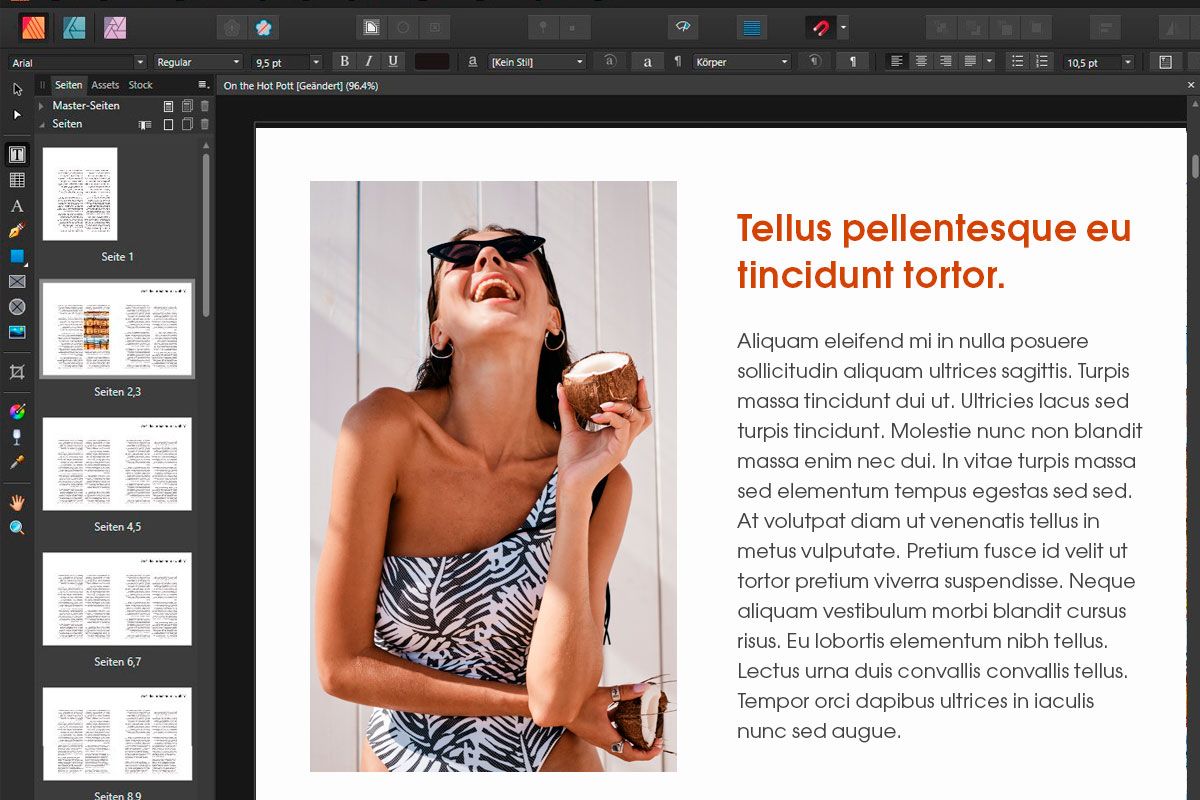 Affinity Publisher is a go-to program for people, who can't afford to pay for InDesign but want to create pro-quality materials. It has a user-friendly interface, terrific page layout tools, allows for importing InDesign files, raster & vector projects, and scanning documents for possible errors.
The highlight of this free Adobe InDesign replacement is its rich functionality for design and editing, which even transcends what InDesign offers. So, you can not only perform entry-level tasks but also try your hand at producing offbeat projects.
5. Lucidpress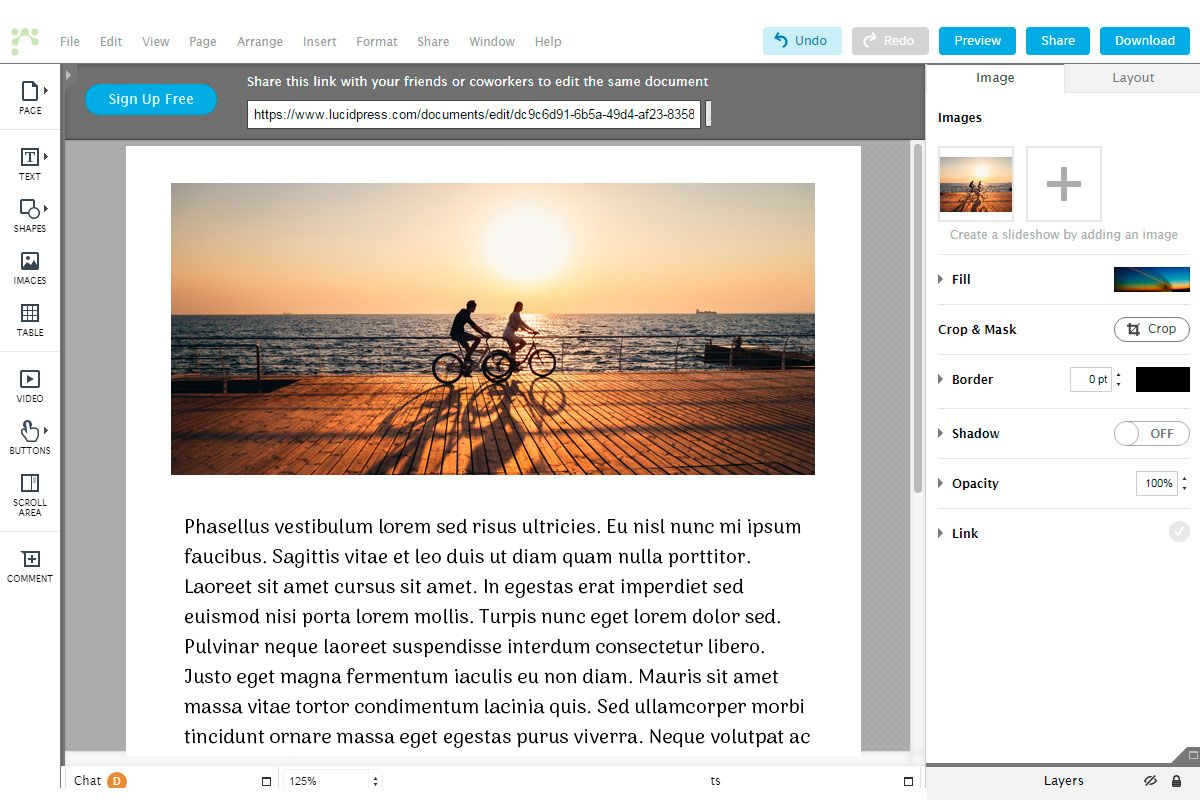 Lucidpress is an open-source analog to Adobe InDesign. Using it, you can design materials and page layouts right in your browser, which is impossible to perform in Adobe software. The rest of the features are almost identical.
The interface works in accordance with the drag & drop method, so you can easily add digital assets to the working space and turn them into fantastic flyers, brochures, newsletters, etc. To spruce up your projects with unique elements, you should leverage integration with Dropbox, Facebook, Slack, Dropbox, and Google Analytics.
Available for: Web
F.A.Q.
This is a pro-grade program for creating page layouts and designs. Finished materials may be used both on the net and in print form. Enthusiastic and experienced graphic and web designers, marketers, artists, advertising photographers, and other creatives use this software for making unique catalogs, reports, interactive publications, eBooks, magazines, and more.
Why should I avoid using a cracked version of InDesign?
First and foremost, such an action is treated as a crime, and you'll have to pay a fine. In the worst-case scenario, you will be imprisoned. Moreover, when you install such a program on your computer, all your data is subject to damaging or stealing. Few people are ready to endanger their files just to use a free program. Besides, if anything goes wrong, there are no support agents who can help you out.
Is InDesign difficult to master?
In fact, the software is very user-friendly. Besides, there are lots of tutorials that you can use to learn the most intricate tools and features.
Can I get InDesign without a Creative Cloud membership?
No, the program is distributed as a part of CC plans. There are 2 options to choose from – you can either get InDesign as a separate software (a Single App plan) or together with other programs and apps from Adobe. Keep in mind that the company has special offers for students & teachers, photographers, and businesses.
Are there any discounts for the software?
The CC package contains a whoppingly large collection of apps and programs. In case you purchase a whole package, you may get a hefty discount from Adobe.
A standard price for Adobe CC All Apps is $52.99/month, but if you qualify for a student discount, the price will be reduced by 60%.