Each year is significant in its own way for the sphere of wedding industry. Many creative couple with burning desire to turn their celebration into a fairy tale try everything that is possible. That is why styled weddings are so much important and widespread today as never before.
Fashion and trends play significant role in their choice. If you are short of money but still want to create something unforgettable a close look at most popular wedding colors 2017 will fill you with inspiration and give you plenty of ideas that will bring more of the personality to your wedding. All these aspects: style, décor, flowers and the rest of the trend will be beautifully presented with careful work of photo editing service.
Therefore, we decided to provide you with the hottest decorating trends 2017. If any of them you like immensely, take it and we will be glad since it gives plus to our karma.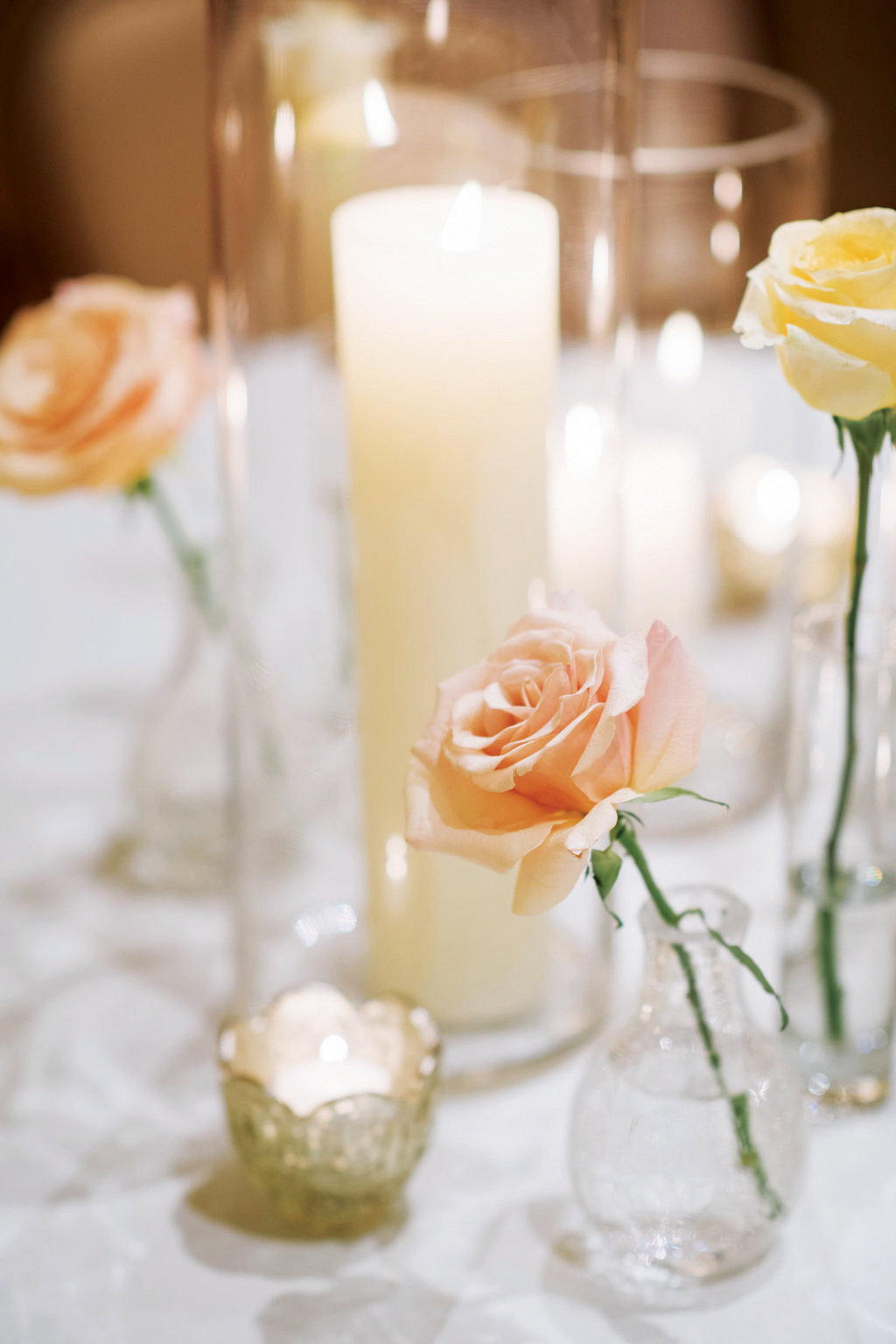 Photographer: Breanne Weston Photography
Summer 2017 wedding trends
Among all the variety of wedding installations flower are the most frequent and interesting. Plenty of flower décor are everywhere: the place of celebration, backdrops and of course bride bouquet. There is a tendency among wedding florists that flowers are not supposed to be shaped and chosen identically and ideally in form and size. They are mixed and that impressed guests most of all being a part of blush wedding reception décor.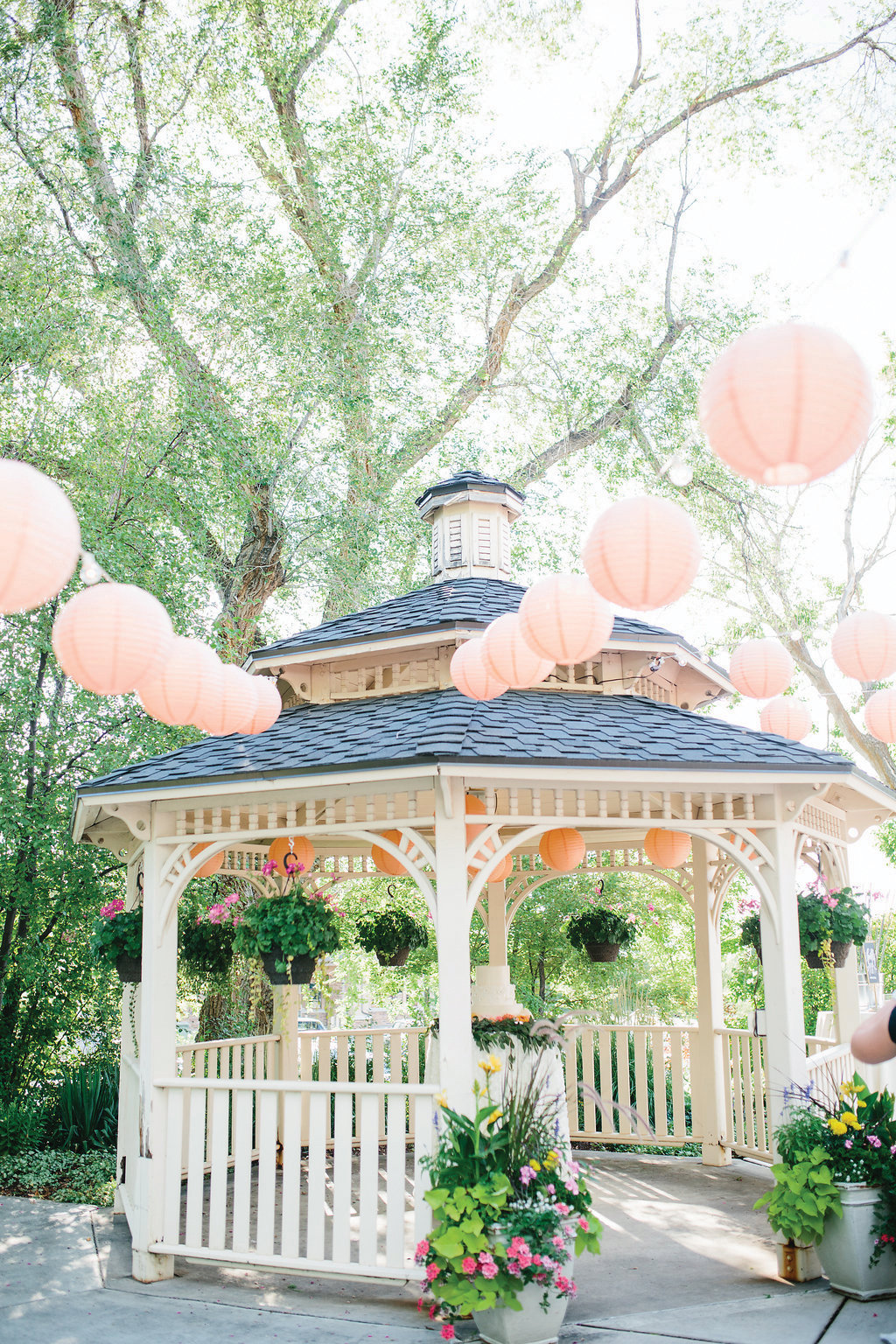 Photographer: Breanne Weston Photography
Decorating trends 2017 can boast of an adorable choice of flower usage. Among such you may come across soft petals, being demanded most of all today. Peonies, garden roses and ranunculus make each of the hottest wedding. There is nothing to be surprised generally. These colorful flowers make romance of the date come alive as if in epic ballads.
Brides plan their wedding day when these flowers are in full blossom. Peonies and garden roses are the first to be intertwine in garlands. Enormously large bouquets may be placed on the top of a table. It often happens that even cakes are richly adorned with flowers. Flouting cut flowers bring the atmosphere of freshness and bring air into the hall. Advanced wedding designers are like elves in the forests of unusual and extravagant trees.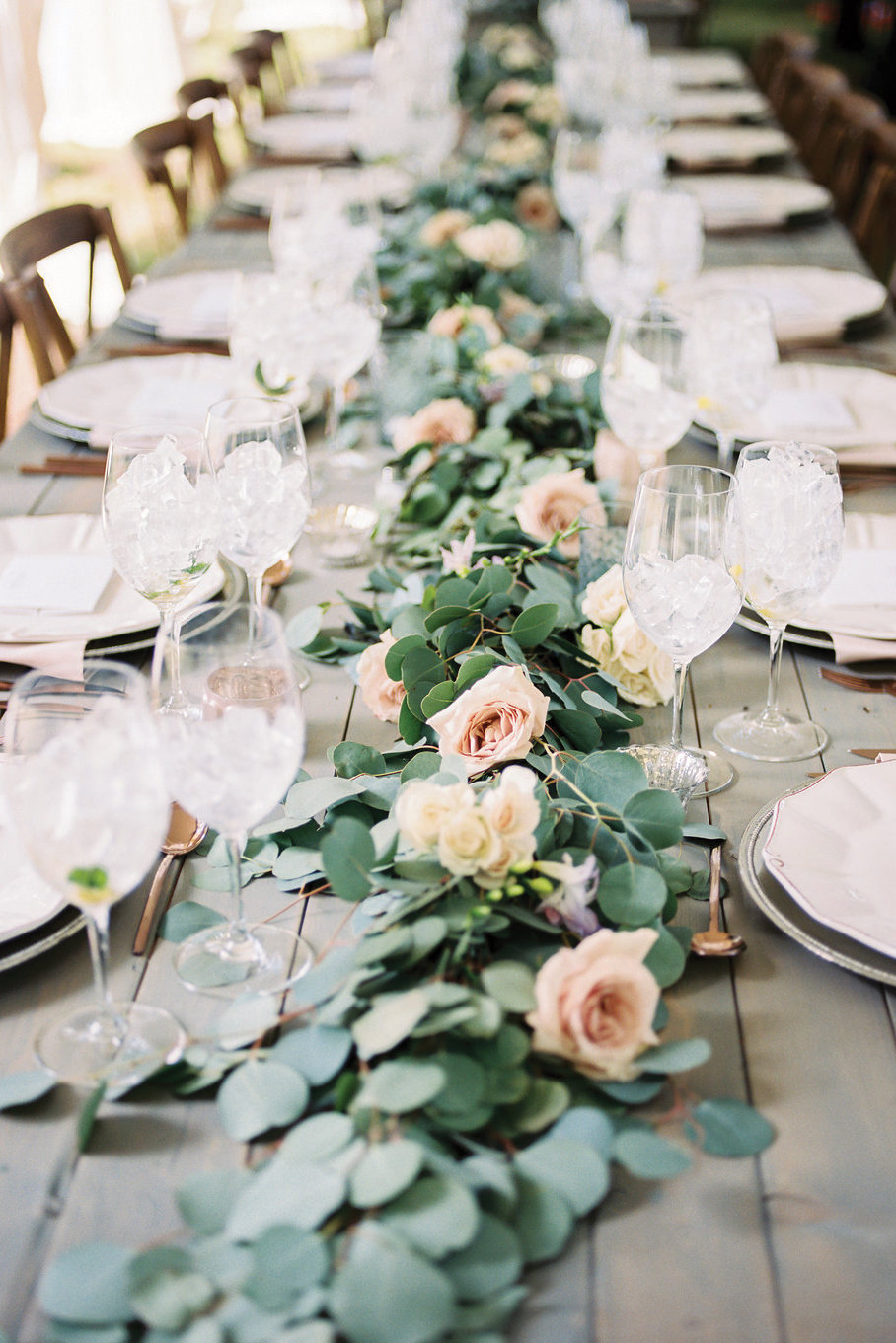 Photographer: Megan Robinson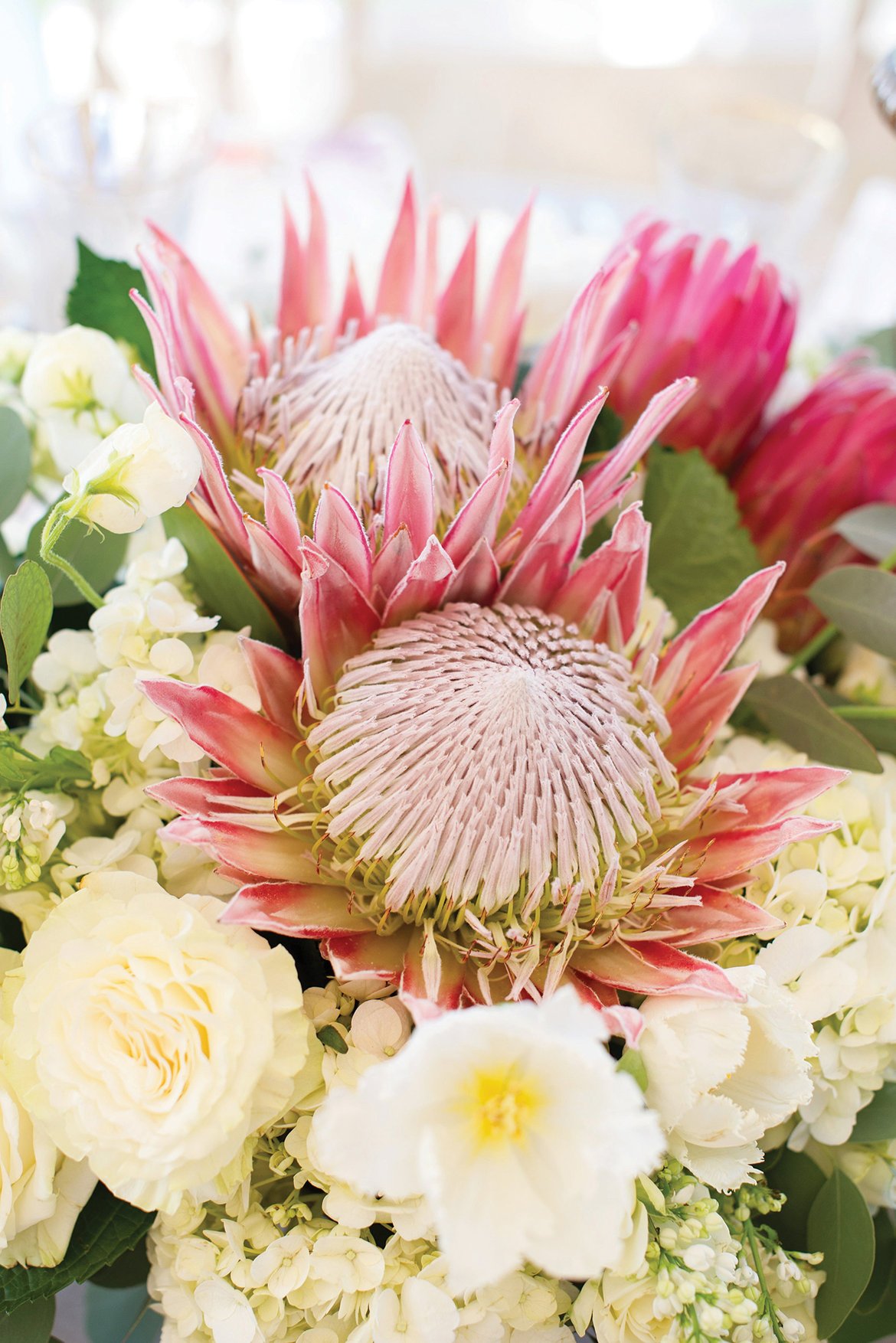 Photographer: Jamee Photography

Photographer: Wild Native Photography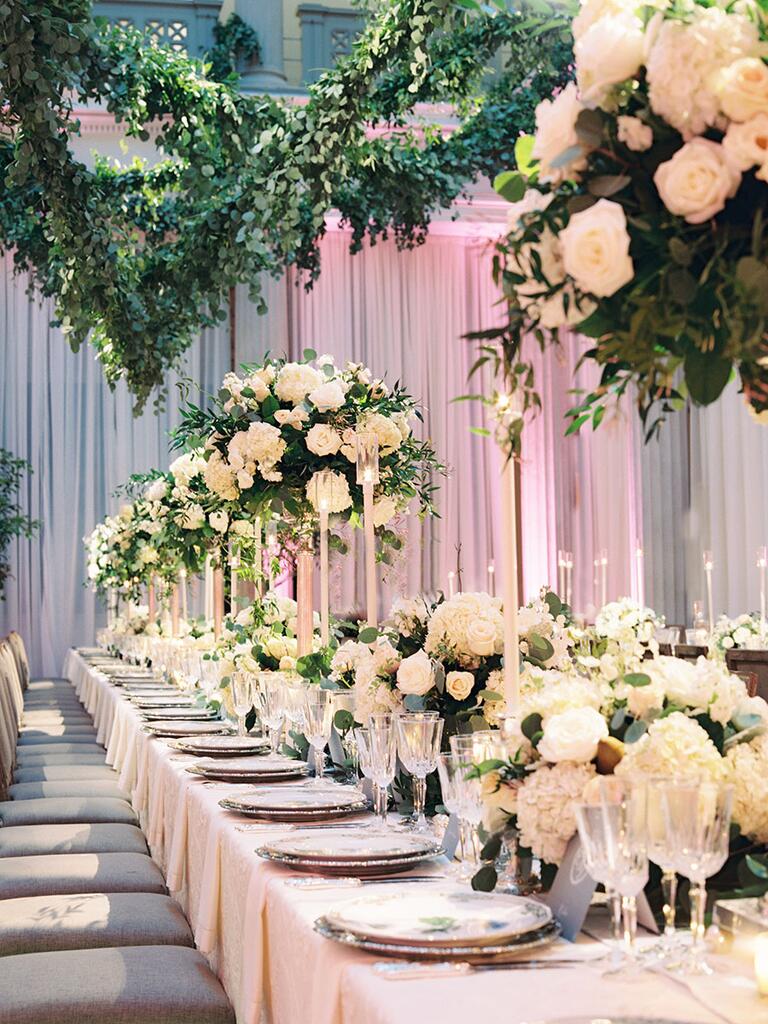 Photographer: ABBY JIU PHOTOGRAPHY
That charming greenery and pleasant flower pallet may be bravely called popular wedding colors 2017. However, you may check it out yourself in our following examples.
We believe that is great that wedding trend become more natural. In this context, flowers fit as never better. Unfortunately, in summer today the weather is so much unstable that it can prevent you from celebrating in the open air. Flowers and all the variety of greenery gives you an opportunity to take this holiday inside. Wood, flowers, even stones and the rest of natural material can turn your ballroom into a fairy like forest.
Even invitations are influenced by popular wedding colors 2017
Photographer: Shindig Bespoke
Doing justice to the general decorating idea of a particular wedding not to spoil the idea with discrepancies a newly married couple tries to fit with everything into decorating trends 2017.
Couples try to impress their guests from the very beginning. That is why surprises star with receiving invitations. We should admit that with each passing year this mail comes to be more and more unique. One of the most recent trends speaks about Plexiglas invitations. It is gives particular attention to the couple. What is more people are inventive enough to use foil stamping, shining in the dark ink. However, it is only the upper part of the iceberg. Invitations fit summer 2017 wedding trends not only in form but also quite often in color. Stamped paper with adorable hand calligraphy looks very beautiful.
Generally speaking, blush wedding reception décor mirrors the situation in the world of fashion. Even when it comes to invitations. Usually, it is a fine combination of two trends that harmonize each other.
Summer wedding trends in dishes choice.
What your guests are likely to taste? It would definitely be fashion ideas in the world of cuisine.

Photographer: Evin Photography

Photographer: Lex and the Lotus Photography

Photographer: Max and Friends
With beautiful love story and awesome invitations, you cannot seize your hunger. Menu is one of the main parts of the celebrations, except of the couple itself.)) People are very serious about the choice of dishes that is to be served during the party. Custom menu should be paid special attention because it has its own story.
There are different opportunities to impress your guests, beginning with the traditional cuisine of the region and moving to the special dishes of the place the couple met etc. The list of diversity can be endless. There are numerous variants of meat, fish and vegetarian food presentation. Creative approach can easily turn ordinary dishes into the still life masterpiece.
Summer wedding trends are very specific about this year wedding dishes. People do not want to mix up everything. That is why preference is given to a specific regional cuisine. For instance, maple flavoring is greatly appreciated by the Vermont people. Take a menu of any wedding and you will be surprised coming across it a couple of times.
Such gorgeous dishes would not be failed to undergo a photo session be tens of times by your guests and even your wedding photographer will catch it. If only they knew how to edit food photos in Photoshop not to spoil the first idea of them.
Wedding cakes follow all decorating trends 2017
Photographer: Amy Arrington Photography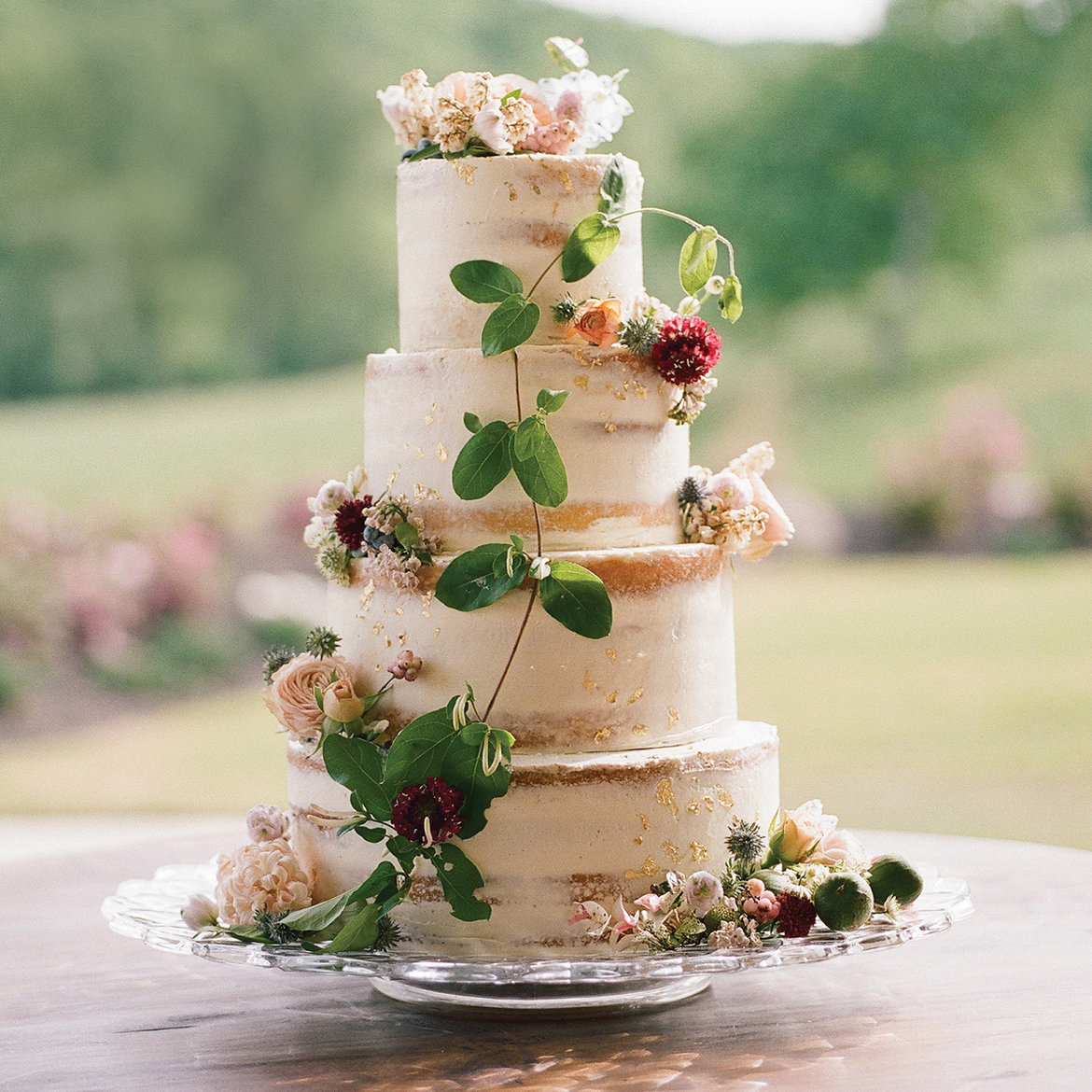 Photographer: Davy Whitener Photography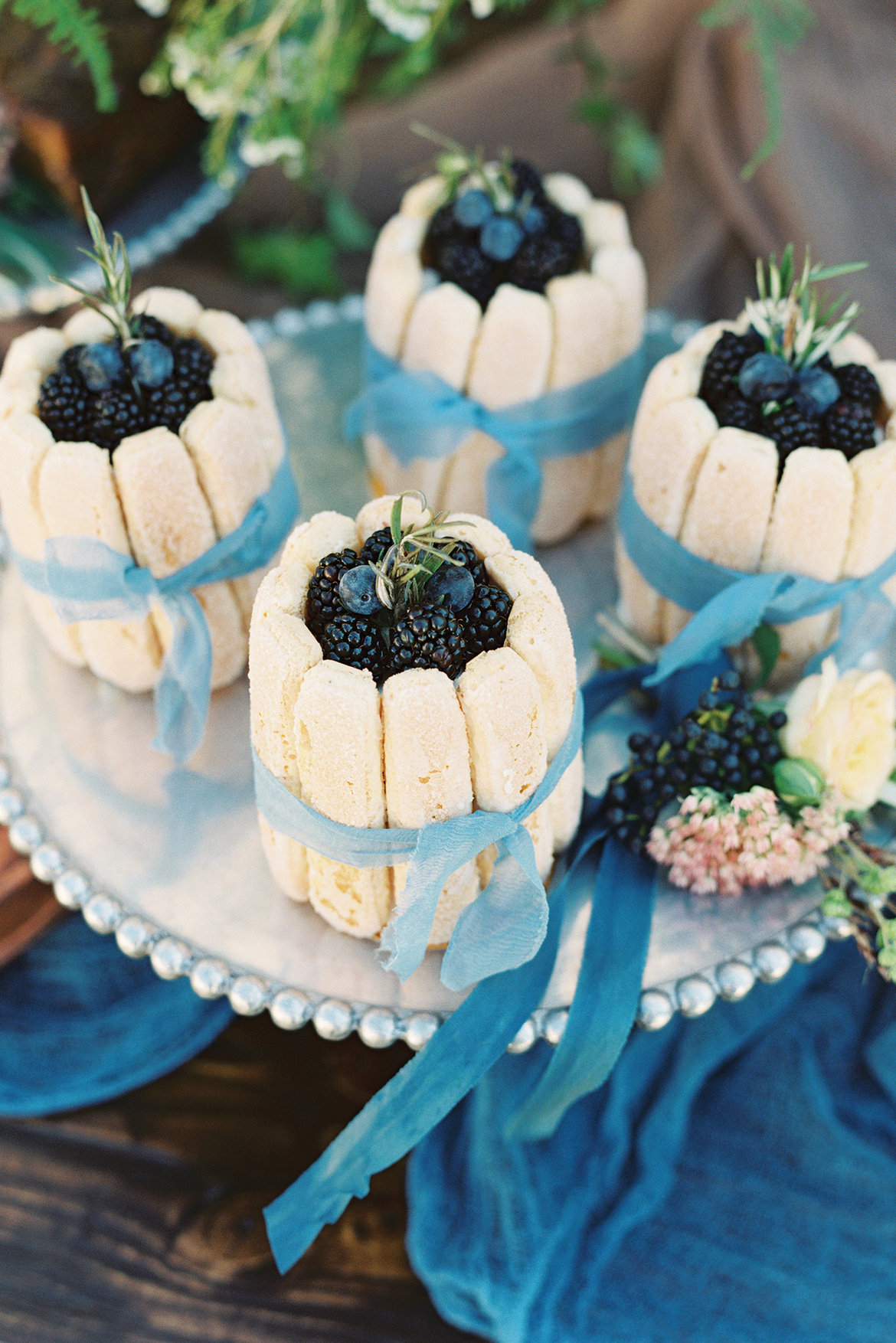 Photographer: D'Arcy Benincosa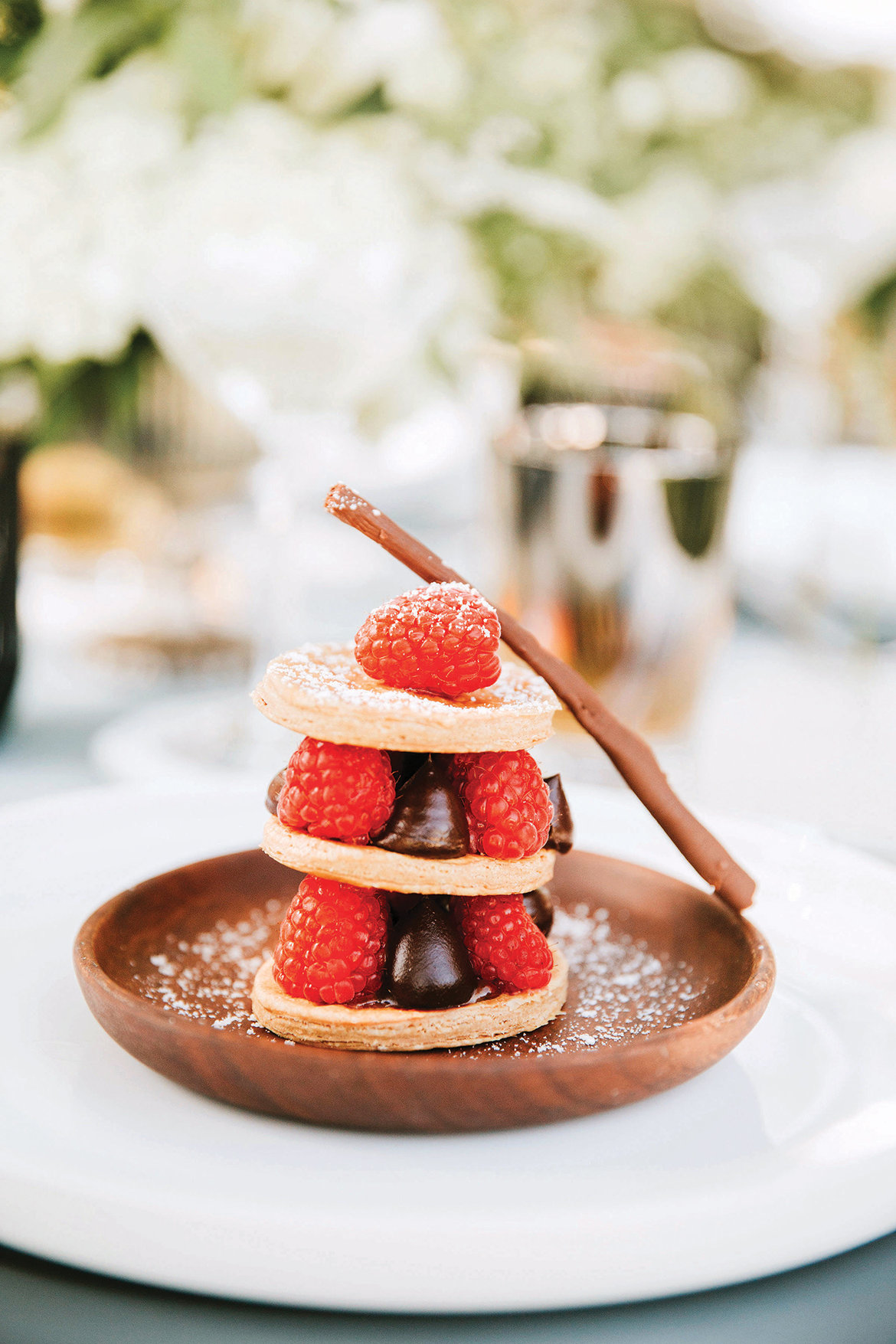 Photographer: Lex and the Lotus Photography
What a wedding can be without a sweet desert. Wedding cake has turned to be a custom and undergoes trend changes all the time. Creative backers have turned them into trend once again after they were unjustly forgotten for cupcakes and other small sweets in comparison with it. Like Eiffel Tower in Paris that is the main attraction of folk, wedding cake has the same action. The more it is interesting, high and unusual the better it is. Sometimes you doubt it being real as it seems to be from a cookery book of your mum. Baking artists use all their creativity in order to make it fit blush wedding reception décor.
2017 wedding color trends – what pallet prevails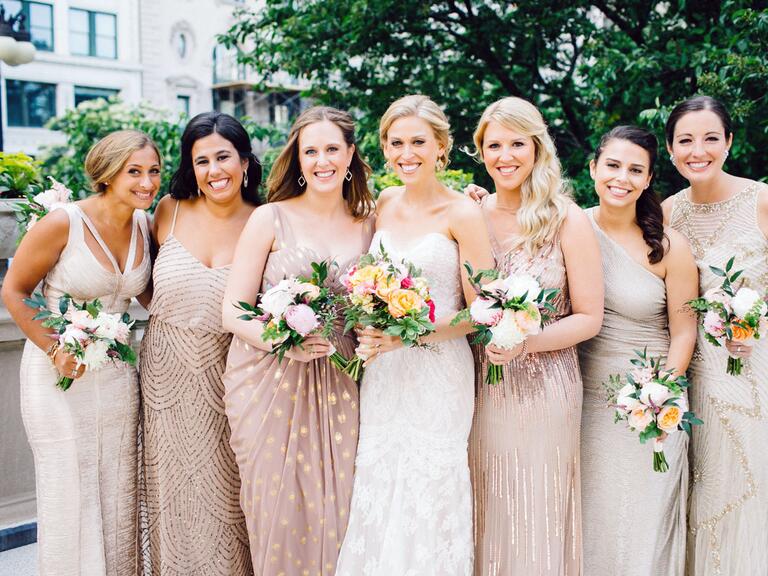 Photographer: PEN/ CARLSON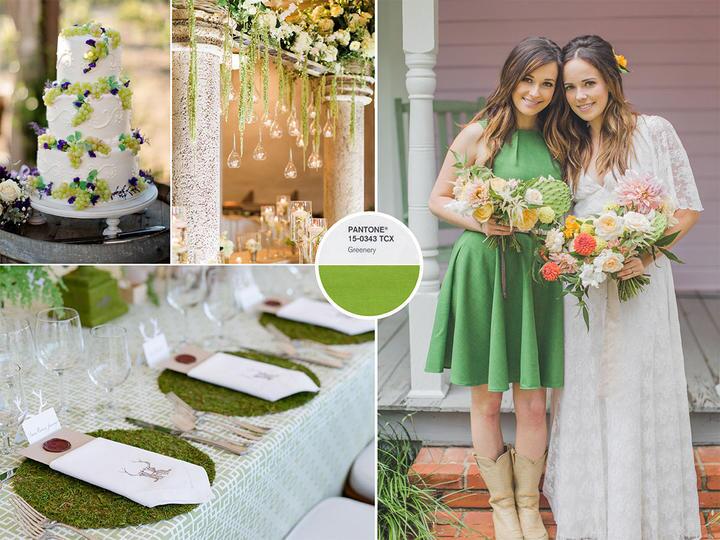 It is important to catch up not only with decorating ideas of the hall the celebration is supposed to take place but with general ideas of the color range that is in fashion right now. You must have noticed that everything new is a fine forgotten old. The same is about this point.
Screamy and too bright colors are not in trend any longer. They are replaced with neutral and pastel colors. Green being the color of the year perfectly matched weddings. The idea of everlasting spring and summer brings warmth in every season all the year round. People overlook their relation with nature, try to find connections with one another due to the abundance of this color in fashion industry. What is more green is symbolic of greater purpose idea of a person in this world. However, it is all philosophy but why not to account to it if small tights of the world make a tight web.

Apart of greenery sparkling outfit is popular. Gold, silver and other metallic details on dresses are used for dress decoration in all the possible was. There are numerous variants of dresses flooded wedding shops and boutiques with evening outfit. Textile is very airy and almost weightless. Tulle and organza are ideal for it.
Decorating trends 2017 are inspired by 70'

As we have already mentioned that everything new is fine forgotten old this year wedding trends are full of 70' air. Flowers and boho combination is ideal for resurrected 70's in 2017 days. There are still a lot of people who are crazy about this blush wedding reception décor. White jackets made of leather with sleeves like bells being too long have made their way back into the present day. However, it is only the beginning. Look around and you will notice that there are other small things ready to take revenge. For instance, golden flash tattoos are everywhere in addition to disco balls and macramé wall décor. Some of these things will turn your hen party into an awesome explosion.
Decorating trends 2017 are too airy

Who would have thought that flowers can be combined with balloons? This idea is unusual and at the same time worth our attention. Myriads of balloons cover the sky after the party is over and they have performed the main function of the hall decoration. Arch made of flowers and balloons can become a nice backdrop of the ceremony itself. You can use them as well for the whole decoration in any way you like. If you want to lay an accent to some part of the whole you may use them there, for example, it may be a table with wedding cake. What is more balloons will seem to be a nice garland over the tables in a combination with fab flowers.
Have you given a thought to a wedding hashtag?

Wedding hashtags were real must for 2016 weddings. They have not lost their popularity now and continue to be listed among summer 2017 wedding trends. We appreciate this idea immensely since it is very convenient to gather all the photos of the day under one hashtag. Using it everywhere beginning with invitations and continuing with sweets and cup cakes guests will definitely remember it and use it while posting images to Facebook or Instagram. To be still more creative you may hire a professional hashtag creator that will supply you with original one. It is relevant to use hashtags for such occasions only if they are unique otherwise there would be no point in it.
If only Romeo knew that once elopements become trendy

The tendency of elopements increase over the recent years is essential. Newlyweds fly away from hustle and bustle of a city; do not want to bother themselves with all that preparation wedding stuff. To prepare a wedding according to all trends and do not miss the choice of popular wedding colors 2017 is rather tiresome and expensive. People chose more simpler and definitely easier way of wedding celebration.
Elopement places of destination may vary and are up to the couple that pays. However, the majority of such choose warm countries such as Spain, Italy or France. There they find breathtaking scenery and take beautiful shots. Mountains can be found also in Ireland and lovers of small cozy houses with fireplaces run away there. While tastes differ, you may say that your choice would be quite different from what I say and you would go to LA or New York. During this mini travel you will probably take hundreds of photos and want to share them with your friends and relatives remained at home. If you don't know how to take travel photos, we are in haste to help you.
It often happens that after the couple comes back from their trip they decide to have a grandiose wedding ceremony for everyone to share their happiness with. Actually why not? Who would not like to celebrate their wedding twice?
Cocktails are not limited with bloody Merry
Weddings in the USA have adopted it a couple of years ago. Since that time, this trends moves to Europe and is taking its root very successfully. If you have to guessed, I am talking about signature cocktails. The idea is quite simple. Your drink should be in honor of a bride or a groom or even both of course. There should be something behind your cocktail particular event or it can just fit the main theme of the day. You may think about it beforehand and then only present it.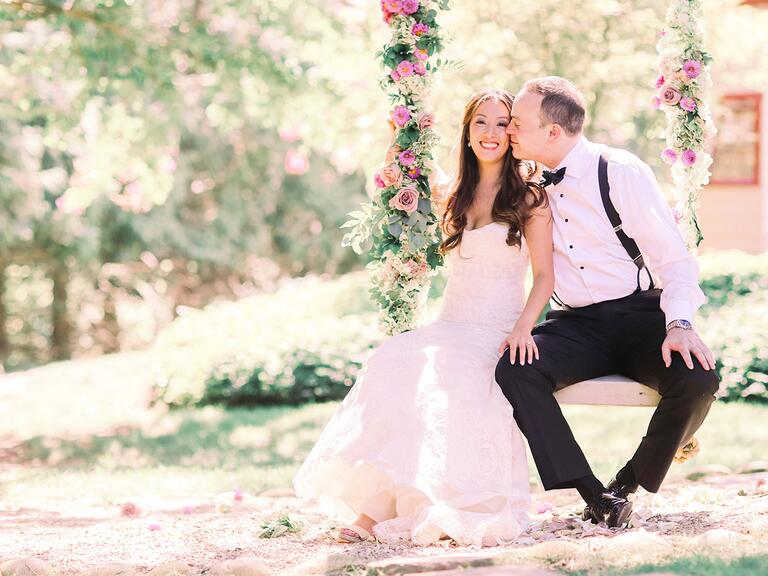 Photographer: KAY ENGLISH PHOTOGRAPHY
Wedding presupposes in itself a lot of motion. However, after it your legs will so much tired and need much rest. It happens that during the celebration you want to have some rest and do not miss anything. Swings can be a perfect way out. It can be richly decorated in accordance with one of those summer 2017 wedding trends you pick up. This place will definitely appreciated by all the guest of all ages of your celebration. Furthermore, it is a nice opportunity to take many interesting photos. Perfect installation can create desirable effect that is likely to be strengthened by a professional work of photo editing group. Ideal installations and skilled hands of decorators can do a lot but even though it is not enough. Memories that are brightened by efficient outsourcing can be hundred times fresh and remain alive for a long time.
Sometimes it is difficult to choose in the variety of photo editing services the one that will suite you most of all. People try to pay close attention to every factor that they think is essential: how long it exists, what is clients feedback etc. However, it still remains unchanged that to a great content photo editing prices define the future of collaboration. Our company wishes you always found only professional editing services and had bright images and memories.
Do not forget about us, your friends and advisors, WeEdit.photos service.