How To Download Adobe Animate CC for Free (2023 Version)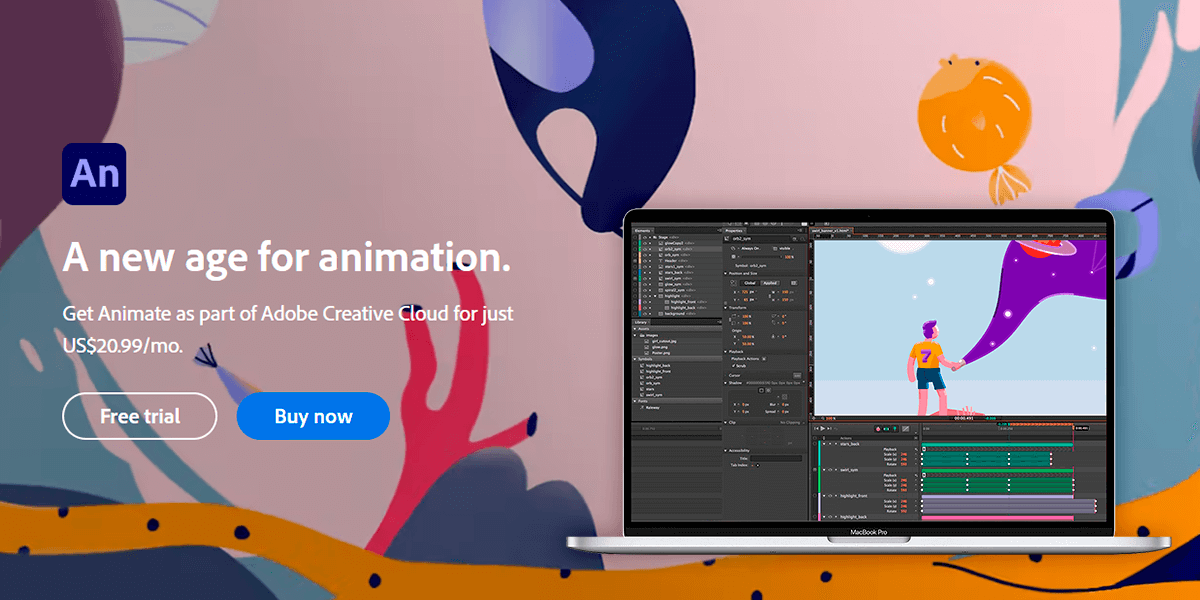 Animate represents a 2D and 3D animation solution that allows you to produce animations and vector assets for TV series, sites, and advertisements while also being supplied with in-depth functionality for constructing video game environments.
You can employ Adobe Animate for creating interactive animations, and coding assets, and thanks to the latest update you'll have no problem instantly sharing your creations on different platforms. This software is also ideally suited for producing interactive website content and utilizing motion graphics. While this solution generally costs $31.49 a month, it's also possible to use Adobe Animate CC free.
Adobe Animate CC Main Features:
• Supports several symbols

• Improved text atlas results

• Social media file sharing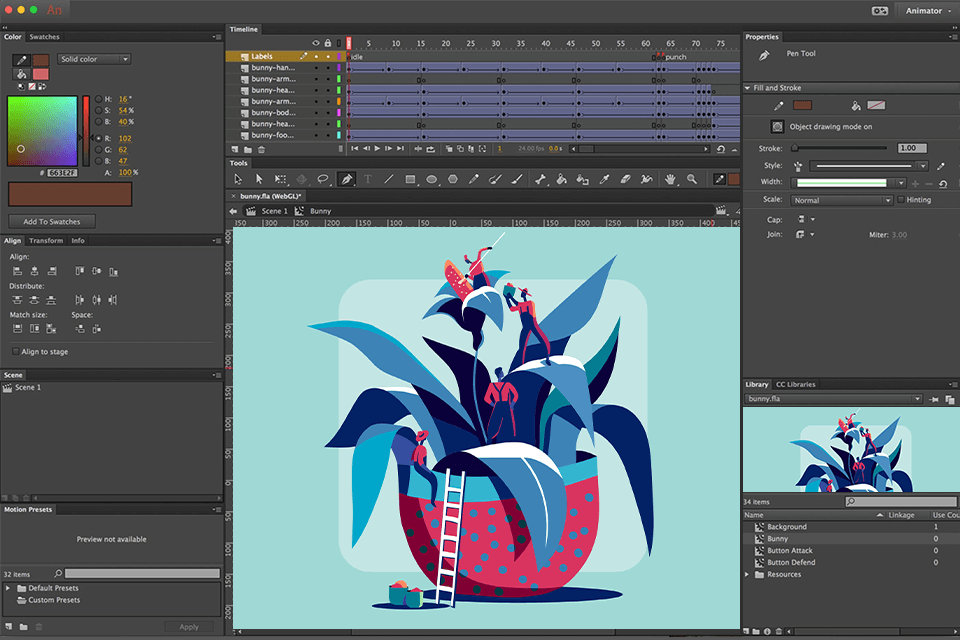 #1 Way to Get Adobe Animate CC: Install a Trial Version
If you're interested in learning how to download Adobe Animate CC for free, you should know that the only way to do that legally is to get a 7-day trial version that is available on the official website. Installing the trial version will allow you to test out all of the software's capabilities without any restrictions or paywalls.
The internet is also full of different pirated versions of Animate CC but we strongly suggest against trying to download them since they are not only illegal but are also likely to be infested with different viruses and malware that can damage your PC.
To get the free Adobe Animate version, simply do the following:
1. Go to the official Adobe site and press the "Get Animate" button that you can find on the main Animate CC page.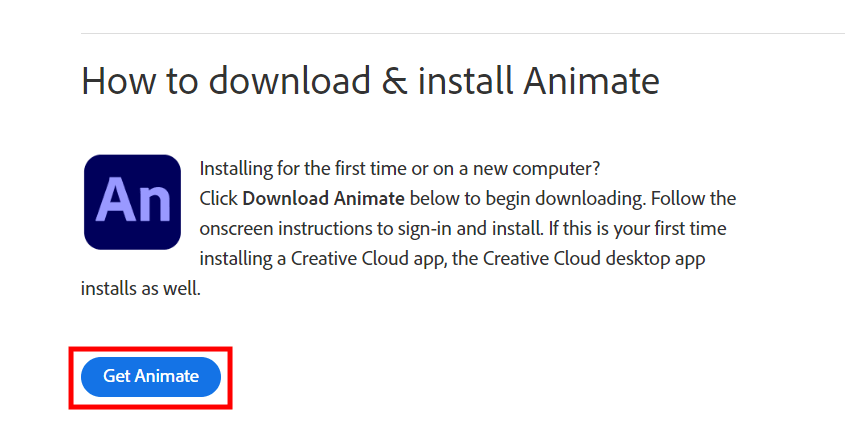 2. The Creative Cloud utility will be launched and you'll be able to locate Animate in the app list.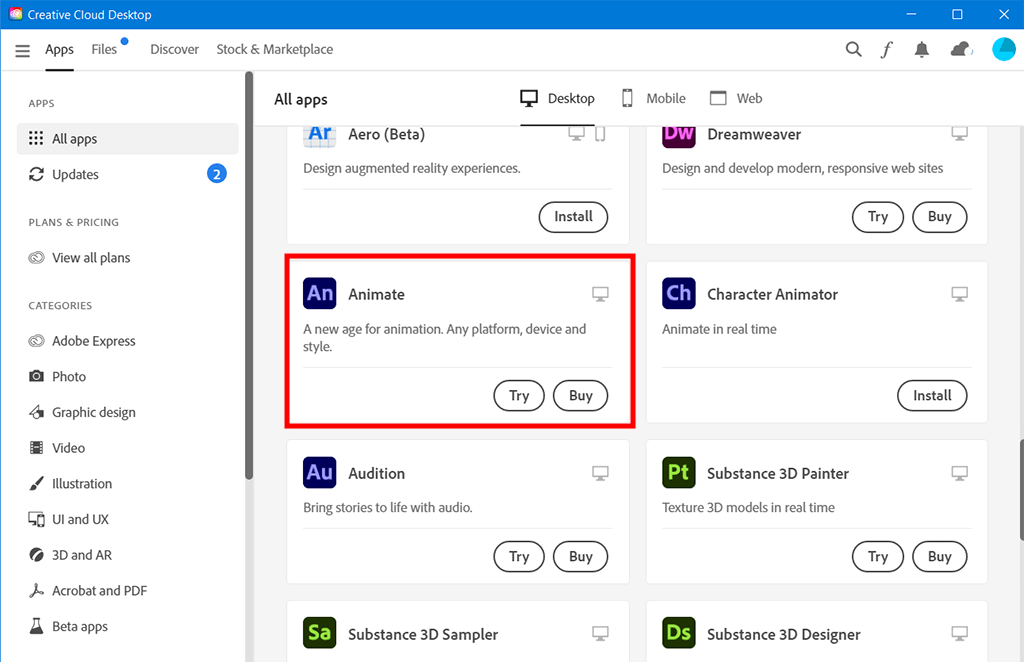 3. Press the Try button to obtain the 7-day free trial version that allows you to test the software's functionality for free.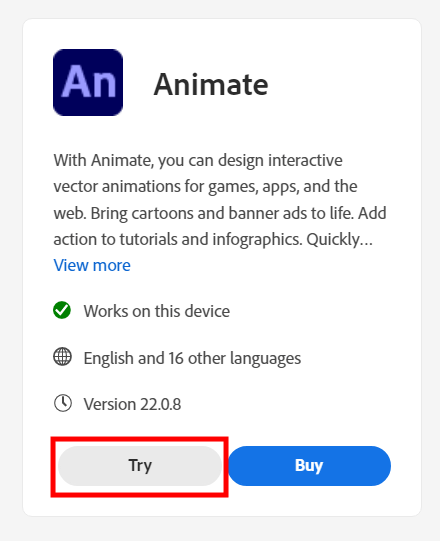 4. Select the appropriate purpose from the 3 available options.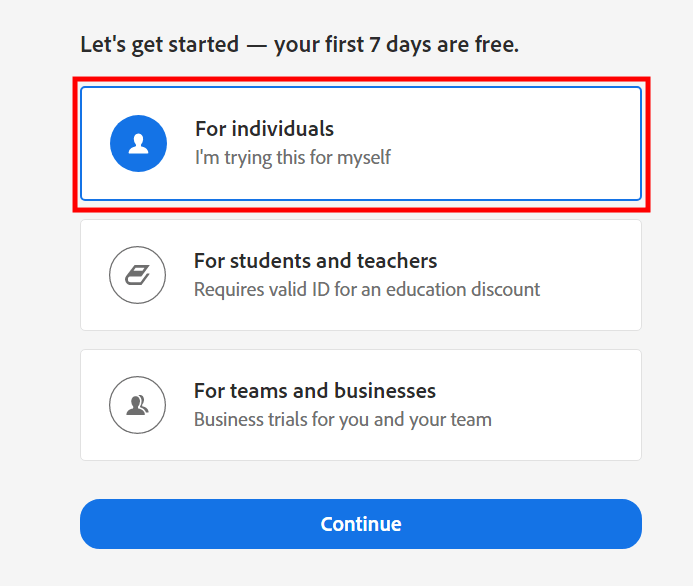 5. Now, it's time to choose a plan that will be applied to your account once the 7-day trial expires and press Continue.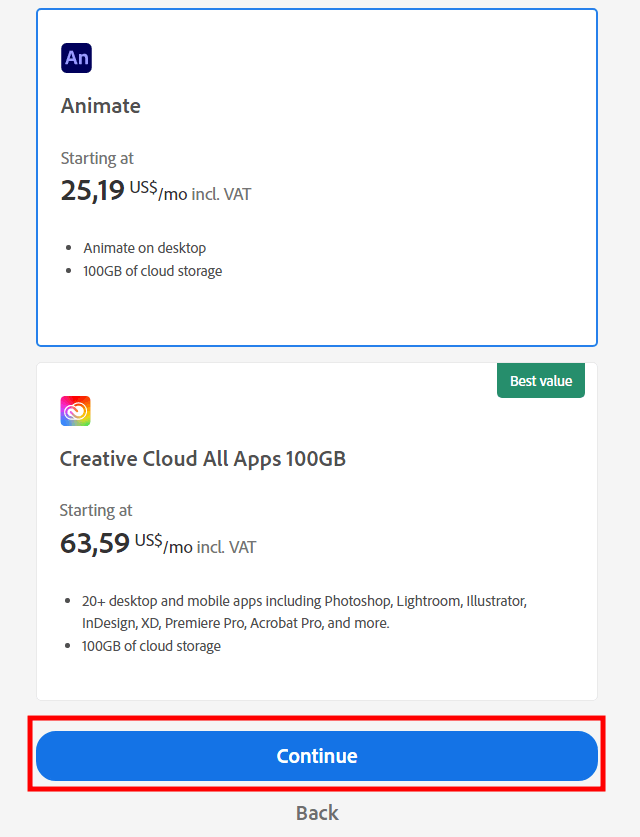 Free and Efficient Alternatives
Animate CC is arguably the most popular 2D and 3D animation solution on the market. That said, there are a lot of users who don't have the budget to pay for a recurrent subscription or lack the technical knowledge to properly navigate the application's somewhat challenging UI and thus are looking for free alternatives.
1. Krita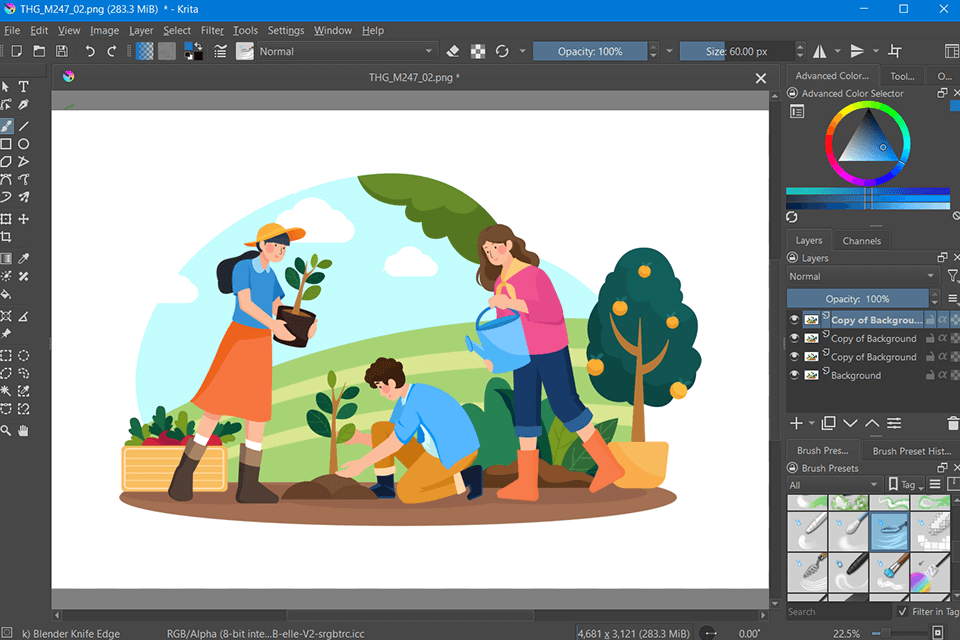 Krita is a terrific Animate alternative that has an open-source code and is available completely for free. You don't have to get any subscriptions or provide your credit card information. The UI is pleasantly intuitive and beginner-friendly while also allowing you to adjust it by relocating different panels as you see fit. There are 30 panels for you to tinker with that include sections like Brush Presets and the Color Palette.
Krita is supplied with more than 100 premade brushes that you can employ for achieving different effects. The software also provides multiple erasers that allow you to revert the applied effects.
When using a brush, you can also take advantage of one of 3 distinct brush stabilizers that allow you to achieve a smoother, cleaner look. Krita also lets you produce vector illustrations and add text to your designs with the help of appropriate tools.
2. Toon Boom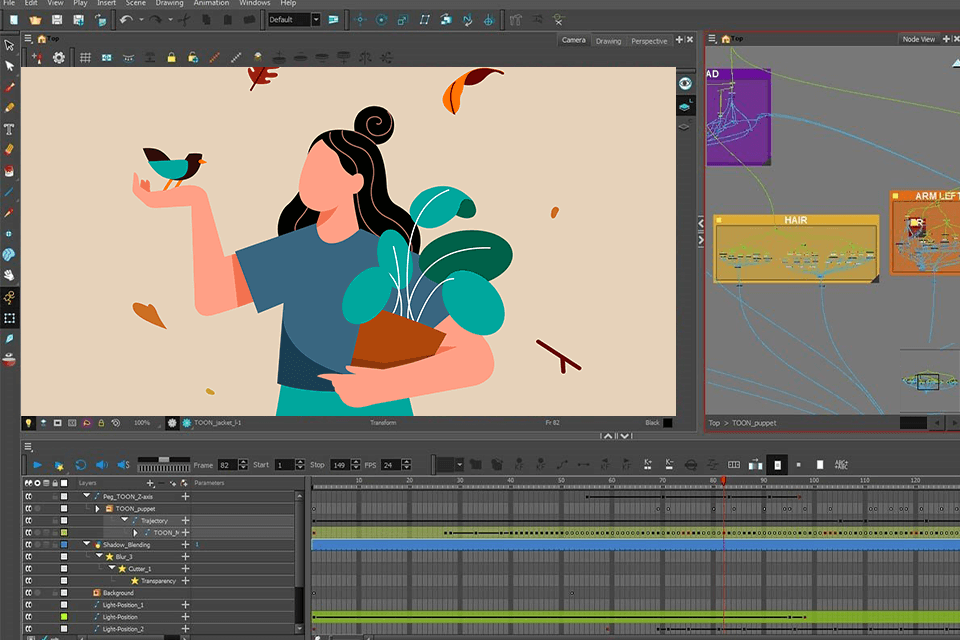 Toon Boom is a 2D animation solution that is aimed at professionals. Unlike Adobe's software, this option offers multiple products: Harmony, Storyboard, and Producer. The Harmony utility is supplied with a state-of-the-art brush system, 2D/3D integration, premade color palettes, deformers for additional texture, classic paperless animation, special effects, and much more.
Storyboard was developed for animators who are focused on telling a story as well as videographers, educators, storytellers, etc. This solution comes with a broad range of tools for drawing, scripting, animating, storyboarding, 3D design, camera and audio editing, adding sound effects, and many others.
Lastly, Producer is a project management utility that is designed for agencies that want to improve their efficiency. It lets you manage your tasks, assets, scenes, teammates, and several other aspects.
3. OpenToonz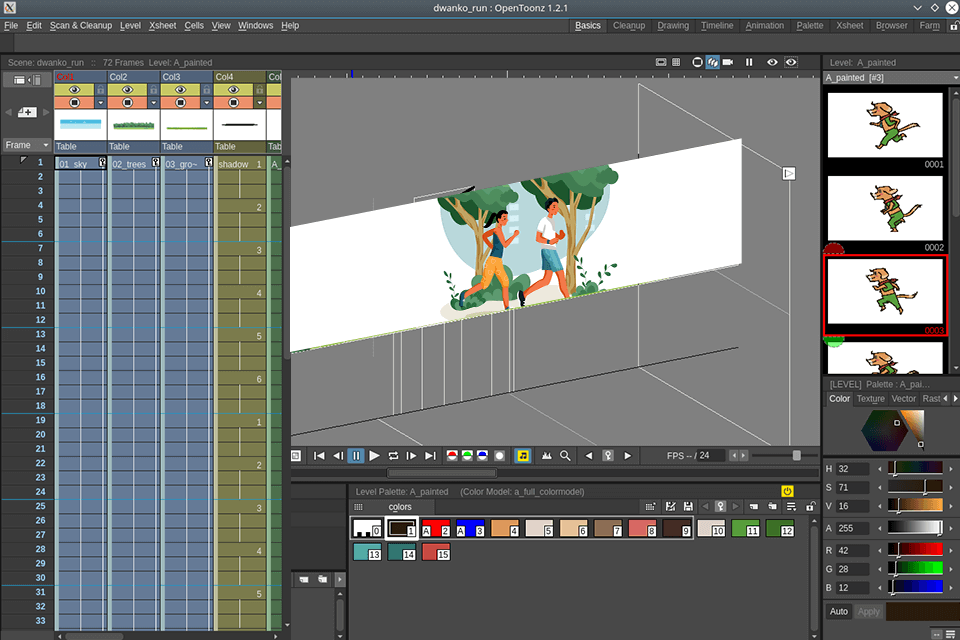 OpenToonz is a fantastic alternative to Adobe Animate, as its open-source code allows you to take advantage of a broad range of tools designed for both experienced users and complete beginners. Moreover, if you have the necessary coding skills, you can tweak and enhance some of the features to your liking, making this software a terrific option for working on commercial projects of any scale.
You can use this solution for creating both vector and raster projects. Furthermore, OpenToonz lets you adjust the applied effects and image style with the help of standalone plugin effects.
4. Wick Editor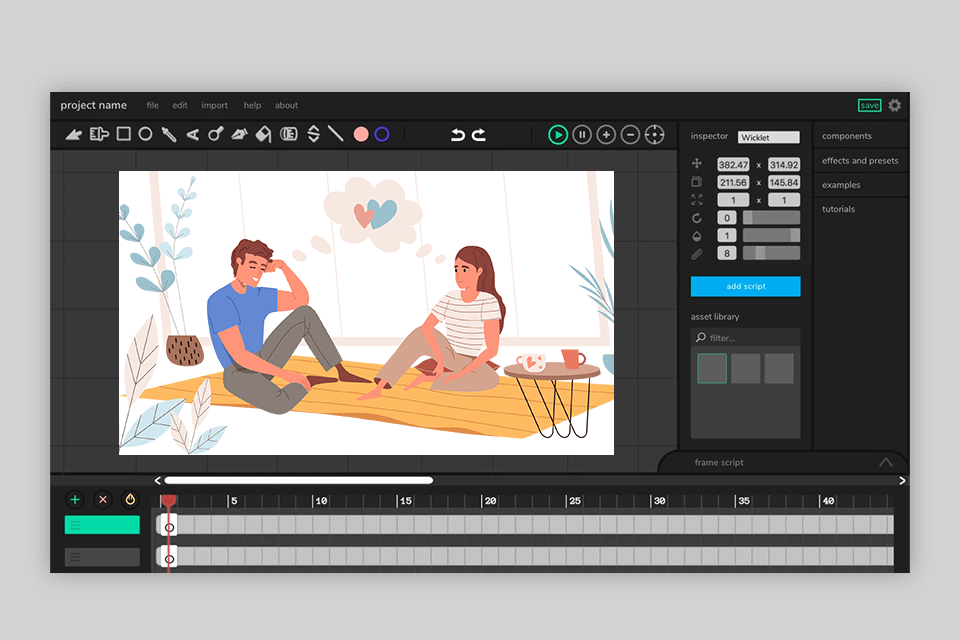 Wick Editor is a terrific application for designing simplistic video games and animations. Moreover, in contrast to Animate CC, this open-source solution is completely free. Another great benefit of using this option is that it offers a web version that lets you produce animations in your browser. Alternatively, you can simply install the standalone version of Wick Editor and use it as you would any other software.
The newest edition of the Wick Editor has introduced an array of interesting features including the outliner tool. The software's UI is pleasantly convenient and user-friendly and the official website also hosts a handful of tutorials that will help you get accustomed to this editor.
5. Cacani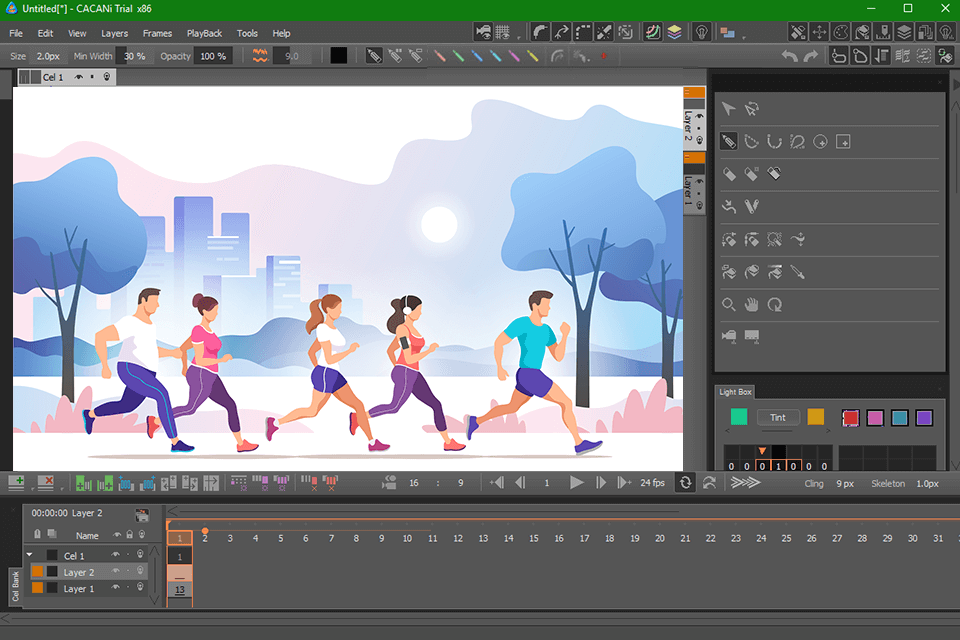 Cacani is a 2D animation solution that comes with a broad selection of features and tools. That said, it does have a steep learning curve, which may scare away some users. Its vector illustration creation workflow is facilitated by handy additions like smoothing modes, curve drawing tools, and a resolution-independent workspace.
Cacani is also capable of generating in-between frames while using the keyframes as a foundation, which can save you a ton of time. The software lets you determine the number of in-between frames that will be automatically generated while employing the Timing Panel to tweak their timing and spacing.
Some of the recent additions to this application include stroke occlusion, end tapering, and rematching. The stroke occlusion feature allows employing the boundary and hiding drawn sections when needed to ensure all areas are closed and painted.
F.A.Q.
I'm a professional who regularly employs Photoshop, Illustrator, and InDesign. What does Animate CC bring to the table?
Animate CC is deeply integrated with other Adobe products so you can nearly instantly learn how to import, adapt and enhance the various designs that you've created in other software. This software also lets you produce and share your projects via the Creative Cloud library and employ it alongside photo editing software like Photoshop, Illustrator, Muse, and InDesign.
What formats can Animate CC save files in?
Animations that you design in this software can be saved in such formats as Flash (SWF), AIR, HTML5 Canvas, and WebGL as well as different video formats and custom extensions like SVG among many others.
Can I transition from a trial version to a paid membership?
Yes, during the trial period, you can subscribe either to the All Apps or Single App plan using the official Creative Cloud site. Once you buy your subscription, Animate CC will automatically become licensed once you relaunch the software.
Is it possible to install Animate on a different PC/laptop?
Animate CC along with other Adobe products can be installed on up to 2 devices. If you'd like to use this software on a third system, you'll first have to deactivate it on one of the initial two PCs. Doing so is incredibly simple and will only take you a couple of minutes.