The Internet is full of beautiful, unusual and vivid photos that amaze and fascinate millions of people. These pictures evoke not only delight, but also surprise, as it is possible to make such interesting photos in such ordinary places or simply there are thoughts that it is a solid Photoshop. Ideal photos of many stars and models cause a sensation of heartburning, that they have an impeccable body, millions of fans and such unique pictures, and that your work is far from what you saw. And instead of turn on the imagination and fantasy, the spectator begins to be given his own reflections on the subject of worthlessness, cast beyond the moon, without thinking about the fact that behind every successful shot there is not only a picturesque landscape, a pretty face and all-powerful Photoshop, but also hard work, and with it and unrestrained experiments that allow achieving the desired effect.


And so we decided to slightly open the veil of scenes photography, how take such beautiful pictures? In fact, everything was not as rosy as we imagine it. We will let you in this topic of our article, to everyone knows that a beautiful photo is a huge work. We will show you the truth behind the scenes photography and the funny tricks that cunning photographers use to execute beautiful shots. By the way, the selection is not only interesting, but also cool. And, there are works of both professional photographers and amateurs who know certain tricks.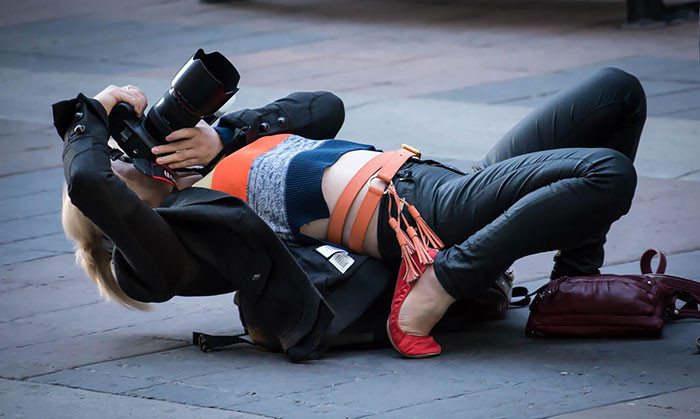 We all know that today, thanks to a variety of photo processing programs, online photo editing service, computer tools and photo equipment, you can turn any snapshot into a masterpiece. But in our world there are also enthusiasts who use the environment, any items and details of the interior, clothes and other small things to create an amazing cadre. Of course, all photographers resort to the use of retouching and Photoshop programs, but only in order to remove some visible flaws in the skin, background or make the photo brighter.

What does Instagram hold outside the camera's view?
Now almost every second person is an Instagram user, and everyone wants his or her profile to be the most unusual and interesting, so that each photo will gain millions of likes. To achieve this, you need to know which angle to take better, how to apply successfully the filters and how the correct scaling will turn a banal photo into something unusual. You can find out about one of the most popular filters used by almost every retoucher here, "All you should know about bokeh effect Photoshop", but you should not apply it to all your photos, because your pictures should be discernible of charm and uniqueness.
Someone uses social networks to communicate with friends and relatives in the distance. Someone updates the statuses so that the public is aware of what is happening, someone adds "glamorous photos" to the Web to show that his or her life is perfect.
Every day thousands of people put in Instagram a lot of bright photos illustrating their lives. Perfect manicure, new successes in yoga, idyll on the resort shore, these are all moments from life that you want to boast about. And what is really behind the scenes photography on the social network? What is left outside Instasize? These questions were decided to answer the photographer from Bangkok – Chompoo Baritone. A funny series of photos with the tag #slowlife shows what's left behind the "perfect moment".
Tired of a series of ideal glossy shots in her own news feed, a native of Thailand, Chompoo Baritone came up with an unusual social photo project, with the help of which she tried to show how illusory actually the photos put in Instagram are. This master knows a lot about illusion, and therefore her photos not only show what a beautiful life she lives, but also the rest of reality that does not get into the lens of the smartphone. It turns out quite a picturesque contrast.
It is interesting that, having started the scenes photography alone; soon Chompoo received unexpected support in the face of bloggers and designers – those people who seemingly "embellish" their photos almost the most. Gathered together, the guys supplemented the work of Baritone with their own "revealing" pictures, clearly showing how the so-called "photo without filters" actually looks in Instagram.
Instagram's mini-world consists of endsville blue sky borders, wickedly good salads and glossy bodies, and of course, luxury life, but it is all flossing.
1) You can see how people find something beautiful in such clutter, good shell with nice plants.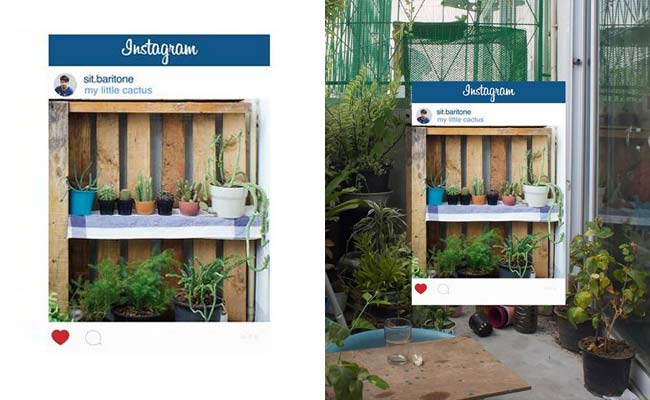 2) Look at her headstand! And here is a real snapshot! What dodgy scenes photography!


3) It seems like she eat only an apple a day and always serve the breakfast in such pretty way.


4) What do you see on this mug? A beautiful beach without people, and waves of deep blue color, and of course, a mysterious girl with a jacket blown about.


5) So spacious place, and outside Instasize left a congested roof.


6) What a minimalism! Like a cover of Ikea magazine. But Chompoo showed her real room with cats and clothes all over the shop. It is a good talent to crop image to the needed size.
Devious means and inventions of photographers
Photography in the fashion style is a separate story and it can be talked about for a long time. Such photos can be equated to works of art, and the work of a photographer, model and even a whole team of professionals to a rather difficult work and efforts. Models' framework of movement in certain poses and prolonged posing causes inconvenience not only for the model, but also for the photographer and his assistants. The fancy photographs that we are accustomed to seeing in magazines, social networks, advertising, etc. are the result of such painstaking efforts. You can satisfy yourself of looking the story about behind the scenes photoshoot. It is these shots that inspire a lot of girls and women around the world for professional photo shoots. Therefore, photographers and visionaries have to invent more and more spectacular ideas to make the photo as interesting as its creation.
Recently, many articles and reviews have appeared where the photographers themselves show the entire process of creating their own photo. There are professionals in their field who shoot even entire BTS videos; there are ordinary photographers or just enthusiasts who channeled the stream of their imagination in the right direction.
• For example, in this photo we see Northern morning, which was not existed. How do believe all astronomic images if such spectacular Polar light was made by luminant lamps with optical exposure?


• Look at this dog under the water, assistants were playing with dog while the photographer held his breath in pool to take this photo.


• What a cute picture with a little girl with the leaf-umbrella under the rain. And here is the reverse side of this shot, maybe is it staged photography?


• Let's talk about romantic wedding photographs. What only photographers will not do for the sake of a beautiful picture?


• You will ask, is it magic? Photoshop? How does she fly? Yes, here is Photoshop elements, but the rest of it is real – all magic of levitation is in the ladder.


• A notorious affair about project #followme in Instagram, where a photographer takes a girl's hand in front of camera, and she goes to a picturesque destination.


• The Golden Globe 2017 was awarded on January 9 at night in Los Angeles. All the celebrities were there, posed and smiled. And that's not on the pages of glossy magazines.

• Here is absolutely thrill-seeker! Even a photographer climbed the cliff to take a shot of this crazy man.


• Miniature models of cars that were used to create a historical photo. Here the line between reality and history was blended.


• Borderland between genius and insanity.


• Who would have thought that the flour could create such a super effect?


If you decide to do the photography of such level, you should not be too lazy to sweat the details of the image, study the work of other photographers. Because it is a thoroughly designed image that will help you out to feel the models in the cadre and the photographer more confidently. And if you do not possess technical skills of fixing photos and do not have friends, who "on a first-name basis" with Photoshop program, you have to look into the matter of photo editing prices. All these things mean that you will eventually get photos, which were put up. Such photos can rightfully take their place in the interior, and they can be proud of.


If you have a desire to create something similar and you do have no pressure toward what efforts have to be spent to play your card right concerning the cadre, scene, light and perspective. Try yourself in the role of a photographer, if you have a thought-starter, search the Internet for facts and statistics and implement it. You will find a lot of ideas for different projects and a bunch of tutorials in the processing programs, some of them you can read here "Best Photoshop manipulation ideas to try". And then you will definitely make sure that the photographer is not just a person with a camera in his hands.
6 rules for a successful "behind the scene" video
"Behind the scenes photography" (hereinafter BTS) is a video of what things are moving behind the scenes during the filming process. As the creator of BTS video, you should tell the audience about the project in the most complete and detailed manner.


In general, BTS contains footage from the scene, interviews, and other materials, such as storyboarding. Now let's take a closer look at what the BTS consists of:
1. The background of the project
People are always curious to hear the motive of the creation of a project, which inspired the creators and made it film. Usually this video shows the "intrinsics" of filming, the creators tell how the idea was arisen, how it was embodied, and also show a lot of ridiculous and details of general interest. Spectators just love to watch all sorts of exposing videos, and when the producer of this concept tells that he was inspired to shoot the viral and how he prepared for it – it's even more interesting.

2. Stories
Often BTS talks about who worked on this project, especially given the project itself do not tell about the creators. A full-length film about behind the scenes photoshoot or advertisement can seem to the dedans something unusual and eyeful, so it's always makes you wonder to look at the film from the point of view of the creators and understand that they are the same people as everyone else. Even greater interest among viewers arises when one of the celebrities were involved in the project. With the help of BTS video, ordinary people learn what their idols do in their free time and how they behave themselves, how they communicate and how they fool around. Recently, it has become popular to make such videos, because they come out much more interesting and informative than the project itself.
3. The equipment
Often many directors watch BTS, just to find out what equipment was utilized when shooting. They are excited the curiosity in everything: cameras, lenses, lights, microphones and programs for editing. Did they use some gadgetry or the latest technology? Or, how impressive is that the whole movie was shot on a smartphone? A high-end bts videographer will talk about this with every wrinkle, just do not need to overdo it, otherwise all these endless stories about the equipment will turn your BTS video into a boring lecture. Although, it all depends on what audience you are shooting your video for: the ordinary viewer will be not interested, and the professional may not have enough details. Therefore, you should determine in advance for which audience you are making this video and what viewers should learn from this for themselves.


4. The technological process
At the same time, BTS video can be extraordinarily valuable if you show how you shot complicated scenes and created special effects. Directors and animators often tell, or write in blogs and forums, how to achieve this or that effect, but it's better to see once than hear a hundred times. And, by the way, do not forget about the soundtrack of your video, so it's not so boring to watch and listen to a voiceover.
5. The style
To make your video different from the video of your competitor and delight the viewer, the video should have its own style. You should tell why this camera or such garments or interior was used, because it is more valuable to know why this particular item was used. The uniqueness of your video will depend on the lighting, the location of the shot to the effects used and the frame rate. Just such things create the effectiveness of your BTS video, through which you can trace the design of your project. And as mentioned above, to emphasize your style, you can think over the sound that will cause certain emotions in the viewer.


6. Bonus
As a bts videographer makes his video special, it gives an opportunity to show what otherwise cannot be shown. Because every one of us sees only final product and do not know how it was created. And this illustratory video about what happened behind the scenes photoshoot can be really essential and remarkable, so include something new and really interesting there. Refresh in your memory that usually goes in the form of a bonus on DVD. Storyboards, funny facts, timelaps, videos from castings and videos of shooting team are just adored by the audience.
You do not need to mention everything that was listed above in every BTS video. All BTS have similarities, so choose the best stories and facts of your creation and share it with people. Sometimes, even if you simply combine all that was behind the scenes, without even telling or explaining anything extra, you can get a good BTS. For example, you can look this BTS video with simple tips and tricks "7 Funky Photography Tips" , light music surrounding, good explanations and creative resources, a team of assistants, and as a result – the fantastic images.

Keep in mind that a good BTS video will give the opportunity to viewers to gain a greater understanding and be imbued to people and to the work that was done for the project. Every bts videographer tries to originate a great BTS video, so that the audience watched it and treated your project, which you did, in a new way and with a deeper understanding.
In conclusion, we would like to say that you already know that behind any beautiful picture is the hard work of ordinary people, effort and failure. But if that were the case, do not despair if something went wrong and the plan failed. Most importantly, if you have an idea, do not put your cherished desire on the long finger, develop it, and find like-minded people who will help bring it to life. Perhaps you even earn a lot of money by selling your cool photo. Get inspiration, and with it ideas from this series of works, which give good examples of how to make excellent pictures from improvised tools, that friends and acquaintances will say "Wow!" looking at them.