How to make natural framing photography? Sometimes you can hear that the most important thing for a photographer is to visit a remarkable event in order to catch those moments or to find a model in order to practise his or her creative ideas, as it's said the rest is a paperwork. Different techniques are applied to photographing. In fact, framing is a really effective technique which is aimed at adorning any photography, especially landscape images or portraits. In addition, it makes your viewers to pay attention to your photo screening off from an external world and focusing on the photo context itself. You should know more about a natural framing in photography as it can help you organise a photography exhibition or decorate an indoor environment. Besides, this technique is employed immediately during a photographic process. Additionally, if you need the professional help of editing for raw images, you can reach out to our team. As it is quite difficult to cope with the huge amount of shots which have to be improved. The price varies according to a necessary service. Have a look at the photo editing prices.When you look at a scenery framed with a window casing you see a totally complete composition. Once you look out of a window and you'll get another impression.
The previous view changes as it has lost a sense of harmony and a degree of perfection. The article involves the information about framing, namely you will know the natural framing photography definition and necessary tips how to make it perfect in order to attract viewers.
Among different techniques it is worth pointing out natural framing as a great way to make an impact on the perception of the main point in your picture. As for the natural framing photography definition, it means that various natural objects are used to frame the scene or a model in a photo.
Natural framing includes different elements through which you can shoot, such as hanging branches of trees, rock formations, doorways, archways, tunnels, windows, fences, etc. So, those objects which we come across in an easily accessible place are used to emphasize on your subject in the photo. Remember to look constantly for new objects around you in a scope of your creativity to use framing. There are no restrictions in the world, except in your mind on what you can use in a natural framing photography. See several interesting examples below.
In the photo above, a shooter skilfully uses trees and their branches in the foreground to concentrate mainly on a hill in the center line. In this way when we look at the framed picture we see the depth of the image and keep focus on the picturesque scene behind the trees. Our attention isn't distracted by anything around.
The influence of frames is obvious when we compare two pictures abovementioned. With the help of natural framing, in this case an archway is employed, there is a considerable change of views in the second photo where the actual subject is rightly emphasised and the overall picture is completed. Besides, the natural framing in photography gives a sense of depth and intrigues viewers.When you tend to use a natural framing you should take note of key elements of this technique which is used to enliven your photos. 1. If you use framing in the foreground, you'll direct your viewers' eyes to the subject in a frame and you'll show a picture from a photographer's view. Remember that you should use it as an additional constituent element, not overuse it. It should be a natural element of the photograph composition.
Continuing focusing on the key element in a photo, you shouldn't keep focus on a frame itself. If a frame is unfocused or under-exposed, it gives a sense of depth to a picture.
3. You aren't recommended to create a frame around all four sides of an image. It can catch two or three sides which help a photo look more natural. More beautiful pictures can be created due to the reflection in a lake. As in the photo below
4. Different objects can be used as frames of different sizes and shapes. Play with colors and use contrasting shapes to enhance your photos. If you take into account all the key points of natural framing photography mentioned above, you'll manage to create really perfect photos and as a photographer you will be certainly worthy of admiration. Don't forget to think outside the box and be open to new creative ideas to use natural framing.
Examples of natural framing
Natural framing can be easily found not matter where you're going to take photos. Without any doubt all created by our nature are used to frame photographs naturally. First of all, you can apply to trees and their branches. At first sight it sounds banally to snap between trees, but if you come to the process creatively, you'll manage to create exceptional images. Here are some examples of natural framing with trees.
The photo above depicts a quite ordinary daily situation but a frame achieves the effect of the depth and completeness in the photo. The following image is also based on the photographic technique of natural framing due to which we focus on the beautiful view of the Grand Canyon in the haze.
Instead of trees you can flowers, flowering trees or bushes as a frame for your photos. It is important not to over-indulge in colors as your main task is to draw viewers' eyes to the subject in a frame. Another way is to use contrasting colors, for example, the background is conveyed in the light colors and as a frame the branches of a blossoming tree are used.
In a natural framing photography rock formations come in handy during a photo session. It isn't obligatory to find huge rock arches through which you can catch an extensive image like in the first picture, but through small arches you can focus narrowly on a vivid detail. In the second photo a small cave entrance serves as a frame and the scenery opens from a photographer's angle directing inside. Let's speak about architectural objects which can frame your photos naturally. The basic elements are doorways, window frames, archways, columns, mirror frames. They also create a beautiful scenery if you apply to them creatively. Look at the example with a doorway as a frame and you notice that a full framed picture looks magnificent, moreover, the shadow around the image makes bright the subject, as there is an alteration in colors – from dark to light ones.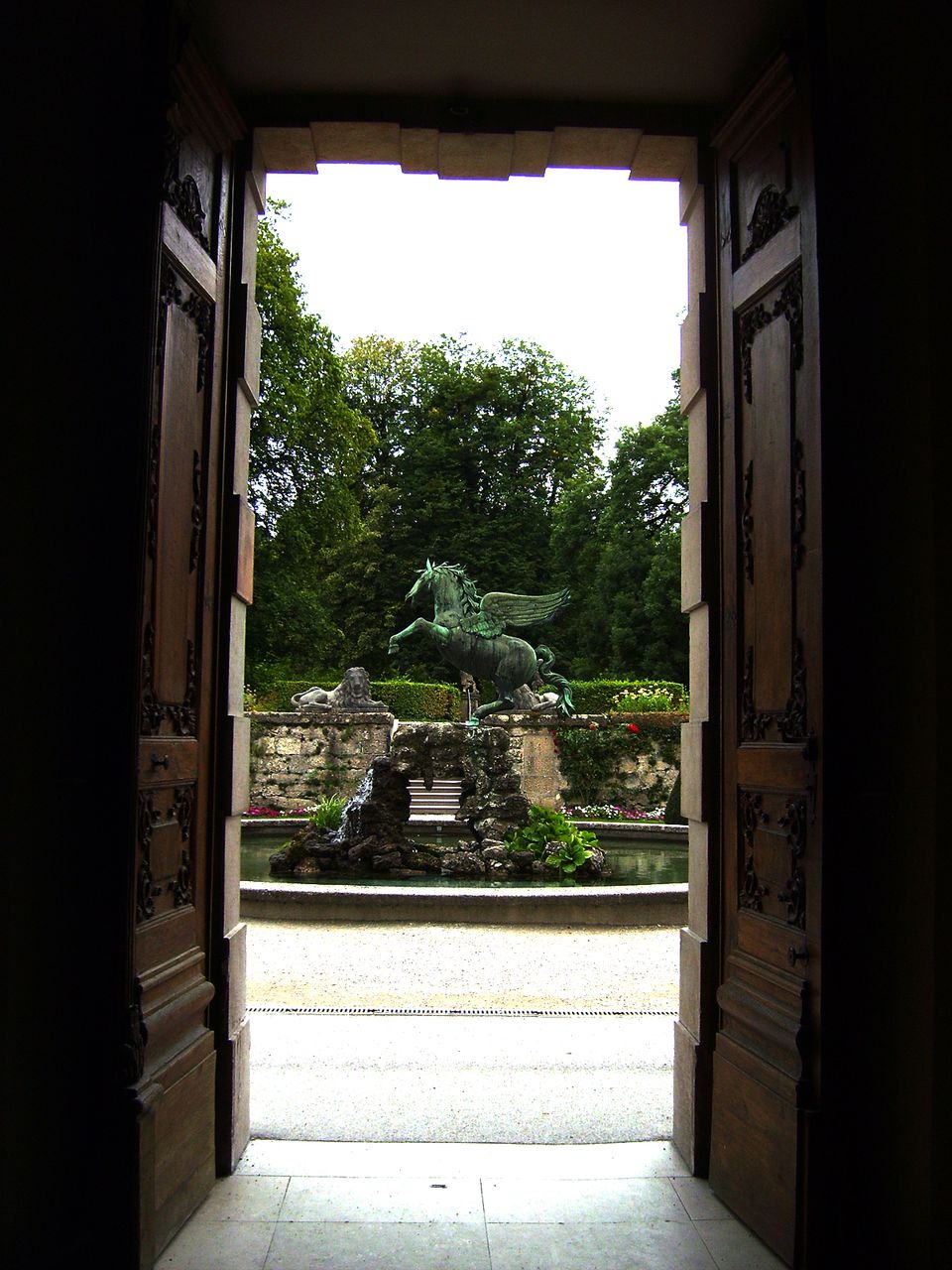 Instead of doorways you can use archways as a natural framing. It also looks great when an archway has additional features, for example, a figured outline.
The shot taken in an abandoned building really impresses due to the contrast which is created by the view out of the window. A viewer is intrigued to see the whole excellent landscape outside the window. Mirrors are effective for shooting, except a frame, if you want to create dimensions in your photo. It is curiously to know what is happening out of the bounds of the frame when you look at the such photos.
Besides, one more creative way how to use a frame is to shoot through a glass which isolates meaningless details to reflect the mood of the moment.
Different holes in walls, trees, fences can be also used by you as a frame for your photographs. The foreground becomes blurred and you are able to showcase the complete composition in the photo.
The maritime theme can be explored through a life ring which naturally fits in with the environment in the sea.
If you are a beginner or you want to try shooting something new you can apply to the Photoshot tips necessary for beginner to choose a photo theme. Each theme has its peculiarities and this article informs you with them. Additionally, you will know about new trends in the photography industry. Finally, you can make a final choice In what theme you'd like to work on. In order to catch the beginning of early spring you can make a hole in the snow or ice. It allows you to snap the plant life under the frozen surface. These pictures will fill up your wintry album.
A quite unusual idea is put into action with an ordinary frame which we get used to surround our photos before to hang on the wall can be as a natural framing in photography.
Hands-framing is easily constructed in cases when other natural elements are absent and are easily utilized in photos which are aimed at separating the subject from unnecessary details around.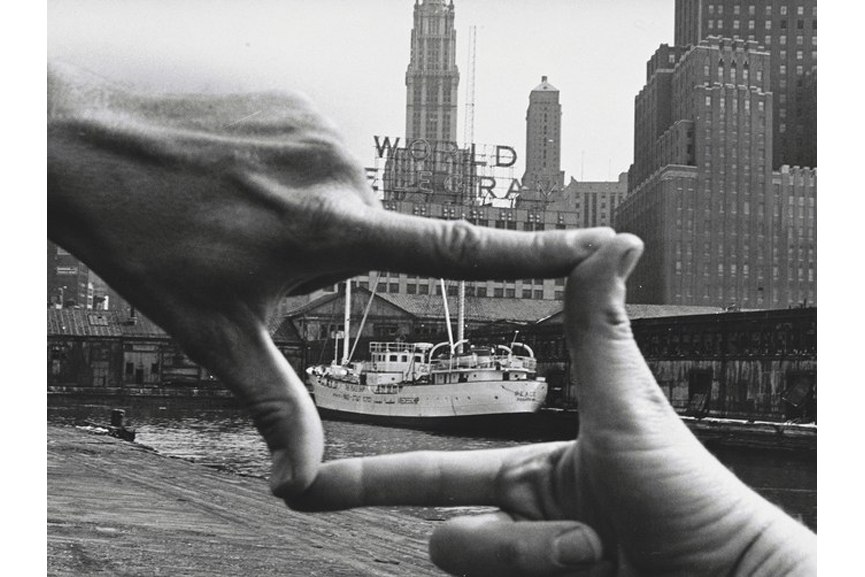 Even a pool shapes a natural framing photography as it has its outlines in which an image can be placed. In addition, a reflection allows us to have a look at daily things from another visual angle, upside down. In a routine we run about trying to bypass pools, therefore, we don't notice a great view. Experiment with reflections on a water surface. Use your imaginative eye to create an unique photo.
Continuing speaking about water, a good idea is to involve waves to make a frame for your photo. Indeed, it seems difficult as it requires particular skills and equipment. But these photos are worthy of these efforts.
Remember that you should take photos even if you aren't sure in their quality as you always can reckon upon photo editing service. An editing company provides all possible solutions for photographers' problems according to their demands and expectations.
Natural framing in photography makes fairytale
Natural framing in photography is an adjunct for you to make much bigger story in your photos than with the help of words. As soon as you start searching natural elements you will manage to compel admiration among viewers and maintain their interest in your works. You don't have to use frames for each shot, especially if you have a collection of them. Try just to vary your photos utilising the given composition technique with an original photographic perception and imagination. There are various shapes and sizes of natural framing available while photographing. Frames can be situated either in front of the subject or behind it depending on what you tend to focus on.
Foregrounds in the form of a natural framing assist to make the composition of your photo attractive due to the direction to the main subject in the background. In so doing the background becomes more visible and important rather the outside atmosphere.
Either natural or handmade objects are used to frame any photo which you are going to take. In its turn, natural elements actually provide the effect of naturalness. The handmade frames draw us near daily matters.
Think about the focus during shooting. Different pictures will be created if you keep focus on different elements. In order to concentrate on the background and give a sense of the depth of field, the foreground should be out of the focus.
Framing is not an only one recommended composition technique. Widen your knowledge in shooting and don't be afraid to experiment with shots. Finally, you reach success in making stories in your photos. More often arguments occur between artists and photographers concerning who is better in telling stories on papers. One of photographers promotes the project called "pencil vs camera". You can try out this method if you are interested in Diversity Of Pencil Vs Camera Ideas. Sometimes it happens that your photos have drawbacks or they lack the prominent features and you need to work on editing these photos spending your valuable time. Our professional editors come to your assistance with photo editing services. We guarantee the high quality and one-time delivery. We are open to all your requirements and ready to meet clients' expectations. While you are experiencing new creative photo ideas, we are working on your images to carry out suggested improvements.