A few years ago, monochrome design would be considered as an avant-garde and definitely an awkward idea, because a black color is not considered to be the most suitable for a wedding. The combination of white and black colors is contrast and widely disputed, but surprisingly organic.


This is an ideal pair, as these colors are known for complementing each other. Not without reasoning the famous symbol of Yin and Yang is made with the help of these tones. So, why not emphasizing the unity of the male and female principles and have a great photo shooting that will bring unforgettable wedding pictures. Besides, more about such black and white shooting you will find in this video.
White color symbolizes tenderness and purity, black – mystery and change. A strict and elegant combination is quite self-sufficient, but you can dilute it with other shades, such as red, orange, green or cold blue. So, consider these black and white wedding ideas and choose the best ones for your shooting. But before it, let`s consider some basic rules for making black and white wedding unsurpassed.

Basic rules that everyone should know
Most often the basis for decoration is occupied by white color. Black serves as just a complement. Its task is to emphasize especially important moments and to ensure the playing of contrasts.
When planning a wedding decor in black and white style, do not overdo it. That is an important rule. Your couple should try to stick to minimalism. Otherwise, there is a risk of creating a sense of gloom and sadness instead of luxury and elegance. Snow-white tablecloth with light black embroidery will be quite enough, for example. White sparkling dishes with black vases and napkins will be just perfect.
But still at every celebration your main task is to organize photo shooting. Thus, this topic will become a matter of your main interest. For sure, that basic of photo session will be the same as in other not theme-limited weddings. That is just a photo shoot called Love story. So, how it is organized and what secrets it may hold?


Photosession in the style of Love story is interesting by itself, but the photo shoot Love story in black and white style is surely more interesting both for the viewer and for the photographer. So, having knowledge how to make beautiful black and white photos of a couple in love is upward perfection.
It would seem that nothing can be easier, as you hold the camera and shoot the way lovers walk in the alley, how they hug, kiss, and then turn photos into a black and white version in Photoshop and that is all. But, as it turns out, it is not so simple! So, how to make really beautiful pictures of Love story in black and white style?


Firstly, you need to choose the right place for a photo shoot. If the weather permits, take photos on the street. The most suitable place is the park, as nature itself is a great backdrop. Well, if there is a pond nearby, then you can make beautiful pictures of couple`s reflection. That is one of the most frequently used kinds of wedding images.


If you are suddenly caught in the rain, invite the lovers not to hurry and put a little pose in front of the camera in the pouring rain, in case bride is not afraid to spoil her dress. Then you can move to some cozy cafe or a big shopping center to have a number of indoor photography. In a cafe lovers should be seated near the window, so that you have the opportunity to photograph them from the street through the glass as if by a hidden camera. Really, that will look brilliantly. Besides, more indoor photos can be made in a home setting. But everything depends on the preferences and desires of the lovers.
Secondly, choosing between the classic style of photography and reportage, stick better to the reportage. Black and white reportage photos of a love story can convey all the feelings and emotions that the couple experienced at the time of the photo session. Reporting photography is so good that it will give cool results even without stopping and without staging scenarios. Therefore, if you intend to take additional equipment with you, then find yourself an assistant who would carry reflectors and additional lenses behind you. That will make your life easier.


Thirdly, catch the right light. Cloudy weather is a great helper for black and white photography. If the weather promises to be sunny, then assign a photo session for evening or morning, in order not to catch in the lens tight shadows on the faces. As you know, the shadow is the main enemy of black and white photography. If in a color photograph the shadow on the face is not such a big problem, then on the black and white the shadow side of the face turns into a "black hole". That looks awfully. Therefore, if you shoot in sunny weather, take the couple in love with the shadow of the trees or use an external flash and a reflector. Also for black and white photography it is desirable to use high-aperture lens that maximize the amount of light.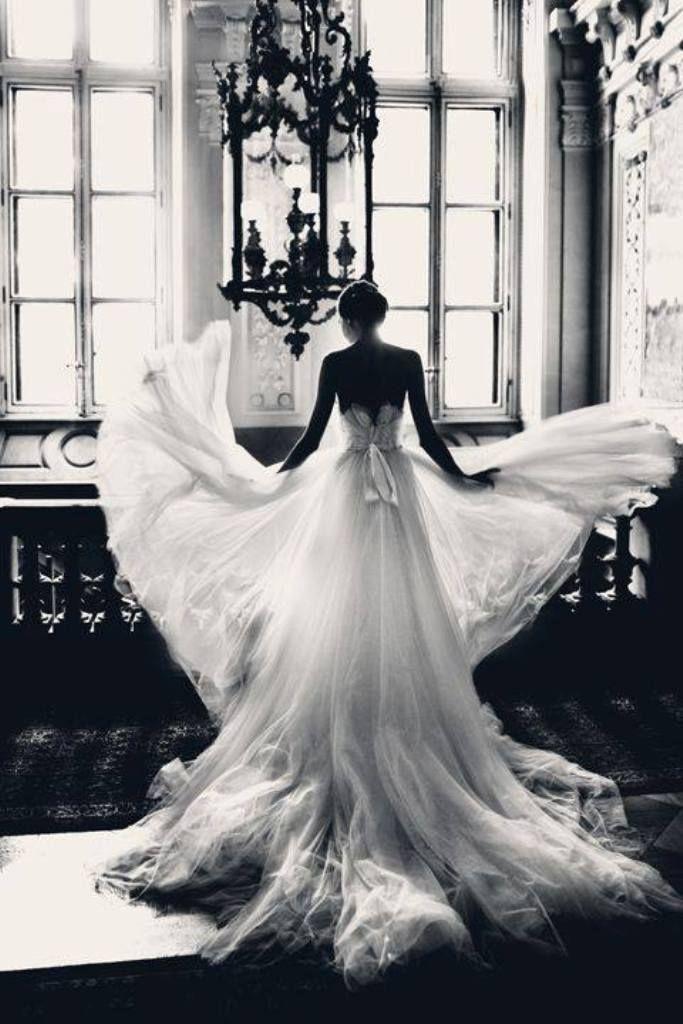 Take pictures against the light. In the evening you can get beautiful black and white silhouette photos. And in the daytime with the help of flash you can get beautiful and romantic photos of lovers in the back light.


Fourthly, look for interesting stories for the black and white Love story. Hugs and kisses can quickly annoy the viewer. Create a whole series of love stories in black and white style. For example, everything starts with an acquaintance in some public place, then goes to dinner in a restaurant, walks under the moon, and the entire Love story ends with a proposal. Such plot decisions are much more interesting to look at than simple kisses on a bench.

Varied styles of black and white wedding to try
For sure photo session is the important part of every wedding celebration. But we should not think that it is the only thing that we should concentrate on. Photo shooting must become a logical part of wedding and sure thing it should not be a separate step. Thus, we present you with several variants of scenario of organizing a wedding. Moreover, if every detail is thoroughly prepared photo shooting will not benefit from it. Thus, make yourself comfortable and remember these pieces of advice.


Just white and just black
Black and white is a favorite combination of many world designers. That is the brightest color contrast, which looks greatly both in everyday life and in a festive atmosphere. The decor of the event in this choice is a combination of opposites, a reflection of rigor, restraint and sure thing a magnificent sense of taste. Laconic design and impeccable style – that's what a wedding in black and white presents to couple in love.


In the image of the bride combining black and white colors is preferable. A wedding dress may have a black belt, a bow, or other details of a cut of black color. All these will look greatly on the background of snow-white fabric. For example, the world-famous designer of wedding dresses Vera Wang very often makes such a strict accent in her works. For extravagant and brave brides, she released a collection of wedding dresses in black. For the classic version of the white dress black shoes, clutch, accessory in the hair and even a hat or veil in black are suitable. All these details may be photographed separately even with the help of macro photography.


For a black and white wedding, a bouquet of any white flowers will be a perfect idea, but if you want to reflect the contrast in it, then white anemones with a black core are best for the flower arrangement. Usually images of this kind become bright although there are only two colors for a photographer to play with.


It is very easy to create an image of the groom in black and white. Black suit, white shirt, shoes, belt, butterfly may be black, and a buttonhole is always white. A traditional, but also great combination. This combination is customary for men, so a stylish classic will become the most suitable.



But the girlfriends of the bride will need little black dress. Such a dress code will appeal to many photographers, as the black color visually corrects the flaws of the figure and emphasizes its merits.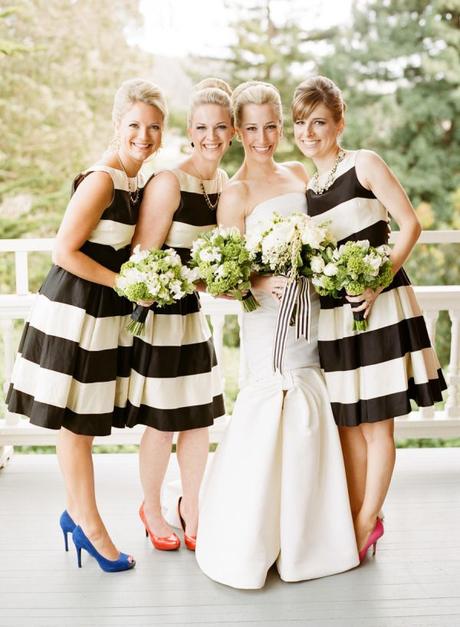 Thus, you will need not much wedding retouching. Your black and white wedding photos will be alluring even without it, as colors will help them.
The highlight of the strict, laconic and restrained design of wedding invitations can be given with the help of the original font. Professional designers will offer you many options for writing and positioning the text, from which you can choose the most suitable option. But there is no difference what invitations will be chosen, the procedure of photographing remains the same. Take as make shots as possible in order to have a wide choice.
The decoration of the hall should be dominated by a white color, but the accents can be made black, but in small numbers, so as not to create a mourning situation that does not suit the wedding. Moreover too much black color will not contribute to the beauty of your taken shots.
For the design of the wedding cake is also better to take a little bit of white color. It will serve as an excellent background for creating various intricate patterns, and large elements of black decor will look especially brightly on it. Thus, this beauty can easily captured and added to your portfolio.
Still black and white wedding theme ideas are not limited just with chosen colors. Having these monochrome variants as a basement for your wedding shooting, you may add some other themes to be used. We will some modern variants of it.

Why not trying urban style?
That is the best example of combining non-breakable traditions and fresh trends.
Crowded avenues and cars, the skyscrapers in combination with sky, yards, roofs and lofts, graffiti and street musicians, lights and power lines. The definite atmosphere can be felt with the help of this black and white wedding photography. For someone the urban landscape may seem dull and not at all suitable for a wedding. But what if you add some unusual designer details, elegance and chic? The result will be quite simple. You will get a great basement for wedding black and white photo shoots.


A modern bride from a big city, what is she like? Undoubtedly she elegant and very stylish. And in combination with monochrome style the result will be unsurpassed. But mention that such photography does not need smiles and laugh. Only serious and a little bit thoughtful faces will suit perfectly.


Dress is something between casual and high fashion to be in trend. The accessories from metal or "under metal" will look good. If you follow this advice, your taken shots will be brilliant even without editing. But still if you want to have something unbelievable, use our photo editing service.

Black and white stripes – why not?
Black and white stripes are both a classic and a modern trend. Choose the caliber of strips, their arrangement, decide whether you need additional colors in this palette, and proceed with the design! That is a great choice of black and white wedding ideas that will make a wedding you shoot unforgettable. Let`s consider the most important details.
Striped invitations will immediately tell the guests about the style chosen for the wedding. Thus, they will select their clothing according to necessary dress code and you will get really amazing shots.
Wedding dress can be sewn from striped fabric, but a bride can confine herself to a black or black and white belt. Accessories for the bride also should contain in black and white stripes. It is not necessary to select all accessories with such a pattern, as just one or two will be enough. Remember that such black and white wedding photos appreciate a golden middle in everything.
As for bouquets for the bride and girlfriends, here the strip can be present in the decor of the handle, but not more.
To match the bride, the groom will also need striped details, for instance a tie, a buttonhole or, for example, socks. That will definitely add some sense of humor to your black and white wedding photography.


To design the room, we recommend using a striped print material. The walls can be decorated with cloth, curtains can be tied and the wedding tent must be decorated in the same style. Do not forget about the idea that striped cloth is useful for covering tables. Napkins can also be striped. However, in this case tablecloth is better to take neutral, in order not to overload the decor strip.


And the last idea will concern a cake. A wedding cake can be striped both outside and inside. But do not forget to take photo of both sides. Such shots can be merged into one, making a great photo collage. After such photos make be enhanced with modern retouching, like our company has at very cool photo editing prices.

Paris- what can be better for a romantic couple?
Paris is a city of love and the most romantic dates, fine cuisine, a unique Eiffel Tower, high fashion and really impeccable style. If you share warm feelings in relation to this city, you can stylize the wedding in this perfect way. We chose a strict and elegant black and white palette, only slightly diluted with other colors. This is our Paris. And what is yours? Maybe you have your own black and white wedding theme ideas.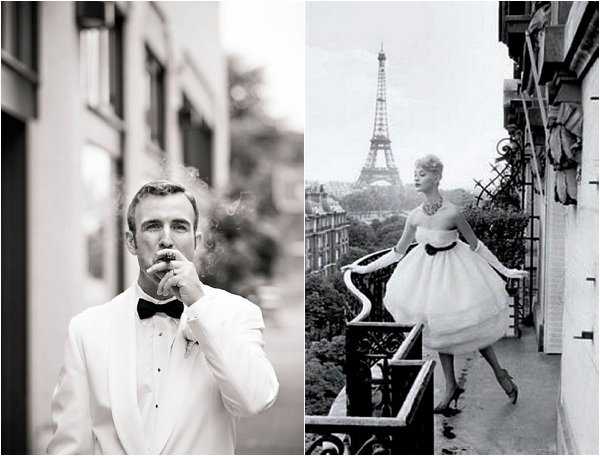 But you, as a professional photo maker should pay attention to every little detail that may be captured in order to make a great shot. A hat with a veil, a French bun, an umbrella, lace gloves and stylish shoes – and here it is a real Parisian bride! Take pictures of her and get impressed by her beauty.
Invitations can be designed strictly in black and white or you can stylize them under old postcards with city views. A good idea if you like retro, as there are a lot of black and white wedding ideas based on this theme.
Tables must be decorated in the same palette. Pay attention to the design for the table numbering, highlighted from the inside, as on pictures it looks really impressively.
If your couple does not want to back away from tradition and prefer sweet bonbonniere, thematic cookies can be baked! It is useful for a candy bar and will become a great decoration for a wedding. In the decor of the hall, copies of the Eiffel Tower and a photo with views of Paris can be used.


Dessert table can be rich in the national French desserts: meringue, profiteroles, croissants, cream-brulee, pasta cookies. In the selection there are two types of design of the candy bar: black and white and one more, with the addition of pink or other bright colors.


The wedding cake can be in the form of the Eiffel Tower or ordinary, in several tiers. The main thing is to sustain the style and the chosen palette, especially concerning colors.


After such a wonderful wedding, you will most likely have an idea to go on a honeymoon to Paris. A bride can take her wedding dresses with her and a stroll through the streets with a photographer can be organized quite easily. This way you will have more black and white wedding photos to be added to your portfolio. Besides, this kind of photography is frequently chosen among all celebrities. To prove this read this The most beautiful celebrity weddings you should not miss.
Chess- it is only a game?
Chess is definitely not a hackneyed and very interesting idea for a themed black and white photo shoots. A chess cage, rooks, horses, pawns and, of course, a king with a queen as an unrivaled fiancé and a bride, are believed to be an unusual idea. The palette of such a wedding is better to endure in a classic black and white combination as that is just a traditional combination.


The bride at a chess wedding can try on the role of queen and put on a crown. The dress is white or white with black. Girlfriends are dressed either in checkered dresses, or in black, or, on the contrary, in totally white dresses. The last variant is the most interesting, as a bride will get his "white" supporting camp, and the groom – "black", as in chess play. It goes without any remarks that a good choice for the groom is accessories in a black and white cage.


Invitations are also of great importance. In the text of the invitations you can joke on the topic of shah and mat. For example mentioned, that a bride has finally put a groom. That will bring you warm memories long after the photo shooting.
The hall is designed in chess style and by chess figures itself. Maybe suddenly guests will have an idea to play chess while they wait for you from the photo session. Such activity also can be captured and added to family album.


Bonbonniere too should correspond to a chosen theme. By the way, "chess" cookies do not need to be cooked by themselves, as such sets are available from several well-known manufacturers, so they can be searched in large hypermarkets. Thus, your couple will not waste too much time in preparation. Wedding cake is also like "chess" not only from the outside, but also inside! Capture it and preserve unforgettable memories for your clients.


An indispensable attribute of a chess wedding is giant chess. They can be used not only for the game, but also for a photo shoot! Really on picture that will look amazingly and will create a feeling of being a part of fairytale. This large chessboard will also be an excellent platform for the first dance of newlyweds, especially if a romantic highlight is made. This idea is worth to be captured not only on shots, but also on video.

American wedding style of 20-30-s
Interesting images for the wedding theme suggests the era of the 20-30s in America. These are the times of gangsters and the dry law. During this time, the features of the century of emancipation poured into the female image. Thus, short haircuts, card games, smoking, as well as rather short dresses of a simpler cut have appeared.


If touching upon the matter of accessories, there a string of pearls, boa, mouthpiece, exquisite cigarette case will be quite suitable. Among accessories for men we may name a hat, a vest, cigars and weapons. All these can become great items for shooting as with them you may create really outstanding photo compositions.


Dress for a retro bride must undoubtedly match the fashion of the 20s-30s. Here your brie should have strict lines and no corset at all! In make-up, there was a tendency to make a pale face and too bright lips. If speaking about hairstyles, here a cold wave or a strict classical square will look wonderfully. Be sure that with right preparation, photos of bride will be cool even without expensive editing. Besides, you may add a sense of funny pictures. Want to do it, but do not know how? Read this The most awkward wedding photos you`ve ever seen. Certainly here you will find some great ideas.

Wedding in the style of casino royal
That is one more fascinating variant of black and white wedding photography. For fans of gambling and spy stories, the best wedding style will be like this. The main motives for this wedding will be cards, chips and definitely casinos.
Let`s get down into details. For instance, invitations to the wedding may be decorated with the elements of card attributes. Believe us that with their help you will get unsurpassed photography.


In the image of the bride, the severity and sophistication of the "fatal woman" should be certainly felt. For achieving this goal a classic hairstyle, an A-line dress, a strict evening make-up, hairpins will be quite suit. You can advise adding a color accent to the shoes. Just imagine that everything will be monochrome and just one color will be a definite bonus for creating exquisite shots.


For a bouquet of the bride red roses will be the best. In a bouquet graceful black feathers may be added for elegance.
The image of the groom is a classic image of James Bond. He should wear a jacket and a bow tie. To emphasize the theme of the wedding cuff links and boutonniere can be also added to the number of accessories. Usually on photos it looks unforgettable.


For a festive dinner, restaurants with classical interiors are best suited, just for having a great background for making alluring photography. As a composition on the table, you can use scarlet roses, adding an accent with the black or colorful feathers. In the design of napkins you can use cards. Dishes in the menu may be called like famous poker combinations. For the seating plan guests can use "spionage" schemes or make a layout with the help of cards and indicate on the tables not a number, but a suit. Further you may photograph every guest with this brilliant decoration and the process of finding their seats.
The traditional Bond drink Martini can also become one of the remarkable details of the banquet. Arrange for guests instead of a buffet a full martini bar. And in the martini glasses you can serve not only drinks, but also snacks. That is one more interesting idea for making pictures.
As a gift to guests sweets in a jar with a personalized label that reflects the theme of the wedding can be used. The process of giving presents to guests can also captured to have alluring black and white photo shoots.
Is it necessary to choose black and white wedding theme ideas?
Black and white wedding photos have recently become a new fashion of modern pairs, who certainly want to have in their wedding album a series of pictures that need to be thought after. Photographs help to convey a special celebration of the event, which for each of its participants is something of their own soul. For romantic natures, a black and white photo carries a deep philosophical meaning and the ability to read emotions on the faces of young people. For pragmatists, a black and white photo becomes a kind of contribution into fashion, a desire to show its advancement, because many wedding photographers with world names find in black and white pictures a special chic and charm.


Someone may think that the photographer for the wedding must satisfy the desires of a young couple and if they want a black and white photo session, then do not dissuade them from it. Perhaps you have rights about this. But just think, maybe they would like to color these pictures in a month, a year, a decade?


Someone will note that it's professionally more difficult to make a black and white photo, and only an experienced wedding photographer will be able to choose the right angle, catch the light, capture a whole story in his picture, but not a moment. Yes, here you are right. Black and white photography is an art. Every detail is important in it. After all, there is nothing to distract from the lines, images, moods. And in order better understanding of the feelings and emotions of a young couple, you should certainly make some black and white photographs. We must always remember that we live in the third millennium. The millennium that offers options and that is great, use them.