Wedding photo sharing website is a common practice nowadays. If you are a wedding photographer or a retoucher, but the business is not so doing well, then it's time to consider the most successful and the best wedding photography websites and gain experience and adopt any ideas. To date, a website for anyone is not a luxury, it's just a business tool, a platform where a company or a person lays out their work, offers services and has feedback from their customers. Almost any wedding photo sharing website or photo processing site has its own unique design, its customers and readers (after all, such a website should be interesting for Internet users). The website should not by a long chalk hidden the photo editing prices or other prices for services, many potential customers are repelled, and the most crucial thing should be a smart portfolio, no way around!
Your site is one of the attributes that distinguish an experienced master from an unfledged amateur. Today we will tell you how to make a website and make it well. Photographers' websites, if they are good sites, can be spotted right away. They engage all eyes and fascinate, they want to look at, look and look. The secret is simple: the correct presentation of quality content. Even super cool photos can get lost in a stream of similar pictures from wedding photo sessions and in an abundance of text. We will show you successful websites from which you can fish for useful tricks; we will also share with you tips and secrets how to create a good website and its design.
This video "Wix Pro Gallery: Showcase Your Photography in the Highest Quality Online" is a prehistory.
How to build a strong wedding photo website
It was a long time ago when the site on the Internet was sumptuosity. Technology does not stand still. Now for many people and companies this is an important working tool that allows us to identify our positions in the market, solve business development problems, establish communications with customers and conquer new horizons.


The main tasks that a professional photographer's website can solve:
1. Demonstration of works: a portfolio of the photographer with due regard to the specificity of the activity. Often the pictures are divided into thematic galleries for easy viewing. It is not necessary to spread hundreds of beautiful photos from one celebration, better choose the best and beautiful ones.
2. Story about yourself: brief or detailed biographical information, work experience in the specialty, achievements, information about customers, creative projects, resources and opportunities. Be honest with your customers, because they trust you to take pictures of your brightest event. A section with personal information about you can be in an interactive form, include your photos or videos of your team.


3. Description of services provided, list and cost. The order of accepting orders and payment, as well as the turnaround time


4. Reporting up-to-date information to customers: about discounts and promotions, new services or unique offers.
5. Maintaining a feedback, and contact information.
The wedding photo website of a professional photographer may not be limited to the indicated list or contain only some of these items, but must always meet a number of key requirements: visibility, convenient navigation, high speed. They greatly influence the client's impression of the visit. All these items can be combined under your personal logo or brand. And this calls for working diligently to accumulate work experience and earn customer loyalty.
So, there are several main things when building your own respectable website. Based on the above points, you need to more accurately determine the circle of your potential customers (in our case these are couples who are going to marry), in order that a couple will choose your website, your wedding photography website templates must be different from others and contain some kind of a WOW moment. The site should not be outdated; services and photos should be fresh and fashionable, and our article "2017 wedding color trends you should not miss" will help you to understand this.


Try to make it so that your site is in harmony with you and your photos, then the customers will accurately pay attention to you. And then we'll look at those sites that do it.
The best wedding photography websites to follow
When choosing photo services, the Internet user is more often guided by visual impressions about the site, so here get into a game a stylish website design, beautiful blogs and catchy headlines.
In the network of millions of wedding websites, we have chosen some that amaze with their elegance and simplicity. All these sites are united by some kind of light and airy atmosphere, which is filled with the most romantic photos and at the same time, all the aspects listed in the first subsection are present.
1. Gaby Hanna. This photographer managed to combine on the website her talent to catch the sincere feelings of loving couples and the skill to shoot a video.


2. Modesty is the best policy. Lisa White managed to unobtrusively show her customers their awards and certificates that look neat, but do not distract attention from beautiful boudoir shots of brides.


3. Kamron Khan, wife, mom and photographer in one person, who on her home page encourages clients to be themselves and enjoy a happy moment while she captures them. Kamron herself is a cheerful woman and takes the same optimistic photographs that please us and her customers.



4. The site of David Rochas was included in our collection thanks to the breathtaking panorama of two lovers. In addition to filming wedding celebrations, David travels and shares his fabulous shots with users. And what? One thing does not necessarily preclude the other, and everything does not look piled up and too bright that you want to take your eyes off.


5. You probably noticed that all the sites use similar wedding photography website templates created with the Wix platform, but every photographer or studio uses them in their own way to get the best effect. And the Thai Pham website is not an exception; we even wanted to visit all these picturesque places.


6. O'Ryan Empire has probably the easiest wedding photography website design, or rather its home page. A beautiful bride and a soft call to action. This team of photographers and their assistants is not shy about telling funny facts about themselves, and rivets the attention of full-scale photographs.



7. Russian photographer Alexander Egorov, who was not too lazy to work hard to create his wedding photo sharing website. His bright and clear photos of the newlyweds carry the audience to the place where Alexander deftly caught the shot. By the way, the quality of processing photos can be envied.


8. Fascinating shots of the Vietnamese photographer Wey Nguyen and his team do not leave anyone indifferent, and many sections do not confuse the client, because everything is simple and understandable.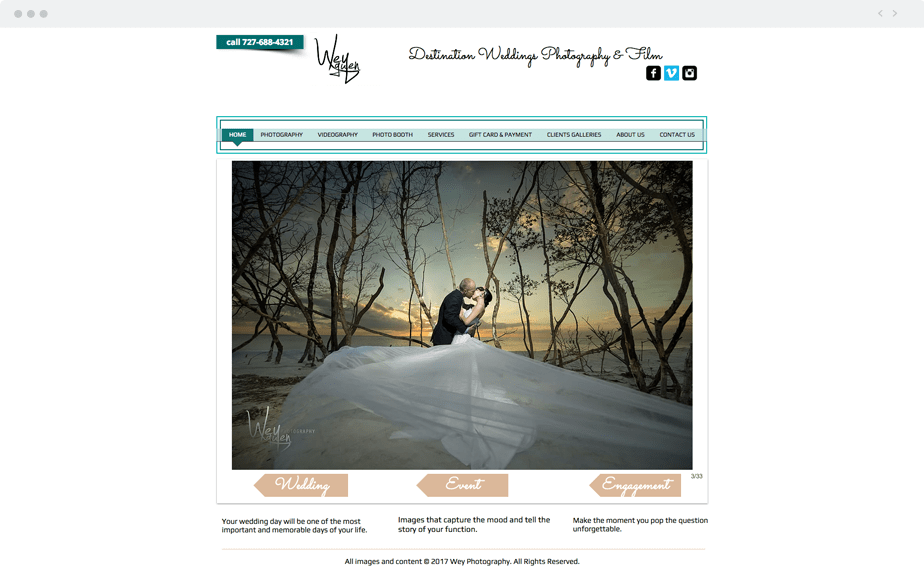 9. Wedding photographer Allie Miller from North Carolina strayed from the usual wedding photography website templates and created her unobtrusive design on the Wix platform, where there are photos that scroll automatically, and a functional panel, and even Allie's awards.


10. Another winner of the Weddingwire awards couples' choice the studio WINDAU PHOTOGRAPHY. Ordinary and unusual wedding ceremonies, family photos, film making are all in the orderly and beautiful portfolio of the New York studio.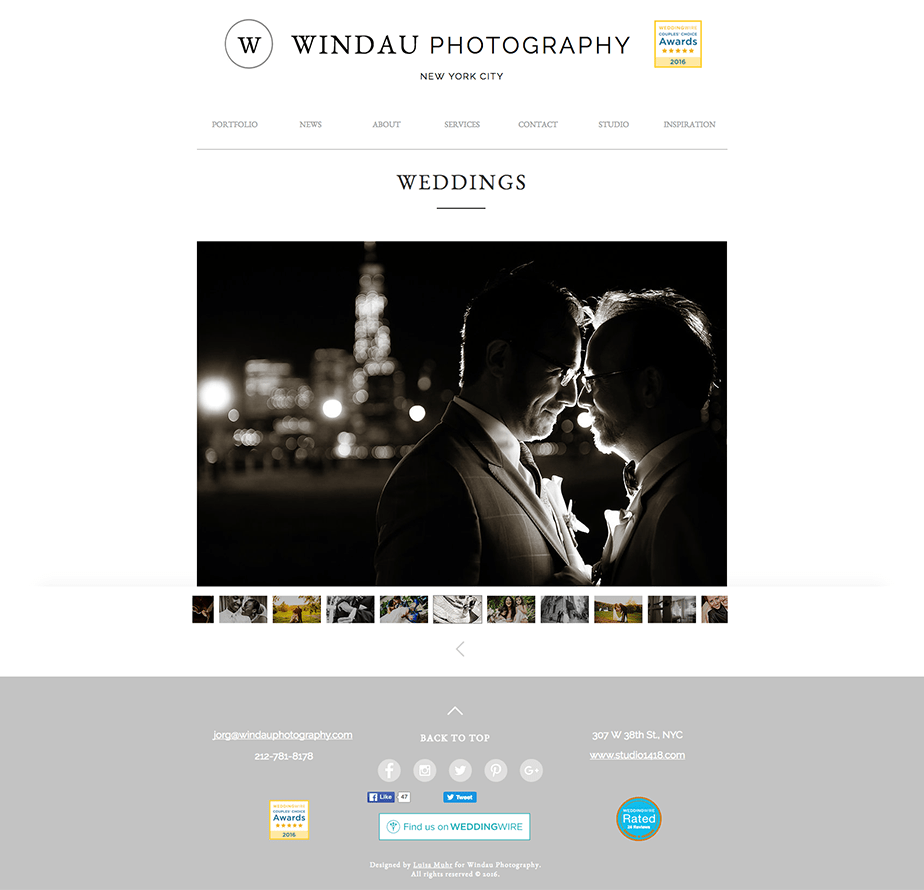 As you understand, simplicity is the soul of genius. And the most important thing in creating your site is your photos. Surely after seeing the best wedding photography websites you yourself wanted to say "Yes".
Wedding photography website design tips
The scientists of the Stanford University took a poll which brought to light that 46% of those asked judges about the website on the ground of its interface and layout. If the design does not draw the net surfer's attention, then all the information seems unreliable and non authoritative. In this section, we'll talk about what are the resources to upgrade the design of the site and always be currently popular.


The first thing a person should see on your wedding photo website is a work that will show your level and state your favorite subject. How much you can interest the visitor, the number of refusals will depend cases when the user leaves the site, viewing only one page. Large images, a slider gallery, an image as a background, a color difference attract attention very well. By no means do not forget about the name and surname (or company name), as well as the logo (if there is any) they should be placed in the header. Also indicate your specialization.


By the way, speaking about their specialization and placing photos, their quality should not deteriorate when viewed in the mobile version. Today, people use half of the Internet functions from their smartphones, so it's worth taking care of the mobile format of your website, as it will look on the screen of the phone or tablet. On the touch screen it's easier to scroll through photos or pages with services, so this point should also be taken into account.
The photos speak for themselves. On this and build the concept of your representation on the Internet.
In creating your wedding photo sharing website you can help the Wix platform. Wix is a free service that allows anyone to create and host their own website. The main feature of this service is that it specializes in the construction of flash sites. This technology allows you to create stunningly beautiful and effective pages, ideal for a portfolio of artists, models, photographers and representatives of other creative professions. Thanks to this service you can create your own unique design, which will be traced in each section, font and will coincide with your work.
A good intuitive designer will give you opportunity to edit or change any element of the site, up to the structure, not to mention the design. So you can not be afraid of clones. Nobody knows better than you how to best represent your images, so solve this problem yourself, by making a website yourself.


Moving right along, your services and prices. The price section should be in the foreground, because this is the second part after the photos, which visitors pay attention to. Assessing your services, it is not necessary to write up the cost, and if it is high, then it should be entirely and fully justified. If this question leaves you wrong-footed, then you can see prices from your competitors or find a clue in our article "The photo editing price list for wedding photoshoots". In general, do not force your future customers to look for a section with prices and understand the heap of numbers, keep it simple.


Working as a photographer or retoucher implies activity in everything. An ordinary photographer, who takes one celebration a week and puts a few photos on the site will not be of interest to anyone. There are a million of such photographers. Therefore, your wedding photo website should literally speak to your client. With motivating phrases or actions to order your services, you must share some personal information about yourself and your profession. Your clients will be interested in your personality, your professionalism, sociability and sense of humor, because you will be an essential part of their family celebration.


Talking about individuality and staying interesting for customers, be in trend. If you have something to share, talk about it with the aid of posts in your social networks or create a blog. But take into account that keeping the blog means that you have to replenish it on a regular basis, because one post or one piece of news will point to the fact that your blog is run-down. So think carefully before place such section on your web visiting card.
Good pictures work like business cards and flyers, they are very good tool, because they are not spread by obsessive promoters, but by users who genuinely liked your work. So go out of yours way and let some fancy pictures float freely that will bring new visitors to your site. Add buttons "Share" on Facebook or Twitter or Instagram.


Drawing a parallel between the best wedding photography websites and the aspects that should be present on your website, we can summarize all of the above and provide tips that will help you improve the website design. So:
1. Be mobile. The photographer and his site should be mobile and accessible to users from all over the world.


2. Use only author's illustrations. Put aside stock photos: their use undermines the credibility of the brand.
3. Attention to typographics and entire color grade. Each font has a character choose one that suits your text. One style in your text content and photographs will support the philosophy of your business and your wedding photography website design.


4. Prices. No hidden surcharges, honest description of services and possible discounts for customer loyalty or advertising.
5. Downloading the video on the site define its goals: tell the love story, explain some techniques or other, and demonstrate the product.
6. Convert a user into an event participant.
Whichever approach you opt for, listen to your heart and consider the common sense. Each action should be justified by a settled purpose. Ideal solutions for all do not happen, but there are those that suit your project. Good luck and inspire yourself every moment of your life.


Even if you do not have your own ideas for creating a website, you can always turn to third-party services, but what you must have is your own beautiful photos from wedding ceremonies. And even here in the transformation of these photos you can help different photo services, our photo editing service can become your reliable partner in creating a beautiful portfolio for the site and, of course, that your customers are always happy. Photograph and you will be helped in everything else.