We are pretty accustomed to the fact that we have to celebrate B-days of our close ones and give them presents. Normally people think about human beings. Therefore, it simply does not come into non-pet owners' minds that their birthdays are celebrated as well. Nevertheless, if you have a pet at home, you know how it feels like.
They are not just accessories of furniture for you house. They do not perform the function of an adorning unlike photos and paintings etc. They are righteously considered to be family members. For some pet owners their little friends are their kids, who always need attention, love and proper care. So, why shouldn't we celebrate their birthdays as well?
We are extremely glad and thankful that our beloved pets have come to our lives. Therefore, celebrating the day they appeared on our long-distance life way is a good means of showing those feelings, appreciating their unconditional love and adoration, as well as to express the gratitude for their being at our sides.
A birthday photo session seems to be an outstanding idea for a pet's birthday present. It may be a lot of fun making a pet birthday photo session but it still requires some definite skills and atmosphere. The same thing is with the photo editing process which, sure thing, has its own peculiarities and nuances which sometimes require applying to photo editing service (if you are not sure you can do it yourself, of course). However, when every detail is taken into consideration and the work is done conscientiously, as well as with enthusiasm, one can definitely obtain alluring photographic results. Just like these adorable ones features in the YouTube video "Ella the Frenchie's 5th Birthday | Dallas Dog Photography".
Festive photo sessions for pets
We are pretty sure you have no formidable problems with finding a way to celebrate your own birthday or you close ones'. There are so many options varying from small private parties in a circle of selected people to grand loud celebrations. Parties may be thrown indoor or in the fresh air, humbly at home or in quite place with a pleasant atmosphere, in a fancy restaurant or even in a club full of madness, drinks and snacks.
The options are, basically, limitless, your imagination is the limit. How should we celebrate a pet's birthday then? No one wants to look ridiculous in such a case and no one says it should be something grandiose. If you are still at a loss but would definitely like to celebrate your pet's birthday, here are some ideas from an ardent pet owner – 5 Ways To Celebrate Your Dogs Birthday! – which you may use for your little treasure's special day.
It may be a little treat or even a real small celebration, it all depends on you, sure thing. In any case, one of the greatest and super cutest presents you may make to your pet (as well as to yourself) is a birthday photo session. Yes, you read it correctly, a pet birthday photo session. And why not? In this way you will add something special to your pastime, make new memories, as well as capture them on camera to remember those bright moments by.
Moreover, there are tons of pet photography ideas and quite a number of people who appreciate such a unique way of celebrating their little treasures' birthdays. Besides, why not taking up pet birthday photography then, if you are a photographer yourself? Especially when it is starting to be in demand. We have even spotted the tendency that dog owners are more active in this issue.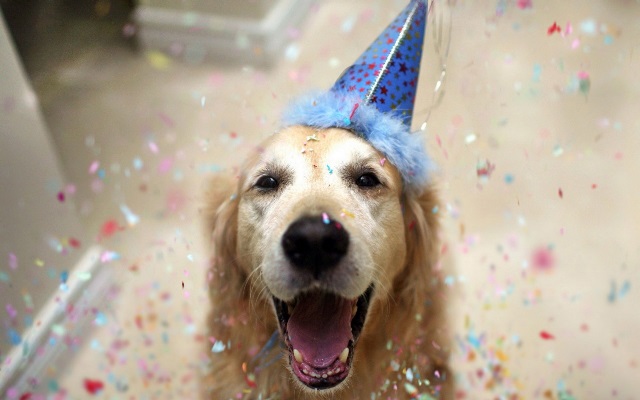 There is a throng of pooch lovers who are fans of family dog photography and would love to have cute photos with their beloved pets. Dog portrait photography is another thing that is appreciated by dog owners (they are their babies, how can they not want a proper portrait of their treasure?). Family dog photography will always remind them about their beloved little friends. Besides, their photos may be great items of decoration, especially when done professionally, with enthusiasm and love, with a nice and sleek dog photo edit afterwards. If you are interested in pet photography, especially in family dog photography after all of the arguments mentioned above, here are some ideas, tips on pet photography itself and its editing as well.
Pet photography ideas
Since there are more pet owners who uphold the idea of pet birthday photography, let us hold on this topic. As a dog owner yourself or a pet photographer, you may wonder what ideas to use to make birthday photography truly unique. Without any doubt, pooches are adorable on their own. Nevertheless, nice ideas and thoroughly thought over pet photography poses may take pet photography to the next level, so that you can even upload those photos on your social media and wait for you little furry friends to get famous!
First of all, you make think over a story that you would like to tell with your pet photos. It may be a mere celebration party with all the festive decorations and stuff like that. Or you may better chose to get a little more sophisticated and get other stories involved. For instance, pet romance. You little treasure may be not only photographed with its (beloved for sure) owner, but also with its pet crush. Petmances are adorable and are sure to make photographs more live, full of live and magic, believe us. Above all that, you're a pet will feel so much relaxed when being together with a special friend. Besides, you may also incorporate fellow pets, buddies and friends, so to say, for the sake of captivating photos.
Some of the great photos of pet, especially dogs, involve action, playfulness and moving around. Caught-in-action kind of photos are the best, since they appear to be the most sincere, to display a pet's character. Therefore, it is always a great idea to play with a furry friend, let him be and relax: run, play with toys or even food, jump etc. Whatever works for a particular pet. And only in such moments that you can truly capture extraordinary and unprecedented shots that will definitely melt you're her and fill it with tremendous joy. Besides, when you let your pets to be caught in actions there are more chances that your photos will turn out to be diverse and all-round. We bet, that you won't find way too many similar photo images (which is boring and does not promise any success). And the bigger the variety of photos, as you know, the better. Clients will surely appreciate it.
Other pet photography ideas include either curios and creative pet photography poses or ingenious backdrops and unusual decorations, as well as costumes. As far as pet photography poses are concerned, you know how difficult it may get when it comes to making a pet pose when it really does not want it. Puppies, for instance, are more dirigible, but they still will not do exactly what you would like them to, and you perfectly know it. So what should you do? Well, you should first make up the poses appropriate for a particular pet that you would like to incorporate into your photo session.
Secondly, cooperate with the owner, since he knows better how to treat the pet, as a rule. And then just let it flow, play, let your fluffy client relax and feel like at home, in a familiar atmosphere. The more at ease the pet feels, the better, since animals can't really pose like people, you know. Therefore, poses should be achieve as naturally as possible. Sure thing, you won't be able to make crazy poses, unless the dog is specifically trained to do so. Bit still, with a sufficient amount of effort, off-camera help and patience for that right moment to capture – everything is possible. Just wait for it, be patient and shrewd enough to see the right instance for a brilliant shot and you will definitely get it sooner or later.
Some other pet photography ideas, as we have mentioned, require an additional amount of inventiveness and imagination, since they involve costumes, decorations and art in general. And here you can do whatever you wish, whatever you imagination is capable for. You may add some spice to a simple dog portrait photography, for instance, with the help of artistic dog photo edit, adding something new to a picture and making it truly unique. Now a simple and typical dog portrait photography is a unique and alluring piece of art. You may also find costumes or pet wear that suit your artistic conception for a particular pet birthday photo session. They may be cute, funny, fashionable or even scary. If you want something else to try, a bit more down-to-earth but still unique, then polish the set with some additional decorations, like a birthday cake, air balloons, flowers and other accessories they go with your photo theme. All of the above is fun and interesting to do. We are sure you, as well as your clients and their furry little friends, won't be in any way bored. And dissatisfied with the ending results.
Pet photography tips and tricks
You may have an uncountable amount of ideas and a loads of inspiration for making them come into life. However, they will do no good if you have absolutely no clue about how to work with pets. They may be exceedingly unpredictable which definitely impede the whole process. Therefore, you should be flexible and ready to prune a possible hindering away or prevent it beforehand with some techniques that may help you with it. These techniques are used by many prosperous pet photographers all over the world. For some of those, they are a real deal, that one piece that keep them going and achieving phenomenal and terrific photographic results. They all have some secrets and useful techniques that aid them a lot at portraying animals in an unexpected and unusual ways for the sake of eye-catching shots. They can even capture magnificent photo images of those animals that are, as a rule, perceived by the majority of people ugly, unattractive or mere frightening. For instance, this photographer from the YouTube video entitled "Pet photography with award-winning photographer Carli Davidson " has some of those which can truly come at hand.
One of the most important tips that you will definitely hear from any professional photographer is to stay relaxed and make your new fluffy friend fell at ease. That is a well-known fact that pets can easily detect your emotional state and equally easily absorb it. Therefore, when you feel low, nervous or, worst of all, afraid, that will be all projected to your photo session. Even pets' eye will distinctly show the atmosphere that predominated on your photo session. Make pets have a blast, have the day of their lives and that will surely emanate excellent results. Besides, make sure to move slowly and be quiet, as well as patient. There is no better way to make aggravate a pet rather than to be too bossy, excessively familiar and cranky. This is a worst-of-both-worlds situation that can cause a significant fizzle if not even in injuries. That is why the net tip is to be attentive to pet's behaviors and to always be on guards. Keep safe, since working with animals may be dangerous. Just like people they have different characters and may react differently to strangers, unfamiliar surrounding or even photography gear. No matter what, safety should always be on the first place: both your personal one and of your photography gear.
Besides, you may start shooting from their perspective if you want to obtain good results. Photos from their level are, as a rule, more attractive. For that you should definitely get accustomed to moving around and be flexible. In this way you will surely capture that perfect moment much quicker and won't waste a perfect pose and an alluring movement. What is more, don't forget to be generous and show your acknowledgements to your little partners on a photo session. It may be a little tasty treat or just an encouraging world and a casual pat. In this way you will keep a pet's interest on the needed level and make sure that it will cooperate with you. Besides, don't forget to focus on pets' eyes if you want to make really captivating ng photo shots, especially portraits. That's where their souls are hidden, thus eyes are a precious part of a pet photography. When eyes are not in focus, a shot is basically made in vain. To make the most of their looks make sure to utilize a proper lightning. Catchlights and glares in their eyes are so alluring. For more tips and tricks you may listen to Jenn Cooper from Canon Collective photography studio in Sydney in the video "Canon Light Awards: Pet Photography Tips ".
Editing pet photography – dog photo edit
You may use Creative self portrait ideas photography for making your own photos with you beloved little friend. Having read our article "Do we need a professional camera if we know some secret iPhone photography tips and tricks?" you can surely do it without any professional gear. Or you may book a professional photo session for even greater and sleeker results. One way or another they will need some amount of photo editing for making them look impeccable and finished. For the dog lovers out there, the first thing to do is to remove the leash, since in many cases dogs simply can't be photographed without it (especially in the wild). As we have mentioned, safety comes first, so a considerable fraction of dogs will be definitely shot with their leashes on, alas.
After that, move your attention to eyes again (recall what we have written previously on the issue – eyes are pivotal for pet photography). For making them even more of a focal point, make them look sharper and brighter, bring that glare out. The difference is drastic, believe us. What is more, pet photos may use a bit of sharpening as well. That is an essential step in pet photo editing, since fur and eyes may appear a bit burred and indistinct in photos. It is better to make them more detailed which heighten the general look. Color and contrast balance, as well as all of the other basic adjustments are definite must as well. In the article "Free Lightroom presets for pet photography" we have already given some useful free presets which can help your make those adjustments. In the end, don't forget to "refine edge", when needing to get rid of some unwanted objects or doing any other sorts of manipulations with your pictures. This will make sure you fluffy friend will look natural and "untouched" with all furry details at place .
If you feel at a loss when it comes to dog photo edit or any kind of pet photography retouching, the best way out is to ask professionals to do it for you. Our retouching company sure thing knows how to make your pet photography stand out and still look natural at the same way. Our professional photo retouchers are highly cooperative and are interested in satisfying your needs and requirements. Contented clients are our prerogative. Above that all, our photo editing prices are quite reasonable and thus pretty affordable. We always make sure that our professional serves are done with high quality and can be used at advantage by our dear clients.