People, who are in search of perfect possibilities to retouch pictures sometimes fail to notice that finding suitable company, like this photo editing service is not a task for one day. Often days, weeks and even months are required to find something really worth attention. Still, all these frightening fairytales are already in the past, as today we have lots of online editors that ease working days of modern photographers. Surely, most of them are quite expensive. Still, in the list of proffered services, there are some hidden brilliants like Shutterstock photo editor, that to convince you more, can be used for free with only online registration. Such online retouching programs have become quite popular these days. Thus, this question is quite topical nowadays, as lots of photo makers hesitate what to choose, online editors or companies.


So, in this article we are going to make you familiar with the notion of editing stock photos, working principles of Shutterstock. Hope till the end you will decide and realize the value of this online editor. Maybe, you will even become its permanent user in case you are not now. We will present to you its website that contains all possible services. After their description, you will have a deep understanding of how to edit Shutterstock images in case your desire is achieving gorgeous photos in short terms. You will join the circle of those photo makers that have already understood that editing stock photos with this application is convenient and effective.


We will also describe the circle of clients that are the most frequent users this online editor. Usually they are photographers and designers that face a need to produce varied professional publications for social networks and websites, materials for promotions and much more. Have the same need? Then you are on the right way by reading this article. Watch this video as a little preview of what we are going to speak about.
Shutterstock photo editor – a modern helper
We believe that the bigger half of contemporary photo makers ruminate on the question how to edit stock photos. They ask themselves in what way is it possible to make the procedure faster, cheaper and less stressful. That is why they are in constant search of varied online editors, competent companies or qualified freelances. Definitely every aspect of collaboration contains its own powerful sides, bonuses and weak points. But today we will concentrate attention on Shutterstock photo editor, its pluses and minuses, if any of course.

This online service launches only today, but still making the first steps in the picture editing industry. Thus, modern photo makers have wonderful chances to become its first users and to enjoy its speed, simplicity and being free of payments.
Can you edit Shutterstock images without professional support? Sure thing. The procedure of dealing with this program is already set up and organized in the easiest manner. Therefore, you just select an image you want to process, customize your choice and after several manipulations get a perfect sample for your needs or projects.

Shutterstock provides multiple principles of how to edit stock photos in order to become flexible and stay in popularity. Still, there are some options that are on the top of choosing. Firstly that is cropping. Photographers may crop pictures using offered custom sizes or some presets. In order to make this process shorter, on the website you will find email, social media or presentation sizes to be included to the website. This way you will not create them on your own, but only to choose out from already made ones.
Then applying varied filters are also quite popular. Current features of Shutterstock photo editor proffer photo filters for various tastes. Still, you are to opt from 10 presented filters. Among them Carbon, that presents monochrome look, and Copper, that adds warmer tones, are undeniable leaders. Still, the most beneficial thing is that in case you are able to devote a bit more time, you will be offered to create your own filter. That will make your talent and works unique.
We have already claimed that working with Shutterstock is not problematic at all. On the website you will find a special storage of pictures that will become the basis for your editing work. Then you just find the button called "Custom size". The last will be to click "Edit Image". And everything is ready to the productive work.
With the click to "Set custom Size" you will save the height and width of the photo you work with. Additionally, you will be able to opt for a preset size. In case you know for which social media or website you are devoting efforts, you will be proffered to choose already uploaded presets as "Facebook link" for instance. As you have already guessed, that presets for all social media are included for photographers` comfort and confidence.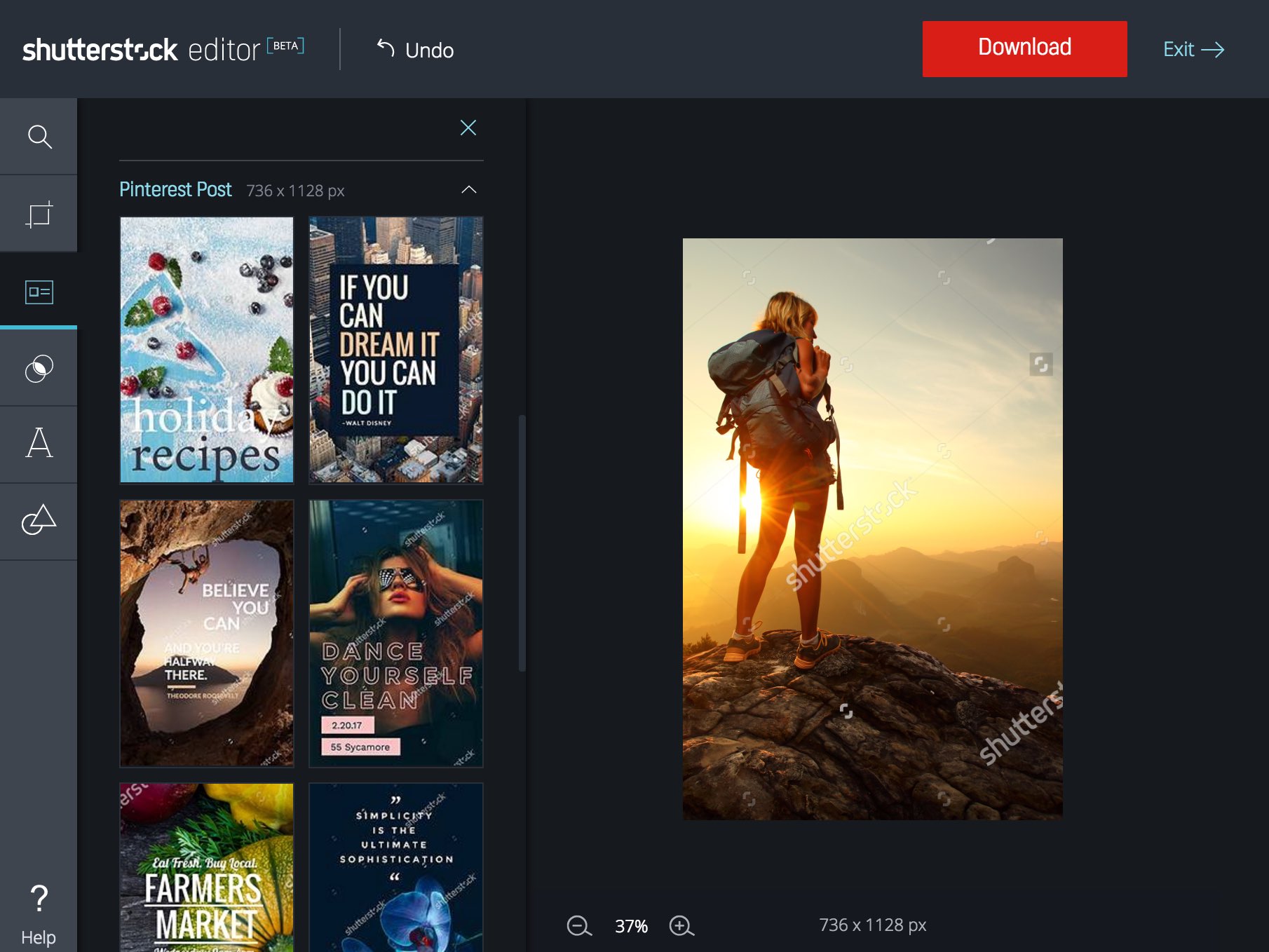 As soon as you are ready with the right placement for your cropping, the green check mark will end this step. In case you are satisfied, but you feel a desire to add filters, in the menu with the same title you will find all presented variants. As soon as the perfect filter has been opted for, there is an option during which you can preview the final look. For this you need the button "Preview".
If after the previewing you think that no other filters will look better, you are ready to download your unique photo sample. With download option you will choose the last settings for making your photo even more gorgeous and bright. Additionally, in order to impress others with the results of your work, you will be able to download even the raw variant of a picture that you have worked with.
Hopefully, after this information you will not have doubts concerning how to edit Shutterstock images. For the question "Can you edit Shutterstock images?" you will give a positive answer feeling that you have achieved the higher level of professionalism having improved your skills. In order to develop skills more, you may read Photoshot tips necessary for beginner to choose a photo theme. That will be addition useful information that will make you better, stronger and more confident concerning modern photo editing industry.

How to edit stock photos without problems
Unfortunately, the variety of editing possibilities does not provide enough required opportunities necessary for improving skills for those retouchers that are only on the starting point of their career. Thus, for them to puzzle out in the boundless sea of editing software and numerous guides, such free and quite understandable editors are highly needed. It presents a completely clear path for starting retouching on your own.
For beginners it is recommended to start editing from the simple, but still inevitable basis. They are cropping, choosing filters and the simplest effects. This seminal training will make you confident in your knowledge before you will try more complicated editing programs. We advise to try Photoshop or other editors, only after you answer is yes on the question "Can you edit Shutterstock images?".


Additionally, we will present the most essential characteristic of this modern online editor that will stimulate your skills in retouching and foster you to develop already acquired knowledge. Firstly, that contributes to its popularity is the tremendous number of raw images that have been uploaded to the website and are for your free using. According to the last calculating, there are nearly 70 million of free pictures to be used by your talented hands. And having opened the online library, you will access as many of them you will be able to.
Secondly, due to deep enthusiasm of Shutterstock developers that do not stop at adding new and new retouching tools, the process of dealing with photos have never been easier. Now you can set unique custom dimensions that will be the most effectual especially for your photography and also opt for the most suitable preset size. To minimize your devoted efforts all presets size are separated into certain categories depending on the social media that it will be used for.
In case you are not sure that everything is understood in the right way, we will present a special algorism of providing every step of photo improving. As you already know the first to be done with a picture is cropping. For doing this you should click an icon "Presets size". Here you will find a sidebar that is full of various photo dimensions. Again it includes most chosen headers and posts that are used for such social nets as Twitter, Facebook, Instagram and others. After you choose the size, you will enjoy the photo manipulated with the new size. The coolest thing is that you will also see the cropped-out areas. In case you want to change the cropped area that is also possible. Remember that all changing may be canceled before pressing the button "Download".
The most important and time-taking part of editing stock photos is adding filters. Still, the process is not so tedious and problematic as you might think about it. You just need to find another sidebar by clicking an icon with the title "Filters". For you to remember there are 10 full and understandable filters for your usage. The most liked are "Titanium" that is a little muted, "Nickel" that is more colorful and "Carbon" that turns photos into monochrome masterpieces. In case there isn`t any trifle that irritates and distract your attention from enjoying the final result, you just press Download. Together with the final sample you will be proffered to save the original variant.
This online editor provides fundamental knowledge for further its application in Adobe Photoshop. In case you know how to do right cropping and have at least some basic impression of how to add filters to pictures in order not to spoil them, but on the contrary to make them unforgettable, you will be ready to face more complicated tools and techniques. We will not promise you will learn all of the presented options in Shutterstock over one sleepless night, but with having a regular practice, you will quickly raise your editing level and select the appropriate tools for building your own style.

We have not mentioned anything about the rotating of photos. Still, this option is also accessible here and generally takes only several seconds. In the menu tab you will find an icon called "image Rotation". After it you are to choose the suitable direction of rotation. Usually, these directions are traditional. Thereafter, beginning photo manipulators revolve photos 900 or 1800 clockwise or on the contrary 900 counterclockwise. Still, the choice of tilt angle is only up to your wishes and needs.


And the last is resizing. All settings, which are width, resolution or height, under the icon "Image size". We hope that this option will not cause any problematic situations. Still, the option that requires solid consideration is "Layers". Especially important layers are in photo work in Photoshop. In simple words layers can be understood as different pictures that are stacked on each other. From the summation they create a final photo. The matter is that every layer contains some part of manipulations. According to the needs editors may make layers visible or invisible.


We hope that after this article you will know how to edit Shutterstock images. Still, in case you are not sure about your skills and abilities of editing on the demanded level, ask for our support. Our firm will solve every editing problem at reasonable photo editing prices that do not influence the quality. And if you feel that editing is your piece of cake, try your fortune at our company. Details you find in WeEdit.photos is looking for talents. We are the company you are always welcomed in.